The journey to top rankings on search engine result pages (SERPs) begins with keyword research.
If you can find low-hanging fruit – keywords with low SEO difficulty and high search volume – the journey will become easier and efficient (think ROI!).
To achieve this, you need a reliable keyword research tool, exclusively designed for mining high-potential keywords.
KWFinder by Mangools is one such SEO tool that deserves your attention.
What's KWFinder?
KWFinder is a keyword research tool by Mangools, the company behind a suite of SEO tools.
In fact, the journey of Mangools started with the launch of KWFinder in August 2014.
Over the years, the tool has evolved into one of the finest keyword research tools (yes, it's true).
Some of its superb features are:
Long-tail keywords research
Competitors' keywords research
Local keyword research
Keyword lists creation
Import/Export keywords
Keyword filtering
Keyword difficulty analysis
Keyword metrics analysis
SERP and SEO metrics analysis
When you can do so much with keyword research, there's no chance of failure – provided you implement the plan.
Now let me take you on a review tour where you'll learn about KWFinder in detail and see if it practices what it preaches.
My KWFinder Review [Step-by-Step Analysis]
Here I'll show you how to do keyword research using KWFinder.
In the process, I'll tell you about every feature and how it's beneficial to you.
In the end, I'll highlight the pros, cons, and pricing details so that it's easier for you to decide.
Let's begin
1. Dashboard Overview
Once you subscribe to Mangools, you'll get access to all the tools, and not just KWFinder.
It means you can manage all your SEO activities in one place, right from keyword research to backlink analysis.
Not only tools, but you can manage your account details, check available resources as per your plan, and edit your account settings.
Now from the Mangools dashboard, you can go to the KWFinder dashboard.
Alternatively, you can also use the KWFinder login URL: app.kwfinder.com.
The dashboard is neatly designed with all the features just a click away. It just cannot get simpler than this.
From the dashboard, you can begin searching keywords using two prominent features of KWFinder: Search by Keyword and Search by Domain.
Besides, you can contact the support team via online chat, import files, manage keyword lists, access search history, use shortcuts, read support documentation, and manage your profile.
If you want to access other Mangools SEO tools (both free and paid), you can click on the hamburger menu on the top-left.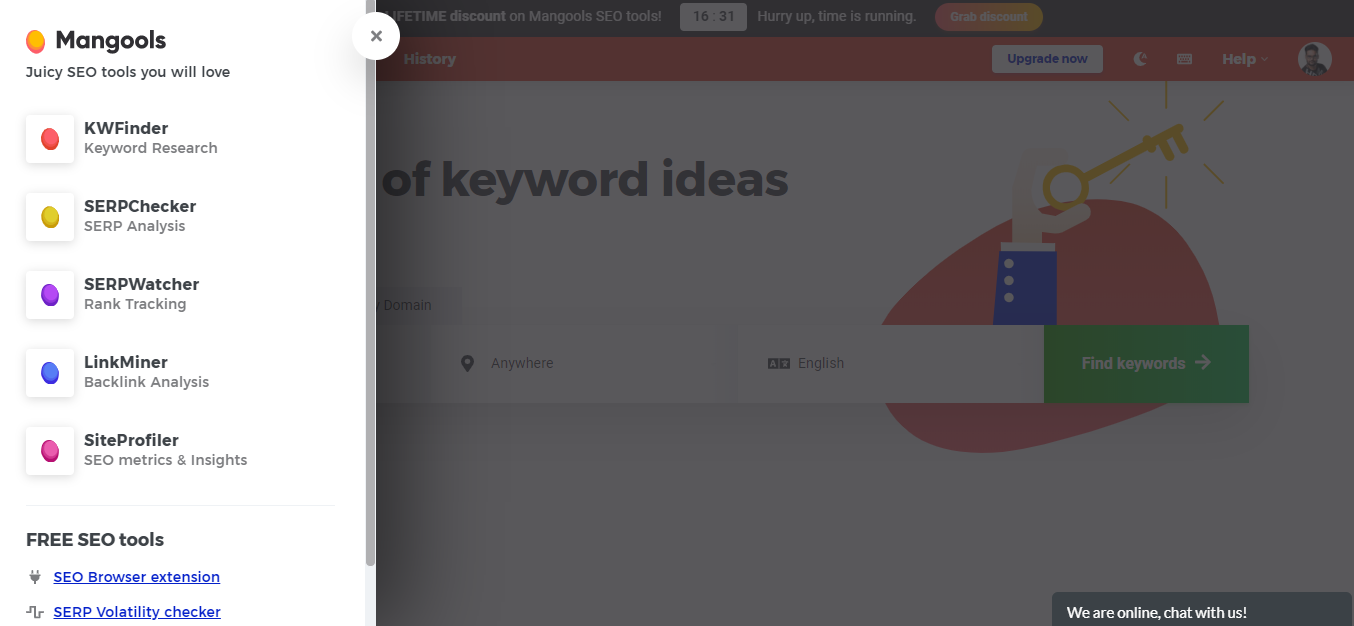 As you can see, the dashboard is pretty easy to navigate. You can easily find your way through numerous features and tools to accomplish your tasks.
Let us proceed and analyze how KWFinder fairs at conducting keyword research.
2. Search by Keyword
Generating keyword ideas using Search by Keyword feature is recommended if you already know your niche or a seed keyword.
For example, if you are a health and fitness professional and want to establish your online presence, you can search for keywords related to your niches, like weight loss and diet chart.
Now, if you want to target a particular location, you can select a country. And if a language is also a consideration, there's an option to choose a language as well.
The location and language filters are helpful if local SEO is your priority, or you want to target an audience in a particular geographic location.
Here, I'll proceed with the keyword weight loss, location Anywhere, and language English.
This is the result you get when you search for the keyword weight loss.
Initially, it may look confusing to many, mostly those who are new to keyword research.
But I think it's quite organized and you get plenty of information on the page.
Moreover, when you hover the pointer over any of the metrics, a snippet appears, explaining what a metric is all about.
Now let me break things down for a better understanding.
On the left side, you can see the main keyword (weight loss) and related keywords.
Now you can explore more keywords by selecting Related Keywords (default mode), Autocomplete, and Questions.
KWFinder pulls keywords in the Autocomplete and Questions segments from Google predictions for related searches.
Further, you can filter keywords using the Filters option. You can define numerous variables and limits, such as Search Volume, PPC, CPC, Included keywords, Excluded keywords, Number of words, Keyword Difficulty, etc.
In front of the keywords, you can access keyword metrics like Trend, Search, CPC, PPC, and KD. Moreover, you can view the keyword listing in ascending or descending order by clicking on the arrows visible beside these metrics.
One of the most important metrics is Keyword Difficulty (KD). The value varies between 0, and 100— the greater the value, the higher the keyword difficulty.
Pro tip: Opt for keywords having low keyword difficulty scores and decent search volumes.
For example, here, weight loss has a KD of 82 and an average monthly search volume of 520,000. The KD suggests it's really difficult to outrank Web pages ranking for this keyword. Therefore, you should preferably not target it.
At the same time, if you scroll down, you'll come across fat burners, a keyword with a low KD of 29, and an average monthly search volume of 151,000. You should definitely target this keyword.
You can easily identify keywords with low KD and moderate search volume. In a few minutes, you'll have plenty of potential keywords.
But wait. We're not done yet.
On the right side, you'll notice the KD score, Search Volume, and SERP Overview.
Now we're already aware of the first two features, so let's look at the SERP Overview.
But before that, if you want to know more about KD, click on the "i" icon in the KD section on the right side, or simply read about KWFinder KD here.
Moving ahead, the SERP Overview shows the pages ranking in the search engines for the particular keyword.
Here, you can see the websites ranking in the SERPs for the keyword fat burners.
Link Profile Strength (LPS) is the most important factor here that influences SERP rankings. A higher score means the link has enough authority, and it's difficult to outperform it for a particular keyword.
Besides LPS, you can see DA and PA (Moz metrics), CF and TA (Majestic metrics), Links, FB shares, and Estimated Visits (EV).
If you want to analyze SERPs in detail, click on Analyze SERP to land on SERPChecker, another Mangool's tool for extensive SERP analysis.
Now, after analyzing a keyword, if you think it fits your criteria, you can add it to the keyword list. This is beneficial because you don't want to lose track of potential keywords.
To add a keyword to a list, simply click on the "star" icon next to the keyword.
Now, if there is no list, you can create one (like I've done here) and add the keyword to it.
When a keyword successfully appears in the list, the "star" icon becomes yellow, as seen in the screenshot below.
And that's pretty much all in the Search by Keyword section. If you have a seed keyword or any other keyword, you can use it to explore numerous related keywords.
As you can see, it's a simple process to discover and manage keywords. In the beginning, you may find it hard, but with time, you'll become proficient in keyword research.
3. Search by Domain
Scouting keywords by scraping your competitors' websites is one of the best – and the smartest – ways to discover potential keywords having low ranking difficulty and high search volume.
When your competitors have already done the hard work, you don't need to waste your time and effort in generating keyword ideas.
You can accomplish the task by using KWFinder's Search by Domain feature that helps you out with discovering keywords targeted by your competitors.
Can you recall we analyzed website links that were ranking for fat burners in the SERP Overview?
I've picked up the website, Bodybuilding.com, ranking in the 6th position, to discover keywords it's ranking for in the SERPs.
It's not necessary to pick up websites ranking for your target keywords. You can analyze other websites that you know about. However, it helps because both you and the competitors are operating in the same niche, targeting the same keywords.
Okay … now let us see the results of the competitor analysis.
Here, you can see the keywords the webpage is ranking for. As the content on the page is about fat burners, the keywords also revolve around fat burners.
The right side is the same as it was in the Search by Keyword section. However, the left side shows significant changes, mostly about the URL we searched for.
In the screenshot below, instead of scraping the webpage URL, you can also inspect the root domain by clicking on the change to root domain.
And if you're thinking about what URLs you can search for (even though I had this doubt), here are the valid options:
Root domains
Subdomains
URLs
Moving down, you'll notice Try Also option that'll help you analyze other competitors active in your niche.
Now, this is an interesting proposition because you can analyze all potential competitors and grab the keywords they are ranking for. Not only does it save you time, but you get numerous keywords for content creation.
You have the option of filtering results by applying the Locations filter as well. Moreover, you can also specify the location beforehand when entering the URL (I chose Anywhere).
Now you can sort the keywords in two ways – Organic keywords and Paid keywords. But here, in this search, there're no paid keywords, only organic ones.
The filter options remain the same as in the Search by Keyword section. Even the procedure for adding a keyword to a list is the same.
However, keyword metrics are partially different here. Instead of trends, there are:
Pos – the highest search position achieved
EV – estimated visits per month
Search – some search volume figures are location-specific and some are universal.
Now let me analyze a completely different website that I would like to compete against.
Here, I'll directly type – or paste – the competitor's URL in the field seen in Search by Domain section on the dashboard.
Let us see what we get here.
You can see all the keywords the website ranks – or ranks – for at certain positions in the SERPs.
Now, if you're curious to discover keywords related to a specific keyword, you can click on the "Enter" button that appears when you hover the pointer over a keyword.
For example, in the above example, I clicked on the "Enter" button for "tools for keyword" (the first keyword in the screenshot). Here's what I got.
It means, while scraping competitor's keywords in Search by Domain, you can further discover more keywords related to the ones your competitor is ranking for.
In a nutshell, KWFinder is definitely a goldmine of potential keywords.
4. Import Keywords
If you haven't one but multiple keywords to look into, you can import keywords and analyze them in one shot.
You can either upload a file (*.csv or *.txt) or write up to 200 keywords in the indicated block. (To process a greater amount of keywords, you can contact Mangools.)
Further, you can select a location or let it be Anywhere.
Now let us test this feature by analyzing metrics for keywords SEO, content marketing, and influencer marketing. You can simply write these in the Import section.
Here's what you get.
It's pretty much the same as Search by Keyword, with emphasis on the keywords selected by you.
Besides individual keyword metrics, you'll get an insight into Search Sum. Avg. CPC, Avg. PPC, and Avg. KD.
This feature is beneficial in case you've got the keywords but don't know whether it's possible to target them or not.
Just pop those into KWFinder, and you'll get all the information you want. Moreover, you can explore further by searching related keywords and analyzing URLs ranking for your list of keywords.
5. Keyword Lists
Remember, we added fat burners keyword to the list named Weight Loss?
Just like this list, you can access all keyword lists via the Lists section.
To access lists, click on the Lists in the top menu.
Besides access, you can edit, export to CSV, and delete a list from the menu.
If you want to analyze keywords in the list, simply click on it. Here, I clicked on Weight Loss.
The lists are beneficial when you need to organize keywords, need quick access, or want to analyze fluctuations in metrics like KD, search volume, trends, SERP, etc.
Further, if you're working across multiple niches and creating content on numerous topics, creating keyword lists is advantageous for you.
6. Search History
If you somehow skipped keyword details or want to revisit search history, you can easily do so by clicking on the Search in the top menu.
The History section shows all searches – keywords, and domains – in chronological order, with the most recent one at the top position.
It's also beneficial if you are working on an SEO team as other members can quickly analyze your search history for reference purposes.
7. Keyboard Shortcuts
To ease your workload and increase your efficiency, KWFinder has a set of Keyboard Shortcuts.
You can use these to quickly maneuver across the interface and multiple sections. The Keyboard Shortcuts icon appears on the top-right, next to the Help section.
However, it'll take time to get accustomed to these since you already have a lot to learn in the initial stages.
But yes, the shortcuts really help when you are dealing with loads of keywords and domains.
8. KWFinder Pros and Cons
KWFinder is an exceptional tool for keyword research.
You just saw it as we explored every feature in detail.
However, let us have a look at the minute aspects, both positive and negative, that often go unnoticed.
Pros
One of the most reliable KD and LPS scores
Information is continuously updated, calculated, and fetched
Well-organized interface, seamless navigation
Easy import/export of data and information
Beginners should find it easy to get familiar with the interface.
Access to complete set of tools
Cons
Limited lookups and searches in the Basic plan
24/7 support not available, but you can send an email anytime.
KWFinder Pricing
Mangools offers KWFinder as a part of their comprehensive package, consisting of all five tools. It's not available as a standalone product.
There are three annual plans:
Mangools Basic – $29.90 per month
Mangools Premium – $39.90 per month
Mangools Agency – $79.90 per month
As per the pricing, it's affordable in comparison to other SEO tools offered by competitors like Ahrefs and SEMRush.
You get combined access to KWfinder, LinkMiner, SERPChecker, SERPWatcher, and SiteProfiler.
If you require private API access and custom data exports, you can get in touch with the Mangools representatives. They'll help you out – at additional cost.
Get started with KWFinder for free
The Bottom Line
Keyword research is a fun process as you get to discover so many potential phrases that you've not ever imagined.
Tools like KWFinder make it more engaging – and productive – since you unearth keywords that can attract prospects to your business.
Whether it's a user-friendly interface, keyword difficulty estimation, and calculation, or other features and metrics, KWFinder performs reasonably well in all aspects.
Further, you'll be able to strengthen your online presence by outperforming your competitors.
And this is possible because, in addition to keywords, you can also analyze competitors' strategies, perform SERP analysis, discover backlinking opportunities, and much more.
So, in a nutshell, with KWFinder, you don't just refine your keyword research skills, but also uplift your SEO progress.
Click here to start with KWFinder.
Read our full review of other SEO tools offered by Mangools as part of their subscriptions:
If you've any questions related to KWFinder or keyword research, hit me up in the comments.