Today we're going to review LearnDash, a Learning Management System (LMS) for WordPress.
We'll cover their key features and how to start using them.
But why are we talking about a plugin for online courses, you might ask?
Well, an excellent way to build your brand and capitalize on its potential is by offering courses on a topic of your expertise. It can be anything, from code skills to dating advice.
Moreover, this is the perfect time to start an online course. The pandemic didn't just accelerate the transition to online selling. It also accelerated the transition to online learning.
In fact, according to Class Central, Coursera's user base increased by 66% in 2020.
Now, more than ever, whether you're a freelance teacher, a professional training organization, or a school, you need to connect with your students virtually.
So let's see what you can do with LearnDash, one of the most popular online course platforms, shall we?
LearnDash is a premium WordPress plugin that works with most WordPress themes. Thanks to its very powerful tools, you can create complex courses and monetize them.
Simply by looking at the companies that trust LearnDash, you can tell it's special.
Some big online training courses that use LearnDash are none other than the University of Michigan and the Yoast Academy.
So if you start using LearnDash, you'll be in good company.
Features
Visual Course builder
They have a simple, easy-to-use drag-and-drop builder to visualize how everything connects.
You can also use page builders like Beaver Builder and Divi. If you wish to edit LearnDash dynamic content, use their Elementor compatibility integration.
Shortcodes and blocks
If you want additional ways to insert content into your courses, you can always use shortcodes or blocks.
You can use them to display user information, display a list of all the quizzes the user has taken, and return a user to the last step in the course, among other things. To see the total list of shortcodes and blocks, visit this very informative doc.
Both shortcodes and blocks offer the same features, so which one should you use?
Well, if you're using the Classic Editor or a page builder, you'll need to use shortcodes.
However, for those with the new WordPress editor (Gutenberg), either option is available.
Moreover, if you are designing with a page builder, you should use shortcodes and widgets, not blocks.
Dynamic content delivery and prerequisites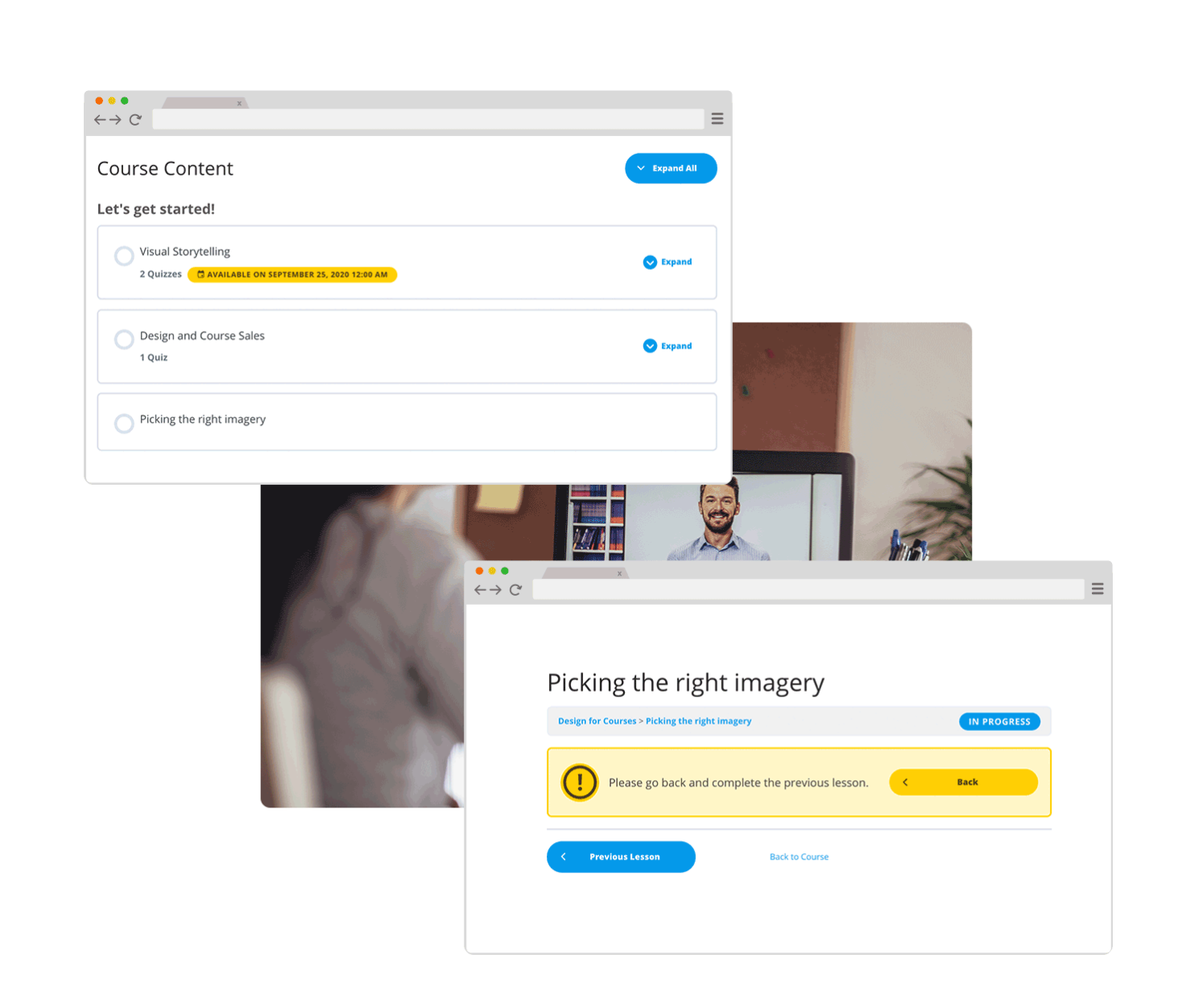 You want people to keep coming back to your courses.
LearnDash offers you different options to achieve exactly that.
For example, their drip-feed lessons let you schedule lessons to become available on a specific date. You can also show people's progression and set access to courses based on some prerequisites.
We'll see more about this in the tutorial.
Engagement triggers
Engagement triggers allow you to automate responses to a learner's specific action.
For example, once set, LearnDash can open a live chat when someone fails a quiz. Or you can automatically send a specific email as soon as someone completes a lesson.
To reach this level of automation, you'll need to connect LearnDash to Zapier.
Access mode
LearnDash Course Access settings are very complete. They offer different levels of access depending on your needs.
You can decide to create a course that's open, meaning it's not protected and anyone can see it.
But then, if you want to imitate what LearnDash does on its demo page, you might want to keep the course free but protected. So users have to register to have access.
The most popular option, of course, is to protect the course via the LearnDash built-in PayPal.
However, if you want to do so, you can also go ahead and close it so there's no enrollment button displayed.
In that case, the course will only be accessible through manual admin enrollment.
Focus mode
In online learning, much like in traditional learning, there can be plenty of distractions. LearnDash contemplates this issue with their Focus mode feature.
When you enable this mode, the main navigation and footer elements are removed from the page.
It doesn't matter if you're on your mobile, desktop or tablet, because Focus Mode is applied on all screens.
Keep in mind that, as this feature was introduced in LearnDash 3.0, it doesn't work in the Legacy Template.
Languages
LearnDash is available only in English.
However, they have user-donated translations for multiple languages from Arabic to Swedish. For those interested in other languages, they recommend using free translation tools such as poEdit or Loco Translate.
ProPannel in higher tiers
ProPannel is an addon that improves your admin experience. You'll be able to manage all assignments, download user course progress, and see students' real-time activities.
This tool includes:
Activity Stream.
Progress Chart.
It also comes with an overview of your data. You'll see top-level metrics about your LMS, such as assignments pending, number of courses, and total students.
Support and resources
As an LMS plugin, LearnDash gives its customers all the resources to quickly learn how to start using its tools.
They have guides, video tutorials, live webinars, and clear documentation. And if you visit their demo site and create a free account, you'll get access to multiple videos guiding you through LearnDash.
They even have a Facebook Community where you can discuss ideas with others and post questions.
More features
Unlimited users.
Certificates and badges: this is a new feature.
Seamless integration with multiple tools: MailChimp, WooCommerce, and GamiPress, among others.
How to use LearnDash
Getting started
1. Go to the LearnDash website. Select a plan and create an account.
You can complete the checkout with your credit card or Paypal. Once you do this, you'll be redirected to a confirmation page where you can download LearnDash.
2. Go to your WordPress dashboard. Click on "Plugins" > "Add New" > "Upload Plugin". Here you're going to drag your new file and select "Install now". Here's our guide on how to install WordPress plugins.

3. You'll then be brought to the Overview section that looks like this:
It's important you enter your license key to have updates and support. LearnDash will provide you with the key alongside their download file when you buy the plan.
Creating a course
1. Go to the left-hand side of LearnDash and click "Courses".
2. Click "Add new".
3. You'll see a beautiful interface that, in this case, integrates with the WordPress Block Editor. Just like you do with a post, you can easily add a title, content, feature image and more.
4. Go to Builder. Here is where you lay out your course. You can add topic, lessons and section headings.
5. Once you have created a lesson, click on the drop-down to add a topic or quiz associated with that lesson. You can also add final quizzes to be displayed when the student completes the entire course.
6. Finally, head to "Settings". Choose whether to add a Course Certificate or not, who the course is available to, and many more details.
One setting that's particularly cool is Course Progression. You can go with the typical Linear and require users to follow a defined sequence.
Or, if your course has a different approach, you can allow learners to move freely according to their own path.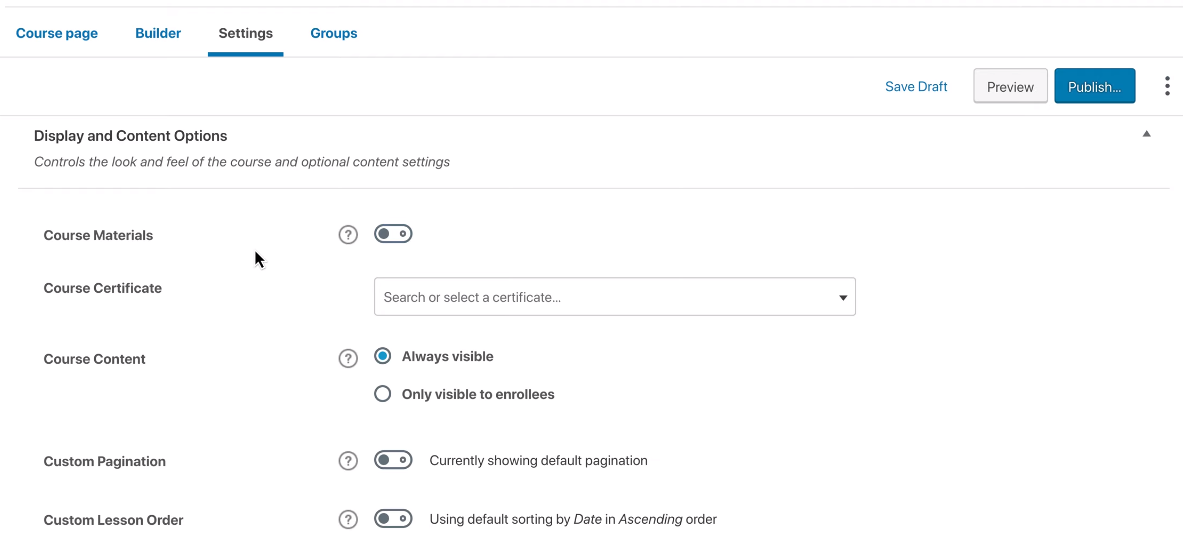 7. Groups. In the case, you're a teacher that wants to divide students into classes, or you're just interested in using the group feature in LearnDash, there's one more step for you.
Go to the "Groups" area and select the group you want to assign the course to.
8. Now everything's all set, click "Publish". On the front end, you'll see beautiful results.
LearnDash Pros and Cons
Pros
It has tons of ways to engage your learners.
Multiple configuration options allow you to create exactly the kind of course you want.
It's quite affordable.
Cons
Doesn't have a free sample. Although you can offer free samples to your customers, LearnDash doesn't offer that for you.
Unless you are a LearnDash client, if you have questions, you won't receive much support.
Pricing
All plans come with a copy of their entire demo site so you can use it as a template and get started quickly!
They don't have free trials, but they do have a 15-day money-back guarantee. Besides credit cards, they also accept Paypal.
Now let's see why they've won Capterra's #1 Most Affordable LMS award:
Basic: $199 per year. It includes updates and support for one site.
Plus package: $229 per year. Get LearnDash and ProPannel on up to 10 sites.
Pro package: $329 per year. Up to 25 site licenses.
Verdict
The truth is that LearnDash is an excellent option if you are planning to create online courses. It's complex, so it might take you a while to set up your course completely.
But only because it's so powerful.
Besides, for the number of features it offers, it's super affordable.
And if for some chance you don't like it, you always have their money-back guarantee. You'd also like to read our guide on the best WordPress LMS plugins.
We've also compared LearnDash with MemberPress.