LiveChat Review – Use Case, Features, Benefits & More
Capturing more and more leads online these days has become extremely important for online businesses to survive. Without user engagement, there is hardly anything a business can do to prosper.
The LiveChat app is one of the best solutions to solve this issue for you and connect your business to its users easily.
As its name suggests, the LiveChat application is a live chatting tool that you can integrate into your website to close more sales, better the interaction, and capture more leads. Integrating this application/software into your online business allows your online visitors to send you all their queries and receive answers from the business quickly.
This helps improve user engagement, interaction, and communication, which then leads to converting visitors into customers.
What is

LiveChat

?
LiveChat is an electronic customer service platform that helps your customer and fuels your business's sales by enhancing collaboration and communication.
It is trusted by over 33,000 companies, including big names like Mercedes-Benz, Adobe, PayPal, Unilever, and more. From messenger, email, WhatsApp, SMS to applications and websites, it integrates into everything and anything to allow your business to communicate efficiently with potential customers.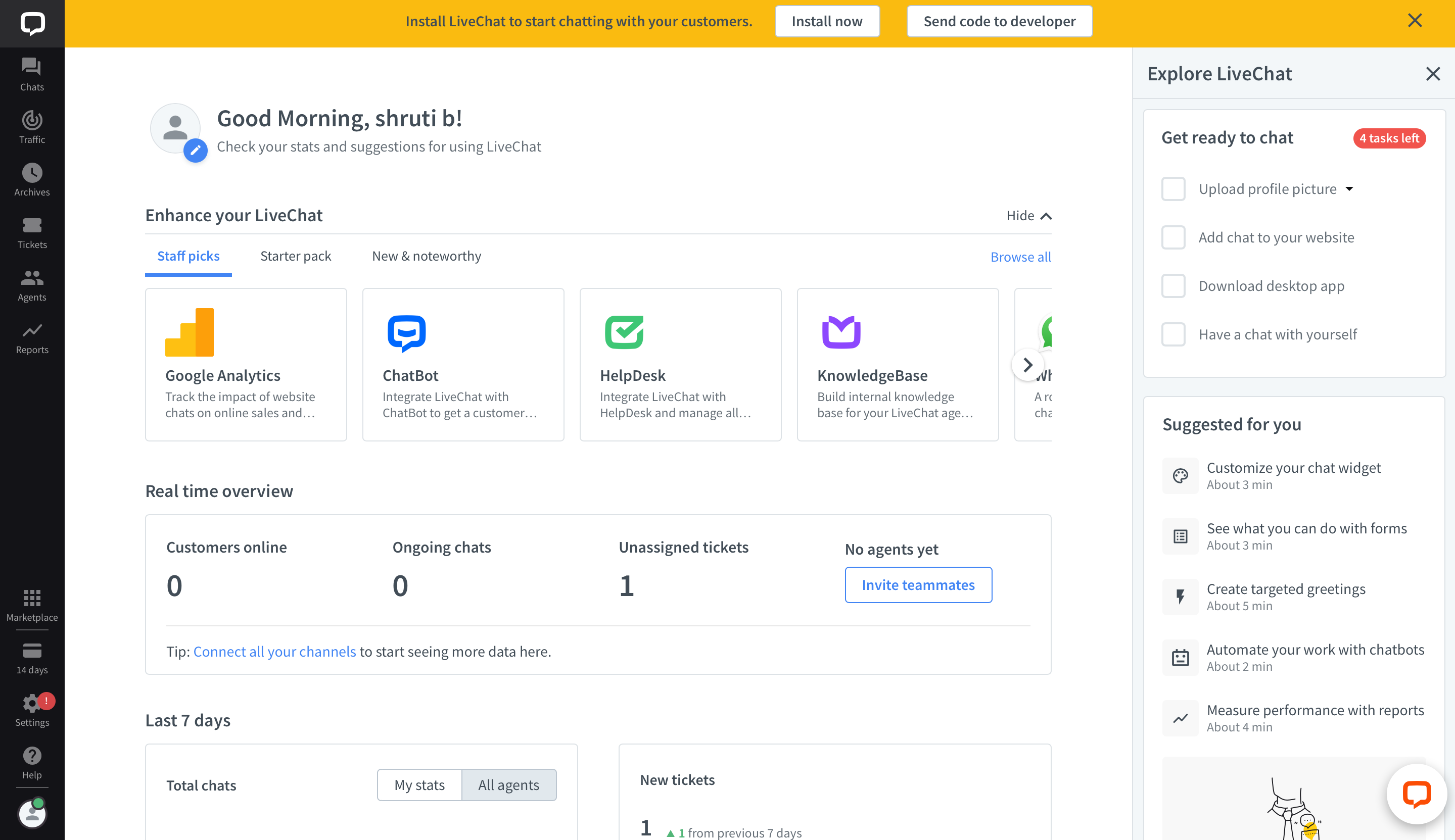 Benefits

 
It increases and speeds up your sales through powerful customer service. The platform assists your users when needed for a higher purchase result and higher average order value. 

The platform is equipped to solves all customer problems quickly. It answers questions instantly in real-time and helps customers make the purchase.
LiveChat hugely cuts down on your costs as it allows your agent to talk with serval customers at a time while retaining the high customer satisfaction rates. It also reduces your overall cost on customer service as the tools help in increasing agent's efficiency.
The platform helps you build stronger relationships with your customer. It has a personal and unintrusive form of contact that connects you better with the visitors and builds their trust, which fuels your business.
LiveChat helps in boosting your credibility by letting your visitors know that real people are willing to help them whenever needed.
It makes your customers happier with high customer satisfaction. The platform promises a customer satisfaction score of 97%.
LiveChat also helps you in being proactive by engaging with visitors on your website whenever you want.
It manages your entire team easily without any hassle. The platform also keeps track of the sales team's performances and gives you reports that are worthy of evaluation.
The platform keeps all the data that is sent to you secure. It offers data encryption, two-step verifications, GDPR compliance, HIPAA readiness, and even the privacy shield certification.
It lets you connect the app to your favorite tools with powerful integrations. This helps an incredible customer-centric experience. You can even build your own integrations with LiveChat!
Features
It captures leads by making the buying process easy
The platform helps you garner more leads by making the buying procedure for them super simple. It shows off what your business has to offer, from services to products in an elegant and eye-catching format that helps in increasing sales as you chat with the customers.
The live chat feature allows you to reply to your customer's questions quickly and efficiently in real-time. It also qualifies the leads with custom forms and other AI-enabled chatbot automation, making the chat process seamless. The platform also helps track down all sales and business goals powered by automation to see how the chat system boosts your revenue.
It offers an incredible customer experience 
LiveChat creates a customer experience that one will never forget. It ensures that your customers love and know your product and the powerful chat tools just make the entire communication process more effective. It also solves all customer-related issues proactively to ensure that your visitors never face any issues while on your website. However, the best part about this feature is that it automatically anticipates customers' questions and responds to them within seconds.
Balances AI automation and human touch actively 
Even though the platform is automation enabled, it does not miss out on the human touch. It ensures that the human touch is not missed out on, and the platform does not just feel like a robot talking to customers.
LiveChat lets the chatbot generate as many leads as possible and helping them with tickets, and enable a communication channel across different channels. It greets customers and routes the chats to the desired person with the help of AI. Not only that, but it also automatically segments all the visitors based on their motives on your website so that you completely meet their needs.
Easy but powerful integrations
LiveChat offers over 200 integrations by letting you connect with the applications that make your work easier. You can chat with your visitors, send the details to your customer relationship management application, accept payments and manage orders from one place itself. All the processes are streamlined and offer to you under one roof!
Chat tools
LiveChat offers powerful chat tools for messaging, canned responses, file sharing, chat tags, chat archives, notifications, chat transfer and rating, and a lot more. It helps you in saving quick responses to common questions and reuse them wherever necessary.
Every conversation is kept track of, and reports are submitted for a better user experience in the future. It also includes buttons, automated replies, and drag and drops editors for a seamless overall chatting experience. You can even find past conversations with just one click since all chats are stored for quick access later!
Customer engagement 
Customer engagement tools are also given with the platform that helps you improve the engagement and interaction on your platform. It offers features like routing rules, chat buttons, eye-catchers, messaging modes, targeted messages, chat assignments, chat history, and transcripts, along with tickets to solve user problems.
You can talk to your customers flexibly by using several messaging modes and connecting with lasting connections and customers. Visitor's attention is absolutely important for every business, and LiveChat fulfills it by giving you attractive chat widgets that stand out. You can use from a hundred images to several templates in order to make your websites look more appealing.
Chat widget customization 
LiveChat also involves a full customization feature for your chat widgets to make them the way you want them to be. You can personalize and adjust all the widgets per your and your business' preference by choosing the right setup for all devices and matching the themes and colors accordingly. You can also add the human touch by setting titles, names, and profile pictures to the chat widget and interact in over 40 languages to make everybody feel inclusive and involved. 
Reports and analytics 
The platform offers robust reporting and analytics that show you how your website communication is performing and where you can improve. A general overview with in-depth data about the agent and chat activity is provided. This helps you with agent reports, data summary, data export, ticket reports, eCommerce reports, filters customer reports, chat reports, and a lot more.
It gives you the insight that leads into a better growth prospect by helping you measure how you can improve your customer base. Form missed chats, greeting conversions, chat satisfaction, and engagement, from chat surveys and availability – a proper report for you is formulated to understand how much the application has been able to help you and areas where you can utilize the app further.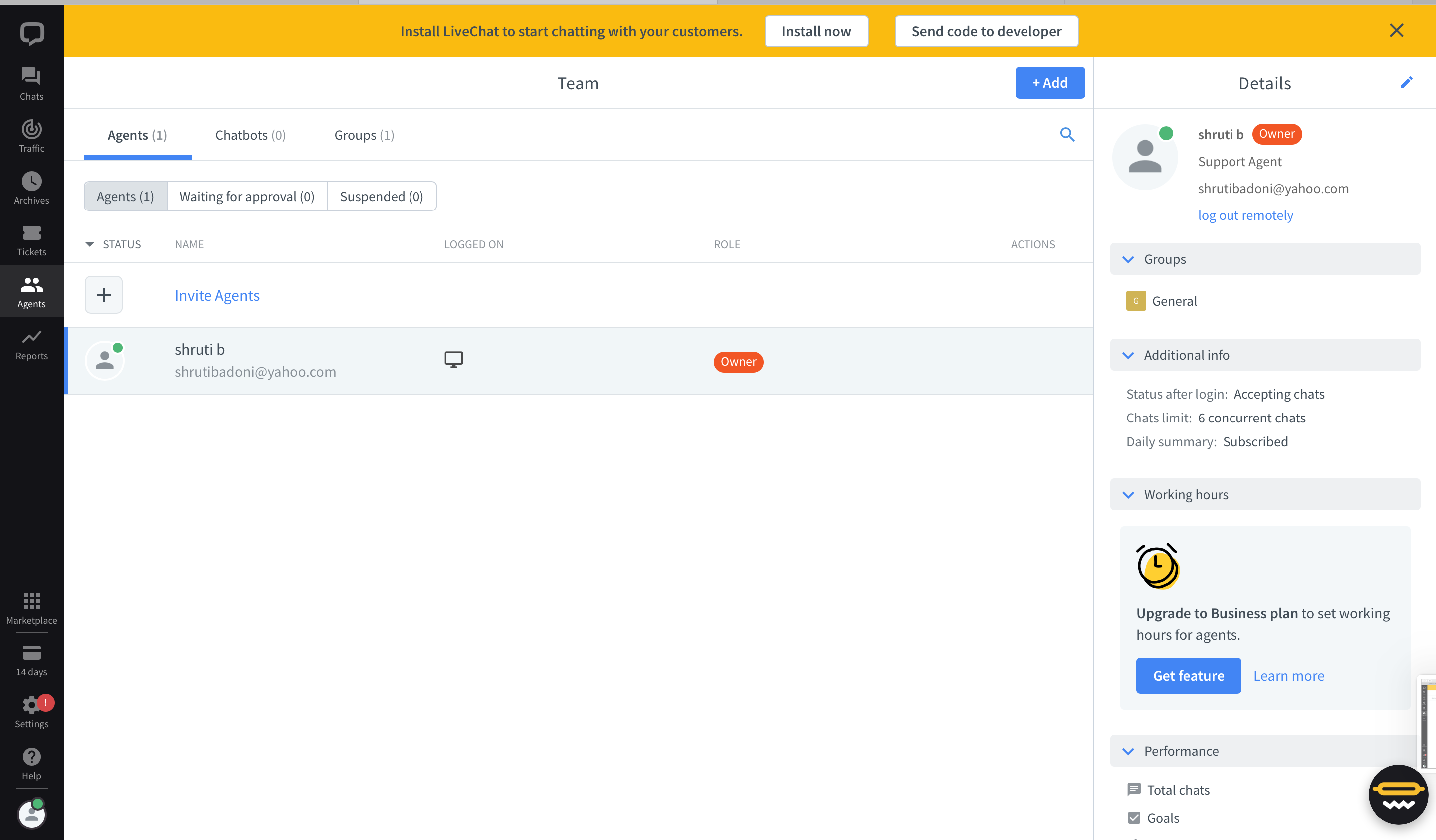 Security 
One of the most important aspects of any platform for a business is the security it offers. LiveChat only focuses on growing your business further by making all your data safe and secured from any sort of breach. The data is encrypted with a 256bit SSL protocol protecting both the agents and the customers that are using the website.
Some data can also be hidden, including payments, credit card details, and personal information. Spam chats are destroyed and banned quickly with an extra level of security with Google sign-on and b2 step authentication/verification. It includes sub-features like visitor banning, compliance, access restriction, credit card masking, and more to protect you against all odds.
LiveChat APIs
LiveChat has powerful APIs that automate worn and are able to create custom integrations helping you with a smoother process. It lets you build your own solution with a custom chat widget and integrations that are right for your business. It also allows you to automate your workflow by streamlining the activities on your platform using the API. Not only that, but strong API also leads to strong reporting and insight delivery on the process of how well your business is performing. 
Ticketing 
The LiveChat ticketing system is efficient and strong as it provides you with ticket tags, statuses, and ratings along with reports and private comments that help you make the customer experience better. It has a powerful ticketing system that quickly solves every customer issue and streamlines all communication in one place. If you have LiveChat integrated into your profile, no question ever remains unanswered, and everything can be directly connected to your email for easy handling.
Sales and eCommerce
LiveChat also offers you tools that cover customer data, pre-chat surveys, product cards, trackers, eCommerce integrations, and more. It helps in selling, generating, and improving leads and workflow through automation.
The platform keeps track of all your customers from one window and provides you with an organized customer list, personalized view, filters, and custom segments. This helps you narrow down the data to the most specific and valuable ones and gives you the authority to decide what will be visible on the screen.
It also shows your products in the conversations with potential customers to encourage them into buying them! It comes with a sales and goals tracker that helps you keep a note of your goals and sales and take desired actions if things go south.
Team management 
The platform comes equipped with major team management tools that help with agent accounts, groups, chat supervision, chat limit, agent roles, and even works scheduling. The tools helping you and your team becoming more efficient with the platform, generating higher revenue.
It lets you create as many agent accounts as you need, along with profile customization and agent reporting. This helps you keep an eye on how each agent is and where the company is lacking. You can also work in teams by dividing your agents into groups to have compelling customer support. This also allows you to route chats to specific departments, set agent priorities in groups, filter reports, and help one another.
It also sets a specific hierarchy that clears out who reports to who and how much authority each person holds. Not only that, but it also gives you an automatic status change feature with easy shift planning!
Messaging channels
Last but not least is the messaging channels feature. This feature helps you with chat widgets, chat pages, apple business chat, emails, SMS, Facebook, in-chat voice, screen sharing, video calling, and even WhatsApp Business. The messaging channels help you reach your customer no matter the time and location. It includes a live chat option on your website and application with just a single LiveChat license.
The platform also connects to your customers on different platforms like Facebook and WhatsApp. The texts messages on LiveChat have a 98% open rate which ensures user conversion. There is ana variable share inbox that you own where you can forward all your conversations and emails to manage support seamlessly.
Other Product Offerings
ChatBot
LiveChat offers another product know as ChatBot, which is an automatic customer service tool that makes all your support-related issues go away like a breeze. It builds and launches conversational chatbots without the need or requirement of coding. This helps in uplifting your marketing with a personalized user experience. It engages your prospects invaluable conversations across multiple communication channels.
Chatbot also supercharges your sales by generating qualifying leads. It also optimizes your support system by keeping the customer service going on even when you are off duty with improved resolution times. Last but not least, it comes with customizable templates that you can use to create chatbots within seconds.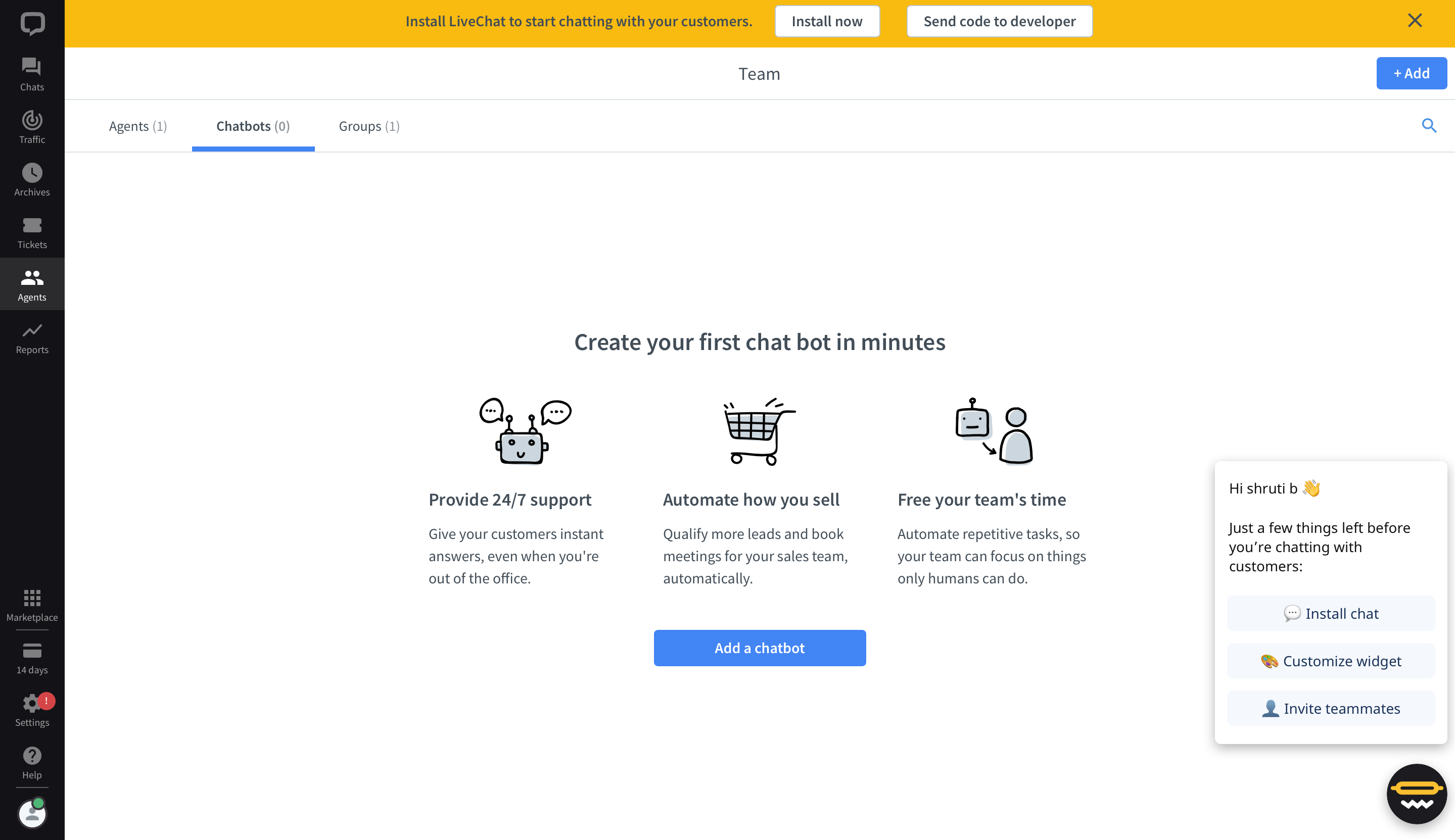 HelpDesk
The platform comes with a powerful help desk tool that manages all your emails from customers in a single platform. It makes ticketing simple for teams and keeps track of all the conversations happening. It also converts issue-related emails into tickets. The platform automates the repetitive tasks and customizes addresses and dashboards to match the workflow. Multichannel communication is enabled when you integrate HelpDesk that makes you make better decisions.
KnowledgeBase
The knowledge base software is for speedy customer support with effortless self-service. It provides you with all the answers to the questions that you may have and encourages self-service to make your customers solve the problems by themselves. This decreases the case handling time with guides and tools in hand.
It also has an SEO-friendly knowledge base that increases your organic traffic and reduces the workload for the team. The knowledge base prioritizes tasks and has a quicker response time and a consistent tone of voice to make the support system efficient.
LiveChat Use Cases
You can use LiveChat for several other things than just chatting with your customers live. Here are the things you can do with the tool –
Drive sales in a personalized way.

Use the net promoter score in order to measure customer loyalty.
Conduct online surveys to make better decisions that are fueled by data.
Integrate the tool with different marketplace platforms to engage with customers elsewhere.
Offer support even in your mobile app to make the customer service system smooth.
Help the customer through the queries and build personal relationships.
Chat when on the go, easily.
Pricing
LiveChat comes with a free 14-day trial, obligation-free. However, it also has four paid plans as under –
Starter 
The starter pack suits best for small offices or home offices. It costs $16 per agent per month, billed annually. 
Team
The Team plan is suitable for full-time support of the proactive team and costs $33 per agent per month, billed annually.
Business
The Business plan offers you an end-to-end and full-fledged customer service department that costs you $50 per month per agent, billed annually.
Enterprise
The most elite plan is the Enterprise plan that most Fortune 500 companies use for a splendid user experience. It comes with an individual contract and annual billing, which you can decide with their sales team according to your specific needs and requirements. 
Conclusion
After going through all the features, use cases, and benefits LiveChat has to offer, it is clear that this tool is one of the best customer support tools to exist in the market. It makes your support system easy, helps the team management, and simplifies their task of talking to multiple people together.
The platform is the best when it comes to multiple use case systems, the customizations with the ready-to-use templates for chatbots just make everything better! It is like you get everything under one rooftop to increase our engagement, generate more sales, and boost your revenue.