Do you want to read an unbiased MailerLite Review? I got your back.
We know that email marketing can generate money on autopilot when paired with the right services and strategy. There are many Email marketing services that are both reliable and effective, then why you should be moving to Mailerlite? This post will tell you that.
Before you choose the Mailerlite as your new service, read the whole review and go through the Pros n Cons to make sure you don't waste your time and money.
About Mailerlite
Mailerlite is an email marketing service that has been in the email marketing industry for a while now. They market themselves as email marketing software for small business owners and bloggers.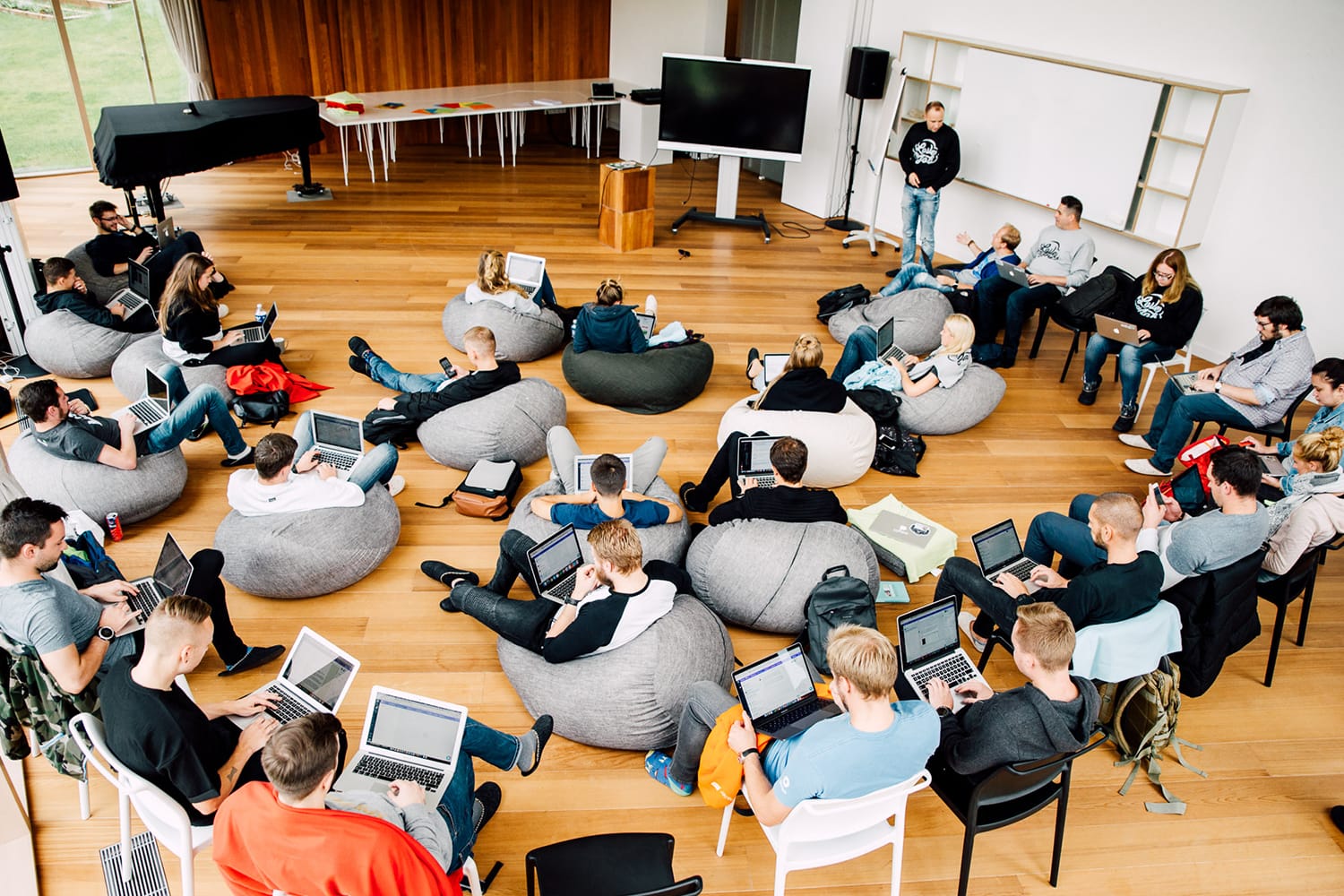 They have been updating their services and features since their launch and needless to say they are very prompt to user queries.
Mailerlite started back in 2010 with an aim to help small businesses take full advantage of powerful email marketing services.
There is a bunch of team members working from all the globe around. Mailetlite powers almost 5,00,00 marketers worldwide.
Mailerlite aims to keep its services cost-effective. That's why they have grown to such a big extent that almost every other WordPress lead capture plugin now supports their integration.
A few months ago I came through their services while looking for a low-cost email marketing service that suits my need as a blogger and email funnel user.
Recently I wrote an Ebook, and for using it as a free lead magnet (ethical bribe), I thought to change my email service to something more robust and easy to manage. There were two options for me, convertkit and mailerlite. In case you don't know, BforBloggers currently uses MailChimp's paid version.
Features And specifications
I chose mailerlite because of three primary reasons:-
Low-Cost plans and a free account
Quick support.
Easy to use dashboard
Some of the notable specifications are:-
1. Free Account With Premium Features – What brings the most excitement when we talk about email marketing is campaign automation. Most of the premium email services charge for giving you access to the autoresponders and funnel tagging system but mailerlite doesn't.
With the free account on mailerlite, you can use the automation tool to send emails to up to 1000 subscribers on your list. you are given access to other features as well such as landing pages a subscription form on Facebook pages, popup forms, and embedded forms for your website.
Some features like click map analytics are highly interactive. use click maps to determine what relates to your audience.
2. Easy To Use Dashboard – The mailerlite dashboard is very neat and clean. The basic graphs are shown as soon as you log in. the frontend is really nice to browse and explore.
Most of the beginners would find their dashboard easy to understand because you won't see any bloating app or any other unnecessary data here.
You can straight go to the subscriber management or campaign monitor tool from here. it doesn't take too much of your time to navigate through your funnels and collaborations.
You can also add multiple site accounts to your main Email address right from the drop-down menu. you need to make a new account for adding another site.
3. Automation (various) – The mailerlite gives you access to their automation tools for free accounts as well. this includes autoresponders, RSS push emails, and scheduling of prepared campaigns.
RSS Feed Automation – Much similar to other email marketing services, mailerlite supports RSS feeds push mails. This campaign works on an automated basis and your emails are delivered to your subscribers whenever you publish a new post. You can set the frequency of how often an email should be sent to your subscribers.
Campaign trigger Autoresponders – The campaign trigger autoresponder feature one automation feature I use and recommend.these autoresponders start when there is an action or a sequence of actions occurs. We prepare campaigns overhand and set them to deliver once a user subscribes, purchases, or does any kind of action.
This automation feature is extremely helpful for creating a sales funnel and works completely on autopilot. This way your new subscribers are kept engaged even when you don't have enough time to write new emails and prepare new campaigns.
4.Auto Resend – Auto resend feature helps you to resend your previous campaigns to those readers who didn't open or clicked through your emails.
While using this feature you can set the trigger rule to resend an email to the activities like
No clicks captured
No action (open and read)
You can also choose to include a personal message for these subscribers which will motivate them to stay connected with you. all of this will be done automatically once you set up the basic customization settings.
5. Drag and Drop Builder – The mailerlite comes with a great drag and drop editor which helps you to make beautiful and high converting emails with ease.  You don't need to know any HTML coding knowledge, however, if you ever want to play with HTML, you can always do so by switching the editor.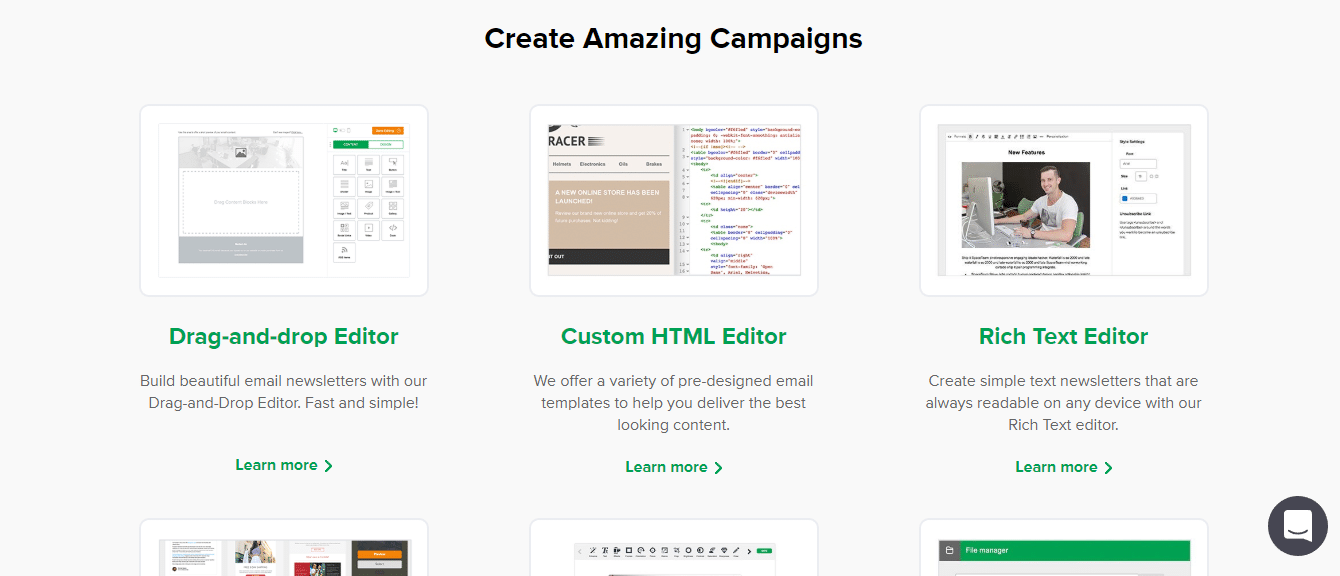 The inbuilt gallery allows you to choose images for your campaign without leaving the editor. You can also use the pre-made templates to curate your emails and give them a professional look. The mailerlite gives you a very easy to use image editor as well for personalizing your images and emails as well.
6. A/B Split Testing – Yes, they do offer A/B split testing for two different campaigns. With split testing two different email formats, headlines and other elements you can check out the best combination of emails and content which convert higher than the others. Once you have set up the test, you can easily push the best performing campaign with one click deploy feature.
7. User permission for collaboration and team management:- With the different user roles and permissions level you can create a team to create and manage your campaigns and funnels. You can set up different people to have access to limited resources.
mailerlite is a feature-packed email marketing service. It comes with almost everything a beginner and novice user would look for.
It's quite clear that mailerlite is very beginner-friendly, but that doesn't mean they can not handle the mass mailing system. Let's take a look at their pricing & plans.
Plans & Pricing
Mailerlite has the most competitive prices in the industry. While MailChimp costs $40/month for basic plans, mailerlite charge you just $10/month. This plan gives you unlimited emails and every premium feature as well. Each plan gets 24×7 friendly support assistance.
For marketers and bloggers who have a list bigger than 50,000 subscribers, make sure you contact the mailerlite team before choosing or changing your email marketing software because again their heavy-duty plans cost very much lesser than most of their competitors.
You can choose to pay in USD as well as in British Pound.
Tip – If your budget allows, opt for the annual plans and you can save up to 30% extra on your yearly payments.
Now that you know about them in detail, let me show you a few pros and Cons of mailerlite as well.
Pros
A. Cheap Pricing
B. Beginner-friendly
C. Quick Support
D. Powerful Tracking & Building Tools
E. No Credit Card Forever Free Plan
Cons
A. Rigorous Approval System
B. No powerful features such as tag-based international funneling and synchronizing systems.
C. Hidden rules for New account approval
D. Account halt system for low open rates and CTR.
Detailed Overview of Pros n Cons
The pros are definitely impressing at times until you look at the cons. The moment you signup at mailerlite, you are required to complete a process for getting your account into the approval stage.
This process includes completing your profile and adding your website domain email address. there is no guide on how to fill up the fields given in the account setup section. You have to understand and do everything yourself.
Similarly, you are required to have a custom email address that uses your domain. You cannot use free email accounts like Gmail account email address. Once you are done with these steps, your account will be shifted to the approval stage.
In the approval stage, your account will be verified by an algorithm created by mailerlite for analyzing the validity of your account. The outcome is based on this algorithm only, this decides whether your account will be approved or not. there's no human interference in this process. The approval process may take up to 1 day.
If your account is not approved, there is no explanation on why and what's the main reason for disapproval. you will simply get an email like this –
The email says that the account didn't pass their tests so they won't allow you to use mailerlite. When you log in to your dashboard there will be a notification saying "your account is disapproved, if you feel this is a mistake, contact our support team".
however, when you ask for a clarification on your account status from their support team, you get an answer saying it's the ultimate decision of their algorithm and they cannot do anything.
The Email from one of their support staff clearly mentions the new account holder to find another service. To bring you the surprise, that's my email. I requested for an account at mailerlite and I wasn't approved. When I asked for the exact reasons for disapproval, no direct answer was given even after 12 emails in a row.
That means once they disapprove you, you cannot use mailerlite ever after but I know it's their decision and perspective. They hold the right to approve and disapprove of any account they want. However, that's no the main concern here. The concern is giving us a single reason for disapproval so that we could work on that for future references.
It seems like they, don't need new customers. Neither they push to bring us both to a better conclusion nor they do anything to approve my account. "Check for other service providers", that's all they have to say.
The pricing is certainly a plus point for mailerlite but that is far behind the dominating downside of their unhealthy way of treating spam and unsustainable accounts. there must be a manual process to verify new accounts rather than depending on a hidden algorithm.
The mailerlite is a good place to get started with learning the basics and the best part is their pricing. At a very low share of the cost, you can experience the complete email marketing software.
Your account at mailerlite may get suspended if your emails have an open rate of less than 0.02 percent or if your emails are marked spam. Even when you move your existing subscribers to mailerlite, the account manager will check your list and subscriber for verifying their quality.
Is MailerLite the best Email Marketing service for a beginner
MailerLite is certainly a very affordable email marketing service for sure. They generously allow their users to use every feature they have on every plan. You can send unlimited emails to 1000 subscribers for free and whenever you need to upgrade, you can opt for plans that are as low as $10/ Month.
However, their approval system plays a game. It alleges you as a spammer while you are not. Since mailerlite is giving an account for free, it seems like they don't want a user that won't grow big enough to continue with their paid plans. A pure smart business strategy you see.
To be frank, I don't see them standing anywhere against ConvertKit and SendinBlue. There is not a single reason for moving onto mailerlite from MailChimp.
MailChimp gives you autoresponder access to the simplest dashboard possible.
Well, I didn't have a great experience with them, but that doesn't mean they aren't good. Try them and reach to me with your experience.
Every second wasted is a wasted opportunity. this quote relates to email marketing as well. Choose wisely and don't waste your time on things you don't want.
I was recently contacted by the MailerLite team, and they offered me a free account with regrets for the disapproval and inconvenience caused. They still failed to give me any reason whatsoever.
They finally approved my account after reading this article. The overall experience with MailerLite since then has been quite smooth.
The review still remains the same. Nothing changes the first experience for a customer.
Conclusion
Mailerlite is an ideal email marketing service for small bloggers, marketers, and businesses. They deliver great results at an affordable price. However, if you need more powerful features such as sequence funnel and more space as a developer, you would feel very limited with them.
For beginners, it is quite tough to choose between MailChimp and mailerlite. The best thing you can do is signup for a free account on both of them and compare your experience for a week at least before making your decision.