Mentimeter Review: Create Interactive Presentations With Ease
Have you, by chance, ever made a PowerPoint or Google Slide?
I bet you have.
Well, today we're going to cover a very easy-to-use presentation software that takes things to the next level: meet Mentimeter and the world of interactive presentations.
What is Mentimeter?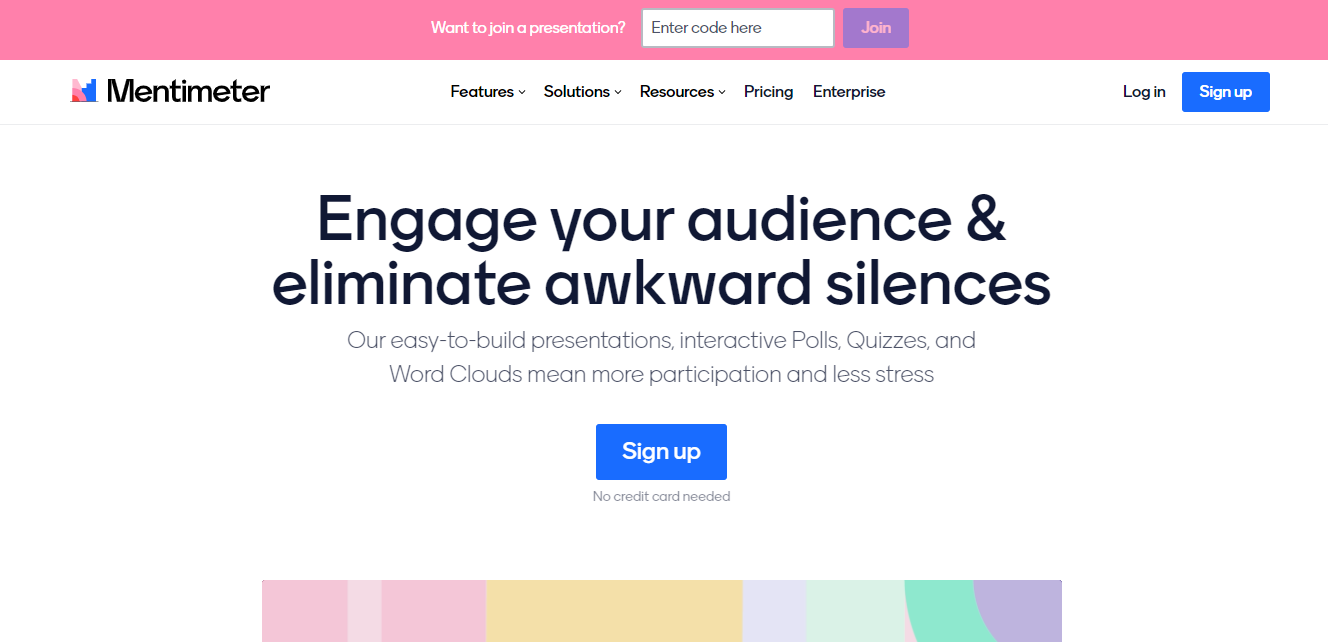 Mentimeter was founded in 2014 by a Swedish company, and it has now more than 270 million users.
It is mainly an app that allows you to create interactive presentations. Think of it as if PowerPoint and Google Forms had a child. You can, in real-time, get answers from all the meeting's participants and incorporate them into your conference.
This is a great way to give voice to every single participant and not just hear the super extroverted and talkative guy as it usually happens. And the best part is that answers are anonymous, so people can respond with true honesty and don't feel embarrassed about it.
Who is it for?
Mentimeter technology works great in different places and situations.
At work, you can run polls, prepare a brainstorming session and make plans for the future.
But if you're a teacher or work in any area of education, you'll find it a really useful tool as well. For example, you can select an option to show correct answers and evaluate how much people in the auditorium know about a topic.
However, Centimeter doesn't limit itself to professional and academic goals. In fact, you can create fun games and special occasions quizzes for your family and friends. It certainly helps add a bit of originality to meetings!
How does it work?
The whole thing is quite easy:
You can try Mentimeter for free, no credit card is required.
You'll see Mentimeter has many options to interact with people. One of them is Word Clouds. These graphics show participants' answers in a visually engaging way and display the most popular answers bigger.
Participants' input takes whichever form you prefer: free-text response, select one or multiple options, rating, and more. They will be able to vote as you show each slide or at their own pace, depending on what you prefer.
Once you create your presentation with an interactive slide, you'll share it.
You'll share a voting link or a QR, so people can participate. They can also follow the instructions that appear on top of each slide, type menti.com and copy the code given. Or download the mobile app for Android and iOS and vote from there!
Finally, after the vote, they can type their emails to receive the results.
Features
Dashboard
Mentimeter's dashboard is very minimalist and easy to navigate.
Presentations can be organized in folders and filtered according to ownership: besides seeing your presentations, you'll have direct access to the ones that have been shared with you.
On the dashboard, there's also a help icon and a support button, so any doubts can be quickly solved.
Slides
As an interactive presentation software, Mentimeter's slides have different ways to make your audience interact. Some of the most popular question types are Q&A, open-ended, and multiple choice.
However, if you want, you can go with more advanced questions like "pin on image" or "100 points". These options aren't accessible for people with disabilities, though, and Mentimeter will remind you of that.
Branding and color
This premium feature lets you change the logotype, background, and all the colors to customize your Mentimeter presentations, ensuring that you have brand recognition in all your presentations.
Mentimote
Although Mentimeter's editor is only available for desktops, they do now have a Mentimote. This new feature turns your smartphone into a presentation remote, so you can move freely and don't be stuck with your computer.
Inspiration
There's a section in the dashboard where you'll find inspiration and ready-to-use templates for polls, surveys, icebreakers, and more. It also offers personal recommendations according to what you need.
Language
Mentimeter guides participants, so the user experience is as smooth as possible. And you can choose which language these instructions appear in. The variety is quite wide.
You can even use a "profanity filter" so any inappropriate words your audience writes are excluded from your presentation. An interesting feature for classrooms!
Pro plans have a similar feature that lets you moderate answers by approving or dismissing them before they are shown to the audience.
Support and resources
Mentimeter has chat support. It's not available 24/7. However, they answer quickly.
They also offer webinars and in Mentimeter Academy they have free online courses with completion certificates.
Tutorial: How to use Mentimeter
1. First off, you need to create an account, of course. You can sign up with Facebook or Google, or use your email, as this Game of Thrones character did:
2. After that, you need to tell Mentimeter where you'll use it and indicate why you're using it. All these details will help Mentimeter know what to recommend you later on the inspirational tab.
3. Once you provide all the necessary information and choose your plan, you'll be taken to the Dashboard. There are two options here, as you can see. If you want to be guided along the process, select "Simple Presentation Builder".
Both options will lead you to the same place but the builder will take you to step by step.
4. Now in the presentation builder, it's time to start creating. As you can see in the upper-left corner, Mentimeter lets you import existing PowerPoint, Keynote or Google Slides presentations.
But let's suppose you want to start from zero: choose one of the 13 interactive questions Mentimeter has.
5. After choosing the type of question, you'll need to edit the content. For example, if you are going with a multiple-choice question, you can add as many options as you want and even upload images for each.
You can also choose one or more options as correct and reveal them when presenting.
6. The final step is customization. This includes tweaking colors, layout, and other details.
7. If you want to make sure everything works well, go to "Present" and click "Preview Presentation". Here you'll be able to test and interact with your presentation as future participants will.
8. Once you add all the slides you wanted and finish editing, it's time to share it. To do this, go to the "Share" button and copy the voting link or code. This is also the opportunity to determine how long the code will be valid.
For security reasons, it's recommended to not prolong it a lot.
You can also share the link to the live results.
9. Finally, there's only one thing to do and that is to present. While you're in presentation mode, though, you can still configure some things! For example, you can turn on the comments and receive live feedback from participants.
Pricing
Mentimeter has a free plan for everyone and special pricing for education with up to 40% percent of discount.
Free: ask up to 2 questions and create up to 5 quizzes per presentation.
Basic: $11.99 per month if billed annually. Ask unlimited questions and export results to Excel.
Pro: $24.99 per month. Unlock collaboration tools and add your own branding.
Enterprise: custom. Organize your team into smaller groups and access workspace analytics.
You can pay with a credit card, debit card, or PayPal.
Mentimeter is especially useful for people that give presentations regularly. That's because their subscriptions are all yearly.
If you need Mentimeter only for a one-time event or won't use it more than 30 days, you should see their Conference plans. However, they are considerably more expensive than their annual plans.
Mentimeter and climate change
Since 2019 the company is carbon-neutral and now they have a negative CO2 footprint! This is thanks to their investment in a technology that can capture CO2 from the atmosphere and safely put it back into the ground. You can read more about this here.
Moreover, their environmentally friendly mindset is present in their day-to-day life: their electric supplier is a green choice and Mentimeter's office doesn't use single-use plastics!
Verdict
Mentimeter is an amazing app that anyone can use.
The concept behind it is simple yet genius. Incorporating real-time interactive questions into your presentations is incredibly easy, and it's a fun way to capture people's attention and increase engagement.
Moreover, Mentimeter is open to suggestions and has a forum where you can add your feature requests, so if you find there's something lacking, they'll hear you gladly.
With remote work being so popular now and technology being a part of our daily lives, Mentimeter is sure to become our go-to app for meetings, both at work and in our personal gatherings.