Moosend vs Mailerlite vs MailChimp – Comparison
Using the right email marketing service can make all the difference between an email well-delivered or blocked. And you don't have to own a large enterprise to get started with them. 
Today, I'm going to compare three top-tier email marketing services based on their features, support, the extent of analytics offered, and pricing.
While all of them are powerful email marketing services (EMS), their different features may or may not specifically suit your needs. 
Moosend vs Mailerlite vs MailChimp – The Best EMS for You
Overview
Moosend 
As Moosend portrays themselves, "The ultimate email marketing software and marketing automation platform that will not break your bank."
And that's true. Moosend is extremely pocket-friendly. However, for other things, you should judge on your own.
Moosend was established by Panos Melissaropoulos and Yannis Psarras in 2011. It helps you in email automation while taking away the dullness of email marketing. It is indeed fresh in the market; however, it works. 
Mailerlite
On the other hand, Mailerlite defines itself as "A simple email marketing solution for all types of business with simplicity as the fundamental idea behind their solution."
The Mailerlite has been in the market for a long time in comparison to Moosend. Mailerlite was established in 2005 to support SMBs and freelancers. It helps them to enjoy the benefits of email marketing services at affordable costs.
Mailerlite is a web-based marketing tool. And not only that, because of the authentic services, it has around 800,000 users all over the globe. If this was a popularity competition, then we know who the winner is.
MailChimp
Mailchimp is a complete set of Marketing space for start-ups or small businesses. This email marketing service enables uncountable consumers all over the globe to step out and develop their business with their lively marketing technology. They have great support and uplifting content.
Mailchimp was established in 2001. It is 100% highly profitable and founder-owned. It is built in a way that gives the small business a chance to step into the market. 
Interface
Moosend
Moosend has a user-friendly and intuitive interface that is simple to use and easy to learn for beginners. The dashboard is clean and neat. All tabs are on the left, while support is ever-present on the top right. 
For new users, they have a wizard who will guide you throughout the platform so that you never miss anything.
Building a campaign is simply direct and sincere, as the newsletters and templates can be made easily. Apart from that, they also have various workflow choices to help you out.
Mailerlite
The Mailerlite dashboard looks much more formal than Moosend. The UI in this platform is straightforward with directions for a beginner and, yes, user-friendly. Most of the information is graphically displayed and all at once. 
This makes the interface clean and pretty modern. For example, you can simply create campaigns with just a click from the dashboard. Along with that, it has a relatively logical interface, as you can see everything in a flash. The users of Mailchimp will feel at ease in Mailerlite.
Mailchimp
Lastly, Mailchimp has a very analytical interface. It stands somewhere between Moosend and Mailerlite. The UI here is much more communicative and informative, and less professional than Mailerlite. The interface displays a count of current subscribers along with a chart for measuring the overall growth.
The right side indicates the upcoming autoresponders and campaigns. While the left side includes a hidden panel, which grows with hovering. It includes main headers like checking reports, administering subscriber lists, etc.
Templates And Broadcasts
Moosend
Moosend provides nearly 40+ email templates. So, you can clearly notice that there are templates for everyone. These templates have an intuitive and responsive feature that provides you with exciting content to add to your branding.
But if you're into more tech-savvy stuff, then you can also use the HTML code. This code is designed with a visual template maker to make something that you cherish.
All the campaigns through email with these templates can be utilized for tablet, desktop, and mobile right after the box.
Moosend also has the preview email option. This helps you to see how your audience will see the email once it is sent. In addition to that, it also allows you to reuse your prior template ideas for your upcoming emails. This makes your work a lot easier.
Additionally, your audience will get accustomed to the style and design of your brand or business.
Your library on this platform will hold all the templates that you've designed. Along with that, you can also add images, videos, and even custom fonts. Not only that, but you can also add all these within your broadcasts.
Mailerlite
The Mailerlite email marketing services include 60+ newsletter and email templates for your upcoming campaigns. These templates are quite unique and mobile receptive. Also, there's an option for you to create your template so that your brand stays unique!
The email editor is a drag-and-drop in function. Along with that, you can also ship the HTML. And, as you've made a template, you can use it again as much as you like it.
Now, it's time for the fun stuff. The Mailerlite lets you create your own effective and vibrant content blocks. This takes customization to a whole new level. So, that you can present a specific block to a distinct set of people and so on.
Mailerlite also provides you with social media columns, survey blocks, countdown times, product highlight blocks, etc.
One unique feature of Mailerlite is that it does not just let you plan when to send the emails, but it also comes with an auto-resend trait. This feature allows you to resend a newscast after some X session. This feature helps you to get the most of your subscribers to your message.
Just like in the Moosend, you can send an email utilizing HTML or by creating custom text emails. With custom text, you can easily add colors and bullets along with formatting. The editor made specifically for emails allows you to combine content blocks for signatures, dividers, images, texts, and so on. This feature is quite similar to Moosend.
Mailchimp
Mailchimp also comes with various types of templates and broadcasts. The first one is a basic template. These templates come with a blank space. However, don't confuse them with plain messages. They are different, as you're allowed to combine your own details from the design bank of Mailchimp. This means that your own customized template for your brand!
The drag-and-drop feature of Mailchimp is easy to understand and extremely simple. Now, Mailchimp also provides various themes. These themes involve templates with a predetermined theme, background, and layout. They are marked based on the business.
Mailchimp also lets you build your own template with an HTML editor. So, if you don't have a designer or coder on the team, don't worry. Mailchimp has got your back.
Email Automation
Moosend
There are various features based on which you can set up autoresponders. This includes birthdays, anniversaries, abandoned cart emails, and more. You can set up triggers based on the 17 options they have. 
But Moosend offers various delivery options. This includes local time-based delivery and even weather-based delivery! So you can set up an email to send ONLY if the weather is sunny. An interesting addition, don't you think? 
However, Moosend's main plus remains in its truly graphic workflow creator. You can create and visualize an entire campaign based on triggers and splitting of user flow as per your requirement. The creative freedom offered is enormous. 

Mailerlite
MailerLite also offers a visual workflow creator. And it's slightly better than the one Moosend offers. The actions and triggers are pretty much the same. However, Moosend has a better trigger set-up. The emails can be set up for delivery on local time.
Unlike Moosend, Mailerlite offers an infinite visual workflow editor that is much easier and clutter-free to work in. Mailerlite offers this visual workflow option in its free plan. This is, in fact, one of the biggest advantages of Mailerlite.
As for Moosend, you can use the workflow creator with the free plan but cannot put it to use. 
Mailchimp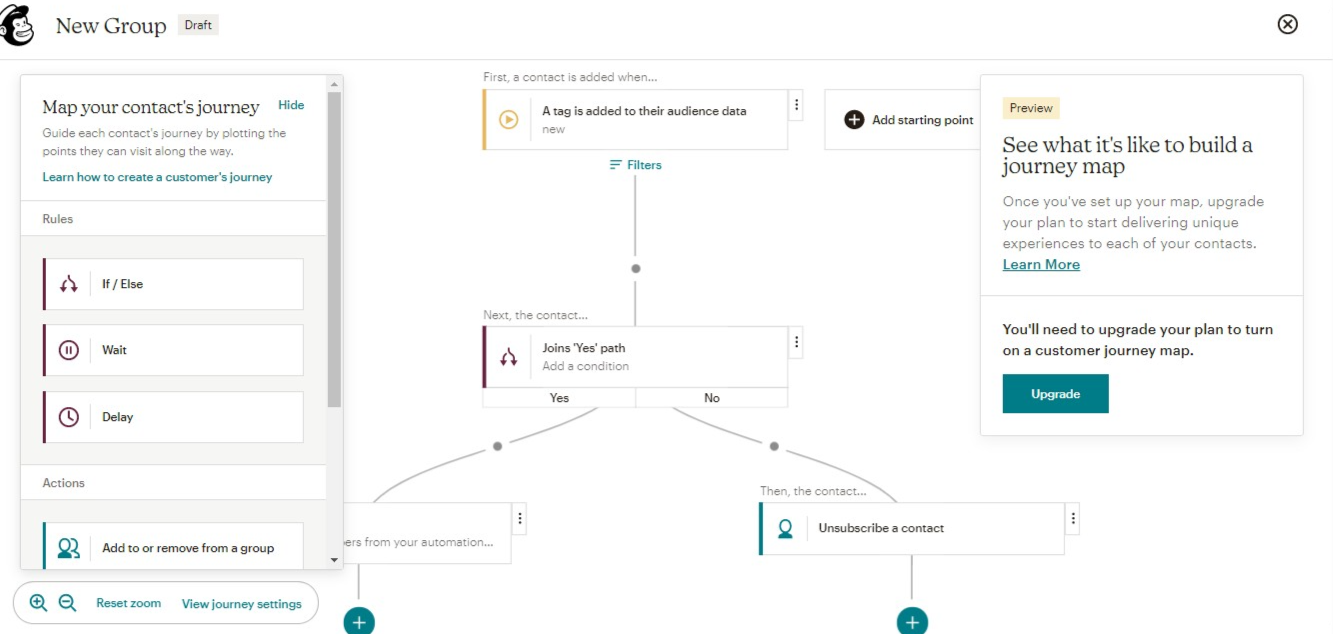 Mailchimp offers a pretty simple and basic automation feature. They allow triggers like birthdays and anniversaries, new subscriber emails, and so on. You can set up emails based on local time delivery or choose to delay.
You can add the triggers from the panel on the left and see the output in the panel in the center. However, to see the entire customer journey map, you will need to upgrade to a paid version. 
A/B Testing
Moosend
The A/B split operations in Moosend can be made using the HTML reference or the feature campaign editor. So, here you get to create two campaigns. You can start with picking up the share of your viewers and then running tests on even ratios. The email which wins will be sent to your contacts or audience. It is that easy.
Also, you can examine the content, subject line, campaign sender, or timing. With this, you can understand how your audience reacts to the particular variations for your email campaigns and websites.
Mailerlite
On the other hand, Mailerlite provides you with 3 test variables:
sender details

email content

and subject
It also lets you fix the winning criteria and sample size for your emails and templates. Then, the email design which wins will be mailed to the majority of your audience and contacts.
If you're unhappy with the winner, you can select it manually. So, there's nothing to worry about. But one thing that lacks is that the email campaigns can only be tested with Mailerlite but not on your landing pages. Also, the results only present the percentage of clicked and opened emails.
Mailchimp
Lastly, Mailchimp also provides you with similar customization for the A/B testing. However, MailChimp calls it a Multivariate Campaigns feature. This is only included in the  Premium plan. 
The Multivariate Campaign allows to offer alternate Subject line, From name, Content, or Send time. And you can choose up to 8 different variations! Thus, you can work with various different templates. However, do not fall into the trap of experimenting with too many. A control subject is necessary to compare.
You can choose the winner based on click rate, total revenue, or can be manually selected.
List Management
Moosend
You can easily create subscribers lists and import data from Google Contacts, Salesforce, CSV, or excel files. The lists can be segmented further based on what the user does. 
For example, you can create a segment within the list for everyone who has opened a particular campaign email. You can now send the next email to this segment only. 
The segmenting options are great. Segmentations can be – the device used, the number of emails opened, operating system, subscription method, campaign specifics, etc. You can add multiple lists to the same campaign. 
Mailerlite
Mailerlite's list segmentation is easy and quick. You can segment them based on tags or actions. You can also make the lists mutually exclusive. 
This means that if a customer is added to another list, they get deleted from the earlier one. This can help greatly with campaigns as users level up. 
Mailchimp
Mailchimp offers similar segmentation as Moosend does. Based on user actions, you can create new lists within lists. An additional feature is that you can view the subscribers based on how you gained them. 
That is – whether you gained them via social survey posts or landing page forms or via SMS, etc. However, the best part is Mailchimp's marketing CRM feature. This offers tools with which you can access past customer interests and interactions. 
Thus, it really makes a point of lists click together. One drawback is that Mailchimp does not allow you to mail multiple lists at the same time. 
Modes Of Delivery 
Moosend
One thing that you should know with Moosend is that they offer you a content spam analysis. This test lets you rank your email operations versus the standard spam filters. It also makes sure that your email ends in the inbox and not in the spam.
So, resultantly, the delivery mode of Moosend's is relatively high. It also offers exceptional email authentication services that concern the safety mechanisms DKIM and SPF.
Mailerlite
Just like Moosend, Mailerlite also provides you with outstanding email authentication services. As mentioned before, these services concern the safety mechanisms DKIM and SPF.
However, there's something different with Mailerlite. In Mailerlite, you have to make sure that your emailing manners are beyond provisions as they are a little stricter than other email service providers. Read our full review of Mailerlite where Aayush talks about it in detail.
Otherwise, you'll get loads of bounce mail. So, it does have some drawbacks, but it prefers quality.
Mailchimp
Mailchimp provides you with optimized timing on delivery. This is purely based on the information that they've collected. Also, you can either pick which message to send based on the information, or you can go for the messages which are based on the consumer's local time.
Along with that, you can make unlimited records with Mailchimp. However, MailChimp also lets you build lists inside lists. The meager lists could be easily sorted based on their location, social media, replies to campaigns, etc. This is actually a beneficial feature.
Reports and Analytics
Moosend
Moosend offers detailed insights into each campaign. This includes user activity, link performance, device tracking, location tracking, and a general overview of email performance. 
The reports displayed include links activity, devices used, user location tracking opened and bounced emails, spam tracking, and unsubscribers. Compared to the others, Moosend misses out on various fields that the others show. Take a look below.
Mailerlite
Ecommerce owners will benefit greatly from MailerLite's reporting statistics. MailerLite offers an extensive overview of clicks, purchases, unsubscribe, and more. However, sadly Mailerlite cannot offer any insight into social media statistics and impressions. 
The Spam complaints let you see the users who reported your emails as spam. Apart from this, you can keep track of link activity, bounce rates, devices used, and subscriber activity.
Mailchimp
Mailchimp offers all the insights that Mailerlite does along with social media stats. You can use Facebook Pixel along with your landing pages and integrate third-party tracking options for email as well, such as Google Analytics. 
Another interesting thing offered is click maps. This not only tracks the user clicks but also displays if any user on your list has clicked on this or not. Using the View More option, you can see these contacts and which campaign it was that drew them in (if they came via such links).
The Pro plan allows Comparative Reports, which can compare between two campaign data. With the report automation, you can generate automatic reports as per your need.
Integrations 
Moosend
Moosend allows integrations with WordPress, WooCommerce, Zapier, Magneto, SalesForce, Drupal, PrestaShop, OpenCart, and more. 
Mailerlite
Mailerlite integrations include Zapier, Shopify, WordPress, Facebook, MailerCheck, OptinMonster, PayPal, etc. Pretty much all 3 tools perform well in the area of integrations. If not, you can always use API keys. 
Mailchimp
Mailchimp allows integrations with pretty much everything under the sun. The list includes WordPress, Twitter, Magneto, Drupal, Salesforce, Squarespace, Facebook, and more. However, you cannot integrate with Shopify. 
Support 
Moosend
If you get stuck in a problem, Moosend support is always on time. Whether it is email, live chat, or phone, they always offer an exceptional response time. The support also provides you with a help section that'll sort out your various documentation issues over the platform.
However, the onboarding and migration, and priority support are open only within the highest plan. Along with that, Moosend has devoted account managers who are allotted to people who sign up.
The size of your company doesn't matter. You always have someone to provide you with genuine steps to expand your enterprise.
Mailerlite
Mailerlite support is also friendly, responsive, and swift chat and email customer assistance. However, their video tutorials and data support are adequate for you to understand.
Along with that, their support team comprises people who can assist you in 12 different languages. This makes it easy for their users who are all over the globe to solve their problems.
Mailchimp
Mailchimp provides two different degrees of support, which are medium and high. Medium one for free plans and high for the premium plans.
However, for the free plan users, the support is restricted to database patterns and email tag support. The support is available 24×7 for premium users. And the consumers with the highest plan get the facility of phone support.
Pricing
Moosend
Moosend provides you with a pro plan, enterprise plan, and even a free plan. It depends totally on you. If you pick to pay yearly, you can get up to a 20% discount. However, if you go for a half-yearly payment, you can get up to a 15% discount.
They also provide you with a program where you can purchase credits based on the services you want. For example, $3 can get you 1000 credits. Here, one credit indicates one email that you can send.
Mailerlite
The free scheme was the best pick until the platform limited some of the features, like access to the number of templates and emails. Though, if you think this plan is perfect for you, as it comes with a drag-and-drop editor feature, then you can pick it up.
Otherwise, their $10 plan isn't that bad, as this plan comes with access to every feature they provide.
Mailchimp
On the other hand, MailChimp comes with three prominent various pricing stacks. The first stack is an unrestricted free plan. 
As all the services that Mailchimp provides have an annual bill, they provide a special benefit. You can go for the pay-as-you-go feature. This means you can pick a service program and prepay it every month.
After all these plans, here comes the standard plan, which offers you 1,00,000 contacts just for 14 USD. Interestingly the Mailchimp involves the A/B testing option in the basic plan.
All Round Common Features
Being well-known marketing automation, here is a round-up of the common services they offer:
Delivery of emails based on the local time zone

Tracking of the clicks by users

Event-triggered emails and Drip Campaigns where you can set specific emails based on user reactions

Autoresponders and abandoned cart emails

Drag and Drop editors for forms, surveys, etc. as well as HTML editors

List segmentation and contact management

Checking of spam/ whitelisting

RSS to Email converter 

Free templates

Cloud/ SaaS deployment
Special Features
Some of these marketing tools have special features. If this is something your business needs, then it could be a deciding factor in your choice among the three. 
Only MailChimp allows you to target users based on Google and Instagram Ads analytics. This is an advanced feature not seen in many contemporaries. Mailerlite can track Facebook ads only. 

Only Mailerlite offers free access to a stock images library.

MailChimp allows multi-variate testing where you can compare multiple variables within the testers.

Both MailChimp and Mailerlite have their own mobile app. Moosend has no mobile app as of yet. 

Mail Chimp and Moosend offer to send time optimization statistics. 

Moosend and Mailerlite offer visual workflow views. 
So, Who Wins?
It isn't a matter of winning as much as it is a matter of choice and need. No doubt, all three email marketing services are at the prime of their tier. All the comparisons have been made in this article, so you can pick up the service you need. 
Overall, MailChimp emerges as a winner when all featured are given equal importance. Not only do they have a Marketing CRM, but they are also working on a creative assistant feature (currently only in beta version). Their Multivariate campaign is quite advanced.
However, MailChimp is not as intuitive as Moosend or Mailerlite is for beginners.
Moosend with its robust free version is a perfect email marketing service for beginners. You can send unlimited emails per month with this. They even offer the A/B Testing feature in their free version, which is unheard of! 
If you own a small business, you should look up Mailerlite. Even with the free version, you can manage up to 12,000 emails per month. They are the old and authentic brand in the market, and they also have a simple and direct UI and user-friendly interface. I'd recommend Mailerlite to most bloggers as well.
Lastly, all of them offer you free plans, so you can check out all of them and pick for yourself the one which suits you best.
We hope this article helped you with picking up the best email marketing service for your business!