14 Powerful Content Writing Tools For Bloggers
Wanna know a little secret?
Some tools can help you write faster, sharper, clearer, better, and overall increase your efficiency & effectiveness.
This list has such a collection of tools that'll help you increase your blogging and writing productivity.
I hand-picked tools that:
help you plan,
help you execute; and
help you write better.
Let's begin!
Pro Writing Aid
Pro Writing Aid is a new tool that Aayush pointed out to me. So I had no clue about it, but when I tried it and used it a bit (free version) I fell in love with it on the spot
It works similar to Grammarly but is much more robust.
You paste your text in the editor (500 words for the free version of the app) and it will tell you things like:
Grammar and style errors
use of cliches
overused words
sentence length
Thesaurus
diction
vague word
Homonyms and alterations and their potential overuse based on your content's style
readability
etc
Overall this tool makes me eschew Grammarly in favor of it. I don't know if it'll really happen for me but I invite you to try it for yourself.
It's free and delightfully simple to use.
Here's the link for free signup. And a discount when you upgrade to a premium plan, enjoy!
Answer the Public
All keywords are questions because behind every keyword, there's an underlying problem itching to be solved.
So, how do you as a marketer, find problems people have?
Simple! You find the questions they ask
But how do you find them?
It's a free tool that mines question people ask about a particular topic.
Let's take "affiliate marketing" for a spin: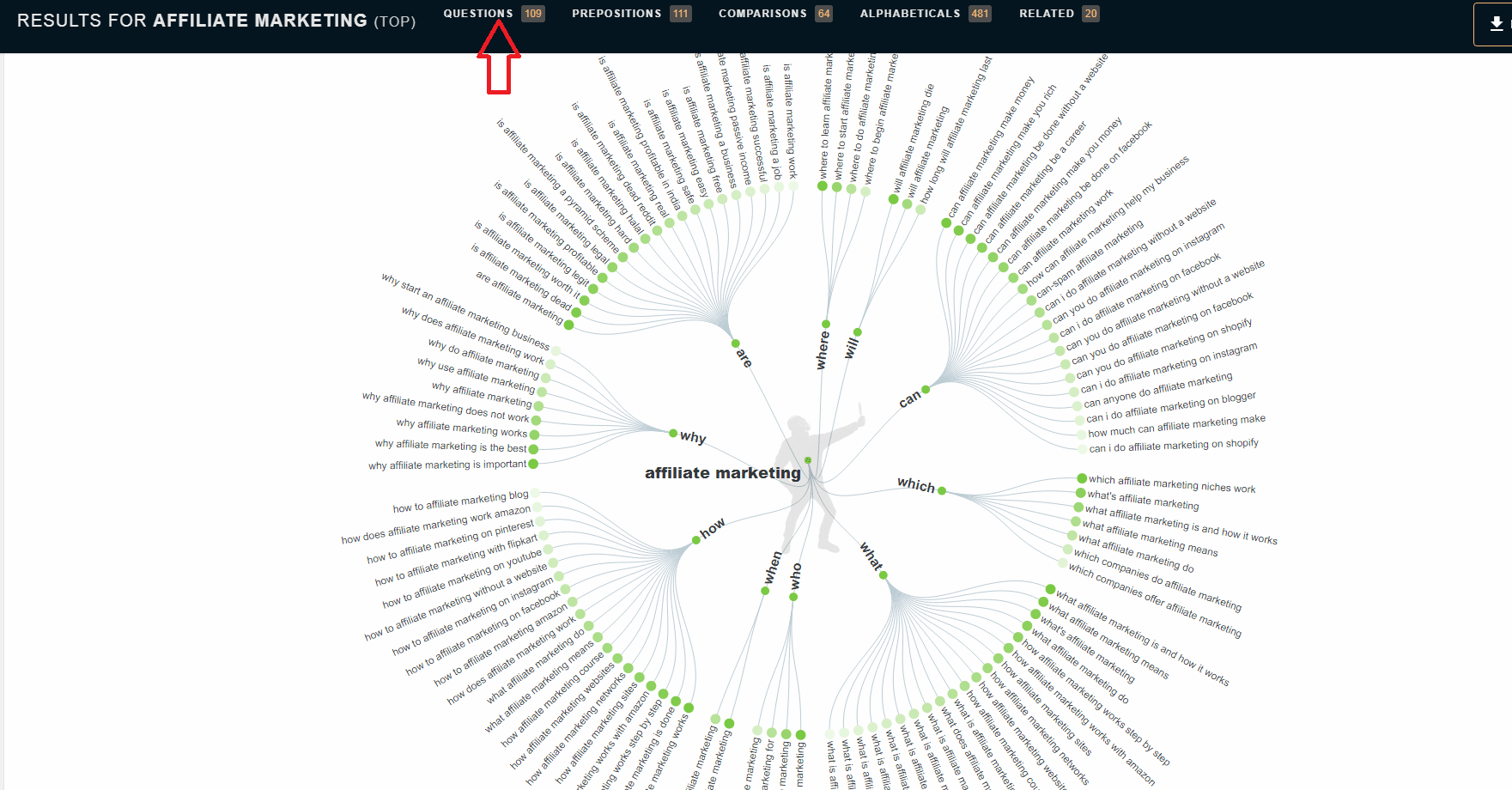 Note:
Answer the Public will spit out all questions people ask about your topic, but there will be a natural overlap between questions and not all of them will be suitable for your blog.
Use common sense when you pick and choose!
Frase
Frase.io is also a question extractor tool, but also it's so much more than that. Frase is an innovative platform that promises to help you answer your customer's questions better than your competition; so that you can reap the benefits of content marketing and not your clueless competitors.
This tool is advanced and not for newbies, but one module is for anyone.
Its content briefs:
Simply load it up and chose your keyword (content marketing) and it will spit out all the info you need to quickly start working on your article.
You get:
questions people ask
the headlines and subheadlines of all 10 articles ranking on the first page
Major topics shared between all articles.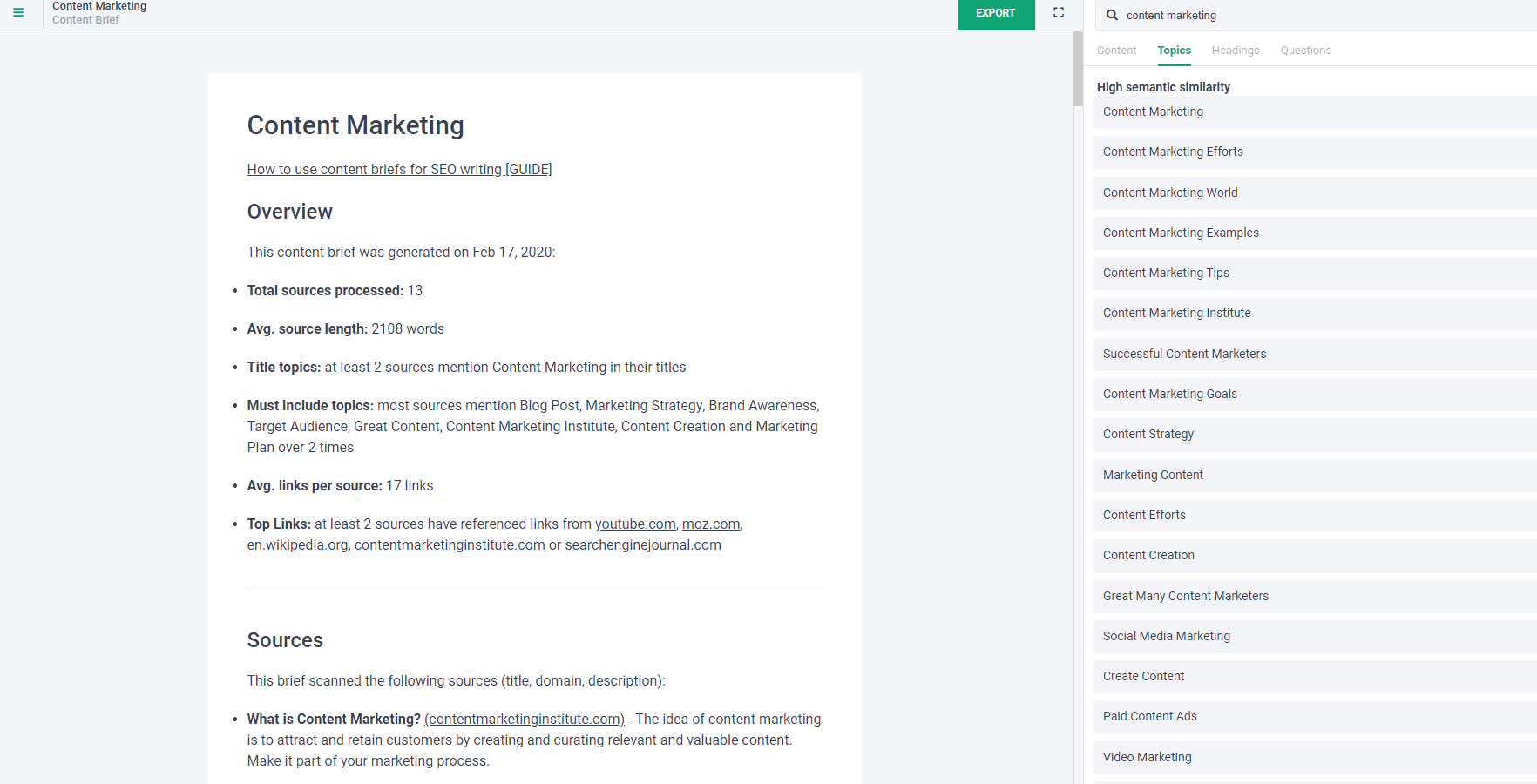 This tool is a research time destroyer, meaning you can invest 10% of your regular topics research time and end up with the same results or even to a degree better.
I spend an unreasonable amount of time research so Frase will help me a lot.
And it's free for up to 5 documents. This tool is so good, I can't wait to write a detailed tutorial.
Google Docs

I used to be one of those bloggers that would write straight into their WordPress editor.
At the time, it seemed most logical to me. But I also didn't know about Google Docs. Had no clue it existed.
However, once I did learn about it, and once I realized what it could do for me (a newbie blogger writing in a non-native language), I switched in a heartbeat and never looked back.
And what capabilities does Google Doc have and that I'm alluding to here?
Google Docs is packed with useful features, but I especially like:
How it's easy to collaborate with other folks on the same project
How Google Doc's spell checking and grammar software is too good, way better than what Microsoft Word can offer you.
I write pretty decently, but the amount of mistakes Google Doc finds makes me slightly blush when I think about it. I mean, It's almost like having a flesh-and-blood editor hanging over my shoulder and correcting my many faults.
At first, it's really annoying, but later I learned to appreciate it.
I invite you to try Google Docs for yourself. You have nothing to lose.
SEMrush SEO Writing Assistant
This is a nifty little tool that comes from the all-in-one SEO tool SEMrush. As the name implies, it is an on-page SEO checker.
So, the tool takes your on-page elements into account and calculates the score of your text; and then it suggests improvements.
Some of the tool capabilities are locked, and you can only unlock them if you're a premium SEMrush user, but the free version gives you enough to make it worth your while.
WordPress Distraction-Free Mode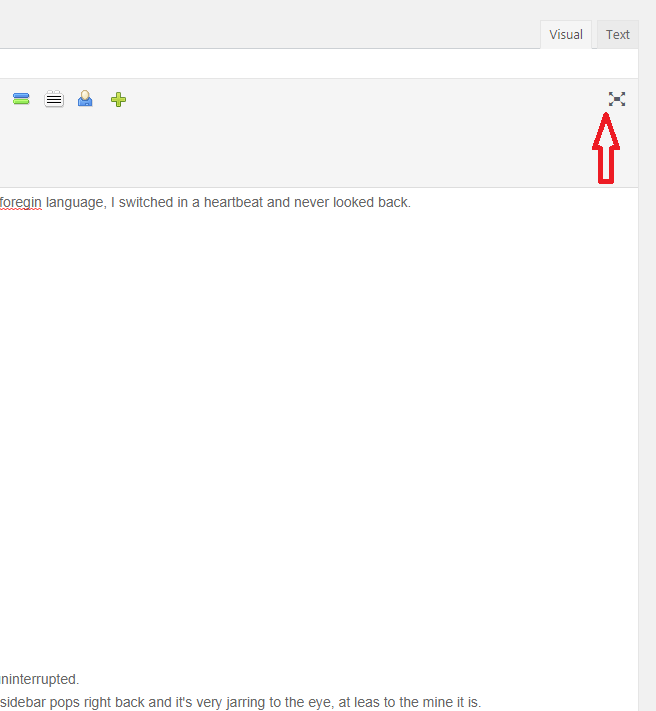 WordPress has an inbuilt distraction-free feature. Once you toggle it, the sidebars disappear, and you are free to work uninterrupted.
I personally never use this because it annoys me so much that, when my mouse cursor even slightly leaves the writing page, the sidebars pop right back, and the contrast is very jarring to the eye, at least to the mine it is.
I much prefer Google Docs for writing because of its cleanness and simplicity, but you can try both and then take your pick.
Grammarly's Free Spell Checker
Grammarly is a premium grammar, spell, and style checker. However, they offer a free version and it rocks. 
Honestly, their free version is so good that sometimes I wonder if it's not too good and how are these people doing business?
I guess they know what they're doing because they're flourishing, and the main reason they're doing so well is that their free Grammarly tool is so helpful that people can't help it but flock around it, and many of them go premium.
I will put a curb stop to my praise of Grammarly here.
Just know that it will help you correct 98% of your spelling and grammar errors.
Pro tip:
Grammarly has a Chrome extension you can install so it can correct you as you write. My suggestion is that you don't install it!
Why?
It's because, when you write- you write.
And you don't want to stop, go back and correct a typo, instead of typing some more.
When writing first drafts, it's crucial to get them done quickly.
You can edit later all you want, and the regular app version of Grammarly can help a tonne.
Hemingway App
Hemingway App is another awesome and free tool you can use to boost your writing. Hemingway App is aptly named after Ernest Hemingway, who was known for having short sentences that get to the point fast.
Note: read this article for more info on how Hemingway wrote and how you can emulate his winning writing style.
So, Hemingway app checks your content's readability, and it highlights sentences that are too obfuscate (meaning you use complicated words, like obfuscate:)) and those that are too long, windy, and seem to never end.
Cut down of those, and you'll have a readability gem on your hands.
Note: the average American reads at the 9-the grade level. Aim for that grade or lower.
It's easy too. My typical grade is 5, which is very easy to:
read,
grasp,
understand
and comprehend too.
Cliche Finder
Here's what Cliche Finder have to say about themselves:
This free cliché finder finds and highlights clichés in your writing so you can remove them. Find clichés in poems, text, or other creative writings with a simple click of a button. Quickly improve your writing and communication skills by identifying and eliminating words, expressions, and phrases that are trite, stale, or overused. Our cliche checker uses a unique algorithm and overused phrases dictionary to find results.
The unspoken rule of reading online is- never trust someone who describes themselves and what they do; mainly if they sell something too;
But in this case, it's true.
Cliches are overused, wooden phrases that have no place in your writing.
They make your content sound weak and fluffy. And Cliche Finder can help you eliminate weakness and turn weak spots into strength hubs.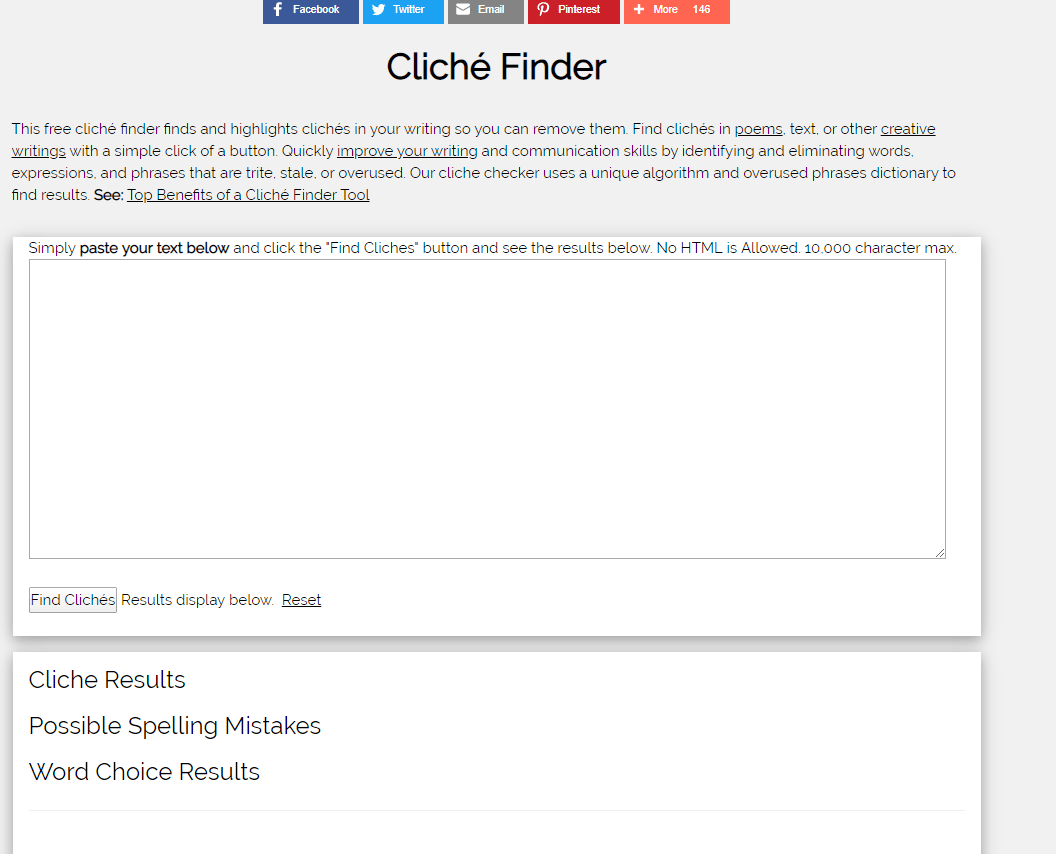 Yoast SEO
Yoast SEO plugin is one of the most popular plugins on the web.
What I like about Yoast SEO is that it gives you an overview of your blog post-on-page SEO, but also proper keyword usage and readability.
I pay no attention to it now because I know what I'm doing, but early on, this tool was a real lifesaver for me, and I remember I'd refuse to publish an article until Yoast gave me all green lights.
Portent Headline Tool
This tool was new for me, too and I regret not knowing about it sooner.
You input the subject (keyword) and it will give you a headline, but not just any old headline. It'll spit out a very witty one guaranteed to make you laugh.
For example:
I input "SEO," and here's what I got:
Very funny and the benefit for your SEO would be- provocative titles compel people to click so they can learn what it's all about.
Asana

Asana is a wonderful blog post planning tool. So, instead of writing them in your notepad like I did before (foolish me), or even in Evernote which I adore as a tool, but is not suitable for everything:
I add my blog posts to Asana and as cards.
Each blog post gets a card with it's:
proposed title,
article outline
writing specifications
special notes
etc…
The cards can be freely moved based on the phase of the post's completion.
For example:
you can have an "in progress" column and "done" column. And when the article is done, you simply drag and drop it to its new column and that s that.
Asana is perfect for not losing your head with so much blogging work; and also for secure collaboration with your team members.
Note:
Read this Asana review Aayush published a while back. It'll open your eyes, and you'll wonder how you ever went without this productive tool.
Block Site for Chrome
This free app was a godsend for me. I used to always be distracted with Facebook, Twitter and email. I couldn't get any work done.
But ever since I use this Chrome extension to block those sites at specific time intervals and voila, suddenly I can work uninterrupted and I easily get "into the flow."
Block Site is a free app, so go and install it
Once you do go click on the "gear" button (settings).
Then just add the sites you want to block, and that's it
Egg Timer
Egg Timer is a super simple online program that can track your time spent and alert you when your time is up.
So you can use this tool to help you write blog posts faster.
And you do it by unifying the task and assigning each task it's allotted time to finish.
For example:
20m research
50m writing
40m editing.
30m image taking
10m image adding
etc
This is so helpful because it keeps you on your guard. You know the time is relentless and is running out on you as you dawdle. So you go and you hustle real hard, trying to be fast, and somehow, you manage to get the job done before you hear the beeping sound of an alarm clock.
We all hate the feeling of not making it in time, and Egg Timer can help you feel good about yourself while getting stuff done in the meantime
It's a great little tool.
Conclusion
Success in almost every situation depends on both hard work and smart work.
Creative writing is hard work.
But using a tool is the smart way to write.
Don't torture yourself when you don't have to.
Instead, use these tools to your advantage.
And to end this article on a high note, notice how I picked 11 tools and no more?
Because that is all, you'll ever need.
SEO is always gonna be an essential part of the equation, but the main purpose of this article is to HELP you succeed at blogging.
Let me know your thoughts in the comment section below.