So, you're interested in affiliate marketing!
And now it's time to choose a network to start with that strategy.
Well, a big part of that decision depends on which type of affiliate marketing you want to participate in.
Affiliate marketing models aren't all the same. Although the Cost per Sale model is very popular, there are other options out there that can be more beneficial for you. For example, Cost per Action (CPA).
And today, in this post, we're going to talk about a CPA network, Perform[cb]. We'll see what it is, which are its main features, its pros and cons, and a brief tutorial.
Let's start!
What is Perform[cb]
First known as Clickbooth until 2020, Perform[cb] was founded in 2002 in the US. And currently, it has headquarters in Florida and in Bosnia.
Perform[cb] has been ranked as the number one CPA Network Worldwide for connecting marketers and affiliates. It offers strategic plans tailored to meet its clients' specific marketing goals – all while only paying for new customers instead of simply impressions or clicks.
They work with some of the biggest brands in the world like HBO, TikTok, and eHarmony!
One of the things that have made Perform[cb] stand out is that it integrated AI into its platform way before its competence did. Their AI technology has been proven to provide a 36% lift in EPC (Earnings per click) for their affiliate partners.
Who is it for?
The platform offers two different services: one for marketers and the other for affiliates. This allows Perform[cb] to be a very appealing place for multiple people worldwide.
Entrepreneurs looking to drive traffic to their site can do so thanks to its scalable services and no activation or ongoing fees.
All you practically need to be an affiliate is a channel where you can promote products. Normally, that's a website that gets considerable traffic, but you can also do it on Facebook, YouTube or any other social media.
On the other hand, Perform[cb] is also great for big companies in need of a comprehensive performance marketing strategy and customer acquisition. They count on vertical expertise in Finance, Health and Beauty, Entertainment and Lifestyle, and more.
How does it work?
Perform[cb] specializes in the Cost per Acquisition (CPA) and Cost per Install (CPI) marketing models. This means marketers don't have to waste their ad money on clicks or impressions that might never convert but instead pay for actual new active users.
In CPA marketing, the affiliate is paid whenever a user takes a specific action. That includes not only purchasing but:
Creating an account.

Filling out a form.

Taking a survey.
For affiliates, they have unparalleled offers and campaigns, as well as best practices and insights that help you take your affiliate marketing to the next level. They have thousands of curated, top performing offers across verticals, including Lifestyle, Financial, Health & Beauty, Entertainment, and more.
They also have advanced proprietary learning algorithms that determine the best offer for a specific consumer for every single visit.
For marketers, they specialize in generating consistent, quality customer acquisitions at high volumes through exclusive affiliate channels on native, mobile, social, email, contextual, SMS, and search placements.
Main features
Targeting
Both marketers and affiliates are able to segment traffic by a number of values, including traffic channel, device type, and day of the week.
Using these tools, affiliates are able to make granular optimizations to further improve and monetize their traffic at the touch of a button.
Marketers, on the other hand, have the ability to generate lead ratings and correlate value-based payouts on an individual basis.
Brand and Image Rotation
Perform[cb] has a feature for affiliates that lets them update their pages once and run multiple offers through one link, with corresponding product names and images.
Multi-Level Offer Priority
Also, for affiliates!
With this code, they can select specific offers to run before leveraging the algorithm if they hit their cap.
TiktTok Conversion API
Set up tracking pixels directly in the platform's Partner UI to send traffic data back to TikTok. This API is a complete cookie-less solution that maximizes the number of leads you track directly on TikTok.
It's not even affected by the cookie-blocking policies used in browsers like Safari or Firefox.
Keep reading to see a brief tutorial on how to activate the API.
Partner API
Perform[cb] gives affiliates the freedom to use the platform however they prefer: through the web interface, on their affiliate mobile app, or by seamlessly integrating the API into their existing tracking platform.
They offer two different API versions depending on your needs: JSON and XML. However, you'll always receive the same data regardless of your choice. With this API, you'll basically be able to:
Automate campaigns

Receive a list of available offers at any moment

Turn off media buying and automatically resume it once the offer is allotted a new budget.
Security
The platform has PerformSHIELD, and anti-fraud technology that ensures 24/7 campaign safety.
They also offer pre-payment validation with a comprehensive fraud-detection review of every affiliate partner within their network before their first payment.
As for marketers, Perform[cb] has a team of compliance experts to help them learn about how they can better secure their campaigns today.
Analytics
For marketers, Perform[cb] has real-time reporting and the UI is action-based, so you can make any necessary granular and global adjustments right from the dashboard.
The analytics also have a drill-down approach, meaning you can easily shift from an overview of data to a more detailed and granular view.
Support and Resources
You can contact Perform[cb] through email; they offer live support 24/7. They also have many learning resources, such as a Back to School Marketing Guide.
There's a YouTube channel with some very short videos but no tutorials or blog posts on how to get started.
Since Perform[cb] uses tons of industry terms, which can be overwhelming for beginners, they also have a Performance Marketing Glossary to help you on your way.
As to the relationship between account managers and marketers, Perform[cb] claims they end up forming a strong bond and sometimes even become friends. So, it's definitely a place to feel at home.
Other features
Apps: affiliates can now download Perform[cb] mobile apps for iOS and Android and maximize their earnings.

Languages: Perform[cb] supports English, Russian and Spanish.
Pricing
Perform[cb] offers flexible payment options for affiliates. They tailor payment schedules to work with your business and they pay you weekly by check, PayPal, Wire or ACH.
Marketers pay only for results. You'll inform Perform[cb] how much of your marketing budget is allocated to customer acquisition so they can provide you the best service for your needs.
Pros and Cons of Perform[cb]
Pros
Scalable services.

Supports multiple languages.

Tons of automation.
Cons
It might be a bit complicated for beginners.
Tutorial
Getting started
To get started as an affiliate partner, you need to sign up.
You'll have to fill in your details and describe your promotional methods. This step is part of the approval process, which can take a while. They are very strict, so make sure everything you fill in is true, or else your application will be denied.

In case you want to be fast-tracked for consideration, you'll have to provide screenshots to verify your income.
Finally, click "Submit my application."
TikTok Setup
1. If you don't have a TikTok business account and an Advertiser Account yet, you'll have to create them.
2. Create the pixels. To do this, go to TikTok Ads Manager > "Assets – Events" and choose to Manage under the Web Events section. Then select the option to set up an Events API.
3. After that, you'll see these options, and you'll have to click on the installation type "Manually Set up Events API," then "Setup."
4. Finally, to retrieve the Access Token, click on the appropriate Pixel, go to settings and click on "Generate Access Token". Since it won't be stored by TikTok, make sure you grab and save your Access Token.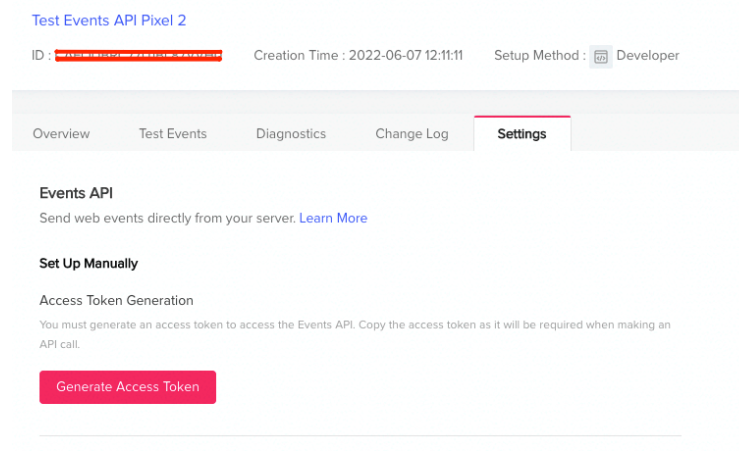 Final thoughts
So there you have it. Our take on Perform[cb].
Perform[cb] has a whole set of tools and cares deeply for its marketers and affiliates. Besides having a lot of automation features and awesome AI technology, it stays up to date with current tendencies, for example, by offering tools for TikTok.
They also are super receptive to new feature requests, which is fantastic.
All in all, it's a great CPA network, although I think it might be a bit complicated for beginners due to all the industry terms.
What do you think? Any experience with Perform[cb]? We'll love to read about it in the comments!