Creating captivating visuals online is essential to get attention from your audience.
Whether you're a small business, a content strategist, or a social media influencer. You need a stunning, eye-catching graphics to get attention in the noisy internet world.
If you're promoting your product through social media posts the high-quality graphics are essential to win the attention of your audience. For example, Having the right size and quality of images & videos for Instagram helps you get more engagement.
One of the challenges Instagram users face is creating interactive videos. For marketing purposes such as advertising, you have to create videos that catch the eyes and persuade people to stick longer.
Similarly having a stunning Youtube thumbnail is the key to get more clicks and views on your videos. Most people won't even read the title of your videos if they like and find the thumbnail interesting.
Pinterest is another example where you need to make sure your pins are of the right size and look absolutely beautiful. In order to get more pins for your content, the images have to customized so that they display more information in less space and still look good.
However, all of this isn't as easy as it sounds. Especially when you are using tools like Adobe Photoshop and Affinity Designer. A lot of people rely on these two tools which are absolutely not built for many complex purposes.
You need the right tool to create graphics online and once such a tool is PosterMyWall – a tool that allows you to create videos and multiple types of graphics online.
PosterMyWall
PosterMyWall is a graphic design tool that helps you create both images and videos from the same platform.
It supports multiple images & social media post formats and gives you access to hundreds of interactive elements for videos.
It allows you to create high-quality custom images, posters, flyers, digital signages, infographics and social media posts.
You can use PosterMyWall to create HD & 4K videos easily. As it comes with pre-designed video templates for all social networks.
It is so simple you won't require any designing skills.
It gives you access to more than a thousand stock video clips. All video clips are professionally for various businesses including fitness, food, travel, tech, entertainment, and education.
You can choose from PosterMyWall Stock Media clips to find audio clips and add them to your videos too.
It is so easy to use, you can start using it and create a design within 10 minutes.
Now that the introduction is done, let me review the video creator and graphic designer that PosterMyWall offers.
To start using PosterMyWall you need to signup for a free account.
Once you've created a free account click on the Browse section. Here you can choose to browse through different sizes and themes.
This is how your dashboard will look like:
Under the themes menu, you'll find different niches such as small business, sports, social issues, entertainment, health, music, and so on.
There's an option to browse by size. Select your desired template size from a variety of graphic designs including:
logo, social media campaigns, website header, blog header
Posters, flyers, digital signage, letterheads
Price lists, Brochures, Album covers, Business cards
Zoom background, eBook cover (including Kindle)
Online advertisement banners,
That's a lot of options.
To create a new design from scratch, click on Create a Design button. PosterMyWall's blank canvas editor allows you to create a new design without using any template as the base.
However, you can still add a template anytime you want.
The graphic editor by PosterMyWall is decent. It is fast, loads smoothly on both Safari and Chrome.
It also supports real-time editing with both video and image media. Not many graphic editors support this feature.
You get access to the stock photos library to use in your designs.
You can import photos from your Facebook, Google Drive and Dropbox account directly to your PosterMyWall album.
To add photos in your designs click on the Photo button inside your graphic editor.
You can choose from Stock photos or select and already uploaded images from the PosterMyWall media folder.
Using the same graphic editor you can create multimedia designs such as GIF and videos.
In order to create a new video, click on the Media button in the editor.
Search a keyword to find a new video. For example, here's the search result for the keyword fitness: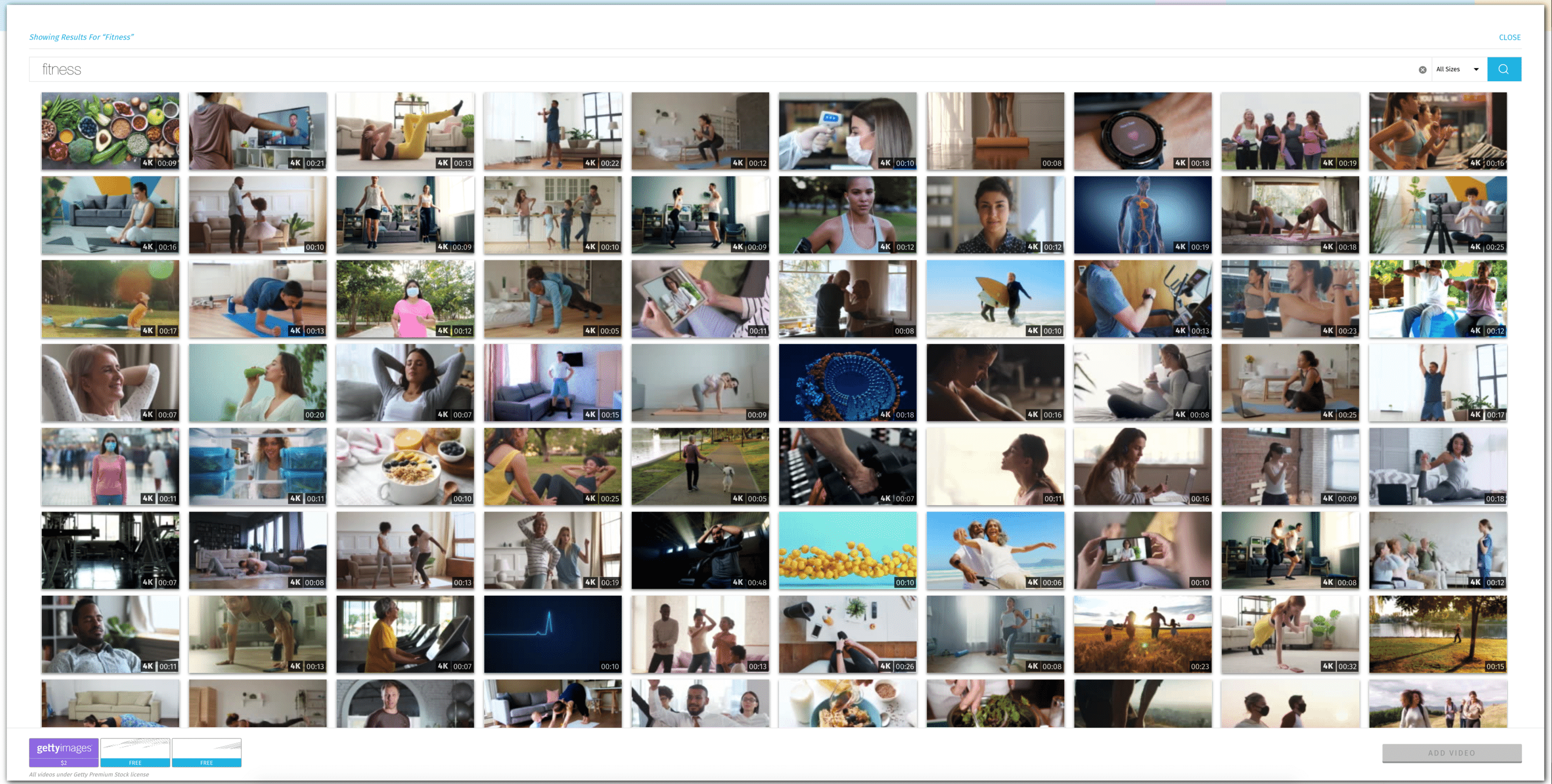 It will then show you thousands of free stock videos to choose from. Each video is royalty-free for up to 10,000 units of commercial use.
All the video templates are customizable. You can easily change the text, color, shape and size of the elements inside the video easily.
To add an image in your video, hover over the image inside the video and click on the replace photo button. A new popup will appear where you can select the new image.
You can edit an image and video on the same canvas to create a new design:
You can even add a new video inside the template as PosterMyWall allows you to create layers. You can overlap multimedia without any issue.
When you click replace photo button the same popup allows you to add images and videos. This makes the whole experience streamlined.
On the right side you have the options to edit the graphics and videos:
The editing options allow you to:
Cut
Crop
Mask
Adjust opacity
Flip a particular element (an image or text inside the template)
Adjust Shadow, glow, tint, brightness, edge effects and multiply effects
Lock layout in place
Stretch the elements including videos and images
Change the element color
Adjust font size, line height, letter spacing and alignment
Change background (transparent or color)
Pause or play the video
Trim, mute and unmute the video
Replace the video inside the template
It's nice to see how flexible PosterMyWall is. You can change a video from inside of a template. That means if you like a certain template but want your own video to be shown inside, you can simply replace it.
To make your Posters, flyers and other designs or video look more attractive you can add shapes and arts in them. The small shapes such as stars and arrows look beautiful and interactive, making it sure that you grab attention.
To add shapes into your graphics and video, click on the clipart button.
There are hundreds of shapes and geometrical designs to choose from and the PosterMyWall team keeps adding more every month.
You can re-size any image, graphic, or video template in custom dimensions.
Without losing any style elements or cliparts. Even after you are done publishing.
Pros
There are many good things about PosterMyWall that make it an excellent choice for small businesses and social media marketers.
PosterMyWall is free to get started. The free plan allows you to take a test drive of the design editor and its features.
The editor is fast. It is much faster than its competitors like PickMonkey and DesignBold. The learning curve is very small so PosterMyWall is easy to learn for beginners.
You won't have a hard time editing graphics and videos through the editor.
It allows you to create and download 4k and HD videos without any extra charges on a premium plan which costs $89.95/per quarter. Which is a very low cost when you compare it to hiring a freelancer to do it.
Social media post scheduling is a part of PosterMyWall.
That means if you're using tools like Buffer, you can try the social media scheduler offered by PosterMyWall and switch to it if it suits you. That'll save you a couple of dollars every month.
It supports Twitter and Facebook for direct and scheduled social media publish.
Pricing
PosterMyWall is affordable. It has quarterly and monthly plans.  When you purchase the year plan it becomes really inexpensive at $99.95 per year for the premium plan. The premium plus plan is the price at $319.95 per year.
The premium plan is priced at $29.95 and premium plus is priced at $89.95 when you choose to pay quarterly.
You get unlimited downloads in the premium plan and 3 free monthly credits. But you can only download 3 videos in a month on the premium plan.
When you choose the premium plus plan you get everything unlimited. You can download unlimited videos, images and templates.
Other features like custom fonts, team collaboration and social media post scheduling are free across all paid plans.
There are hundreds of free media clips and video templates to choose from. You have an absolute abundance of choice to create any kind of custom design to match your brand.
Royalty-free images also make it easy to eliminate the issue of using copyright images.
It may happen that the image you used in your video or graphic via web search may be copyrighted. In that case, you can get in trouble for copyright infringement.
So, using PosterMyWall's stock image library, which is powered by GettyStocks us the best option.
PosterMyWall is a completely separate feature called Menu Maker for restaurant owners.
Using the menu maker you can design your custom menus easily. Even if you've never used a graphic designer before.
The Menu Maker is full of custom made professional templates. Simply pick a template and customize it for your business. You can either download it or order a print from PosterMyWall itself.
If you ever need to change an item from your menu (which of course you will), you can do so by editing the same template. You can create one template and edit it as much as you need. Or you can create a menu and save it to use it in multiple different templates.
The same goes for their amazing Digital Signage creator.
PosterMyWall also has a Digital Signage creator that will help you create custom video signage ads. All the Digital Signage templates are available for commercial use once you've published them.
Cons
There are a few things you may not like about PosterMyWall.
Their free plan is highly limiting. You can create images, posters, flyers and all the other graphics formats, but you need to pay-per-graphic to download. This means a free plan doesn't allow you to download images watermark-free on a free plan.
It also adds a watermark on all the videos and graphics in the free plan. So it is nothing but a demo plan to take a test-drive of PosterMyWall editor.
No icons or other elements are available in PosterMyWall editor. There are no options to find flashy SVG- vector icons and elements to your images or videos like Canva or Stencil.
Unlike Snappa or Stencil, it doesn't give you an option to download the graphics in multiple formats. You can only download JPG images, GIFs, and MP4 videos. You can also download the graphics in PDF format for $2.99/per image.
Auto-save doesn't work very well. You have to hit the "save" button the first time you start creating a graphic or a video.
Certain things like creating brand kits, having access to thousands of free icons and a more powerful designer make PosterMyWall a lacking tool for professional marketers and big businesses.
PosterMyWall – The Conclusion
There is no argument on amazing PosterMyWall is for small business and social media marketers.
Features like team collaboration make it a good choice when you are scaling your business.
However, there is no comparison between Canva – the best graphic designing tool on the market and PosterMyWall.
PosterMyWall provides a lot more value for Instagram and Facebook markers given that its video editor is just flawless in that aspect.
The Digital Signage and Menu Maker are specific features that you may love to use depending on who you are.
Do I recommend PosterMyWall for professional social media marketers and heavy graphic design purposes?
No. You are better with Canva, Stencil or Snappa. They are in a different league.
But if you are a casual, beginner, or if you are running a small business then PosterMyWall will save you a lot of money providing excellent value as well.
Have you tried PosterMyWall before?
Did you like it?
What and who would you recommend it for?
Any questions?
Let me know in the comments below.