Grammarly has been the go-to proofreading software for users all over the world for a long time. However, the development of AI writing tools threatens to dethrone it.
If you still use Grammarly, then stay and read this post. We'll cover the features of Grammarly, Wortune and Quillbot and see which is better!
Quillbot vs Grammarly vs Wordtune
With offices in Chicago and Jaipur, QuillBot is popular for being a paraphrasing tool. The QuillBot project started back in 2017 and since then its user growth has been exponential.
As the product of a team of former Illinois students, it has, naturally, amazing tools directed especially to University students like the citation generator.
Still, the application in general is targeted to anyone that writes.
Grammarly is the most popular proofreading software out there. It was founded ages ago, in 2009 and has since then grown a lot.
In fact, they are about to launch a new feature called GrammarlyGO.
They are also committed to the responsible innovation and development of AI, mitigating bias and fostering inclusion.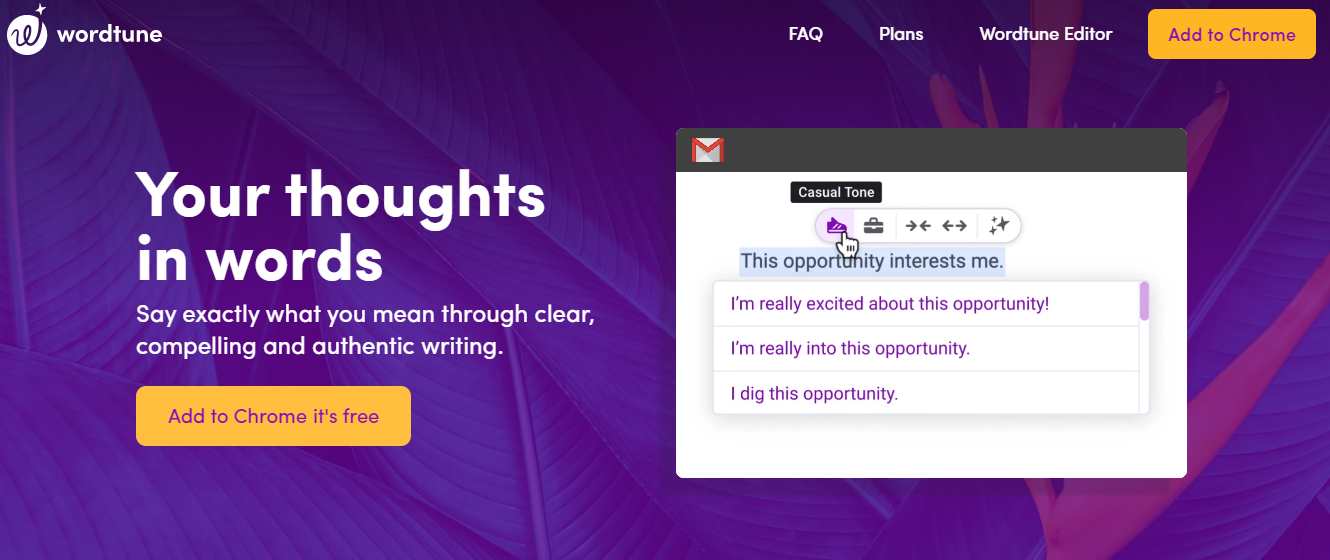 Wordtune was founded in 2018 by AI21 Labs and it's a one-in-all writing tool.
You can check out how great the AI tool is right on their main page by tuning a pre-made text or writing something and selecting "Rewrite".
With Wordtune Read you can also summarize long documents.
Key features
Proofreading
Quillbot's Grammar Checker instantly corrects grammatical errors and reviews your grammar, spelling and punctuation.
Grammarly goes the extra mile and, besides checking your grammar, spelling and punctuation, also gives you suggestions for clarity and tone.
It also has GrammarlyGO which gives you a more personalized assistant and you can customize it with profile options for tone, formality and professional relevance.
Wordtune also helps you to write better with their Rewrite and Translate features, which suggest alternative ways to phrase your text and change its tone or length.
Plagiarism
If you are working on a paper or any type of writing that requires citations, you're going to love these platforms.
Grammarly has both a free and a premium Plagiarism Checker.
The free plagiarism check will tell you whether your text contains duplicate content or not. The Premium plagiarism check highlights passages that require citations and gives you the resources you need to properly credit your sources.
Wordtune helps you stay plagiarism free by rewording any text. And when the AI continues writing for you, it also tells you which source the info it gave you is from.
However, QuillBot is probably the best option for students who want to cite properly. It has a citation generator.
There, you just have to enter the URL of the text you want to cite and QuillBot will create the text in the citation style you select: APA format, MLA format or Chicago Style. Very easy.
Languages
Although QuillBot's grammar checker started as English-only first, it currently supports German and French as well. It's also prepared to deal with multiple English variants: UK English, US English, Australian English or Canadian English.
Grammarly, on the other hand, although a highly popular tool, doesn't support other languages other than English. It does recognize differences in American, British, Canadian, Australian and Indian English, but nothing more.
Finally, Wordtune is kind of in the middle. It produces results only in English, however, you can translate and rewrite texts from other languages into English.
This feature supports Spanish, Mandarin, Arabic, Hindi, Korean, Hebrew, Russian, German, French or Portuguese in English
Team collaboration
With Grammarly, if you work with a team, you can apply shared guidelines to help your team sound consistent.
Wordtune has a whole set of team plans that also include brand management where you can ensure uniform and effective language for customer support for your clients.
As to Quillbot, their team plans give you the possibility to assign different roles to users. You have an owner, writer and admin. Each team plan can have only one owner and they are the ones who manage the writers.
Other features
As mentioned before, Grammarly has a feature called GrammarlyGO which generates text for you. This is Grammarly's attempt to stay relevant at a time when all the AI writing assistants are also writing tools.
Although GrammarlyGO hasn't officially launched yet, you can request early access for teams.
With GrammarlyGO, you'll be able to write a prompt with a few words and receive a draft in seconds. You can also respond quickly to emails using context-specific prompts.
Wordtune and Quillbot don't ask you to wait to get these features. They are part of what these platforms have been offering for a while now.
Quillbot has a Co-Writer that researches and composes your writing. It includes a Voice Transcript option in case you prefer to dictate your input instead of writing it.
Wordtune also generates text for you. With its Spice feature, you can ask it to add a detailed explanation, examples, definitions and more.
Quillbot, Grammarly and Wordtune have dashboards so you can write on the app itself.
On Grammarly's dashboard, you'll see the option to send your text to a team of writing experts. The correction can take from 30 minutes to one day, depending on how many things you want to be reviewed.
Availability
Quillbot used to be available only as a Chrome and Word extension. Luckily, now they also have a desktop app for macOS.
Grammarly is available for nearly all browsers extensions, mobile, desktop, Google Docs and Microsoft Office. It also has an API to add a complete writing assistance experience to any web-based text editor.
You can get Wordtune as a Chrome extension, for Microsoft Word and iOS.
Resources and support
Quillbot has multiple free courses for learning English and grammar.
They also have a blog where they share news and tips, a YouTube channel with demos and a Discord channel.
Grammarly has an immense amount of blogs for each interest: developers, businesses, education and others. They also have a demo and a help center to answer all your doubts.
Wordtune might be the most Gen Z-oriented since not only do they have a blog and a help center but also a TikTok account. From there, they give you tips to use Wordtune while having a laugh.
Who might not be able to use this tool
Grammarly is a bit more expensive than the other two tools. However, it might make a difference to you that they donate to organizations and funds supporting the people of Ukraine.
For the same reason, they have blocked users located in Russia and Belarus from using Grammarly products or services.
This action has not been replicated not by Wordtune or Quillbot. So if you live in those areas, you are free to use either of them.
Pricing
Grammarly can be used for free or by paying for a premium plan. Their free plan, however, is very limited and doesn't check for consistency in spelling and punctuation or English fluency.
The price for individuals costs $12 per month and for teams is $15 per month per member.
Quillbot has two plans:
Free: no credit card required. 150 paraphrase limit and 2 writing modes.
Premium: $7.95 if billed monthly; $.99 per month if billed every 6 months or $3.33 per month if billed yearly. Within the first three days of purchase, you can ask for their 100% money-back guarantee. They even have an option to pause your subscription. Unlimited words to paraphrase, compare modes and see the longest unchanged words.
And Wordtune has three plans:
Free: explore new ways to rephrase sentences. Use up to 10 rewrites per day.
Premium: $9.99 per month. Unlimited rewrites and premium support.
Premium for teams: custom price.
They also give academic discounts, so students can save up to 30%.
Quillbot Pros and Cons
Pros
Supports multiple languages.
Generates text.
Citation generator
Cons
Not many browser extensions.
Grammarly Pros and Cons
Pros
Powerful grammar and plagiarism checkers.
Multiple browser extensions.
Cons
Only supports English.
If you are located in Russia or Belarus, you won't be able to use it.
Wordtune Pros and Cons
Pros
Generates text.
Translate from other languages to English.
Cons
Limited grammar correction.
Verdict
The three writing tools are very powerful. The choice is now particularly tough since Grammarly is about to launch GrammarlyGO.
However, the feature isn't out yet so if you need an AI writing assistant right now, it's not an option.
Quillbot and Wordtune are very similar. However, when it comes to text generation, Quillbot has more features and supports other languages besides English.
So I would personally crown Quillbot as the best of the three.
What proofreading tool do you choose?
Tell us in the comments!