SaaS products are the best products to promote as an affiliate marketer.
Since they charge their customers on a subscription plan, they get to pay their affiliates a percentage of their revenue each month.
SaaS tools offer recurring affiliate commissions for life. This means once you refer a customer, as long as they remain a paid customer, you'll get a commission every time they are billed.
In this post, I've picked 21 SaaS affiliate programs that pay high commissions and are free to join.
These affiliate programs are perfect for anyone looking to generate consistent income from their blog. These are some of the finest affiliate programs I've joined so far.
Let's take a look at each one of them.
Unbounce
Unbounce has an affiliate program where you get 20% commissions for life.
That might seem less than many other landing page software affiliate programs, but there's one thing Unbounce exclusively offers:
Custom landing page and a dedicated discount for your customers. When someone clicks through your Unbounce affiliate link, they get a straight 20% discount for 3 months.
This is a really nice value proposition that makes it easier to sell. Sometimes, a discount is that little push people need to try the software. Once they do, customer support will do everything under the sun to make sure they get everything they need to keep using the tool.
Unbounce's support team also keeps in touch to make sure you are reaching your full potential.
With their new features like Smart Traffic, it's easy to recommend someone switch to Unbounce from other platforms.
Join Unbounce affiliate program
SEMrush
If there's one SEO tool that works for everyone, it's SEMrush. You can't help but think, who wouldn't want to use SEMrush?
It's really easy to recommend SEMrush make a sale. With a set of features like Keyword Magic Tool, Backlink Index, Lead Generation and Competitor Analysis just to name a few.
SEMrush's affiliate program is best for online marketing, SEO, and SEM bloggers. If your audience has anything to do with growing a business online, SEMrush would be beneficial for them.
You get 40% recurring commissions for each sale with a set of ads and widgets to make it easy to advertise.
Their affiliate program has tiers, so the more subscriptions to sell, and the commission you get will increase as well.
Join the SEMrush affiliate program
PrimeXBT
PrimeXBT offers lucrative earning opportunities to affiliate marketers and content creators.
As a global crypto trading app, PrimeXBT majorly relies on references to get customers. To generate quality leads, it provides tailored packages and attractive benefits to whoever brings
more traders to the platform.
It doesn't hurt that PrimeXBT enjoys a good reputation and a large customer base. This makes promoting the app on your blog or community a lot easier.
The registration process is pretty straightforward. Once you submit your proposal, you can start earning commissions on each sign-up.
You can generate as high as $1200 per client from the PrimeXBT affiliate program and get up to 70% of the profit share on introduction.
Submit your proposals at this link to become a partner.
SERPstat
Many marketers and small businesses can't afford to pay for SEO tools like Ahrefs. It's just not rational to invest so much money when you're not sure if you need the tool or not.
Here's when tools like SERPstat comes in. SERPstat has a free plan and features very similar to SERPstat.
Being less expensive than its competitors while offering standard features and support, it is an amazing SEO tool to recommend beginners.
They too have tiers for affiliates starting from 5% going up to 30% recurring commissions per paid subscription sale.
Having a free trial to promote, it becomes much easier to onboard users and as they find the tool useful, you'll make consistent sales. You can als0 multiply your commissions by 1.5x and pay for a SERPstat subscription
Join SERPstat affiliate program
LongtailPro
LongTailPro is a keyword research tool. It is primarily an SEO tool that helps you find long-tail keywords that are less competitive and more profitable.
There's a huge fanbase for LongTailPro because it was one of the first keyword research tools that made it much easier for beginners.
This is an amazing tool to promote if you write about anything related to blogging, SEO and inbound marketing. To help you get more sales, they offer a 30% discount to anyone who clicks on your affiliate link.
As a LongTailPro affiliate, you get a 30% recurring commission per sale.
Join LongTailPro affiliate program 
Crowdfire
There aren't many Instagram scheduling tools to compare with Crowdfare. That's what makes Crowdfire a profitable product for many social media bloggers.
Crowdfire is a social media marketing SaaS primarily targeted to Instagram and Pinterest users. It is social media automation and curation tool that also supports Facebook, Twitter, and Linkedin.
It is the only product that has an affiliate program for Instagram and Pinterest marketing tools.
Crowdfire offers a 35% commission to affiliates for the first year. It has a free plan, so getting new signups becomes easy.
Join Crowdfire affiliate program
Thrive Themes
Thrive Themes is the only WordPress theme shop that pays recurring commissions to the affiliates. Although it isn't exactly a SaaS company, Thrive Theme has multiple SaaS products to nail it, such as Thrive Leads and Ultimatum.
WordPress theme shops such as MyThemeShop, charge customers yearly but pays their affiliate on CPA (cost per action, or fixed one time) commissions.  Thrive Theme, pay commissions on every billing of their customers.
They have a variety of different plugins, mostly focusing on the online marketing niche. Apart from WordPress themes and page builders they have tools for lead generation, social proof, and scarcity marketing as well.
As a Thrive Themes affiliate, you get 35% on the sale and 25% recurring commission.
Join Thrive Themes affiliate program
RightMessage
RightMessage is an interesting product to promote because it has very specific utility and highly rewarding outcomes. RightMessage is a personalization based lead generation and engagement tool.
It allows website owners to understand their audience and serve the right product at the right time. It servers personalized content o website visitors based not their behavior, answers, and intent. Which helps boost conversion rate and increase ROI.
It is much like a survey tool, but with targeting and logical triggers for lead generation and serving personalized results.
RightMessage gives its affiliates 20% recurring commissions for life.
Join RightMessage affiliate program
TubeBuddy
If you're a Youtuber, you'll simply love Tubebuddy. It is a chrome extension built to grow your Youtube channel using competitor analysis and Youtube SEO.
Tubebuddy has a tremendous market value, because of the fact that there is no other tool for Youtubers like it.
It can help people do video keyword research, competitive analysis and tag research right at the moment when they are browsing Youtube.
If you have a blog on video marketing and Youtube, join Tubebuddy's affiliate program. Your readers would definitely love your recommendation.
As a TubeBuddy affiliate, you get a 30% commission every month for the sale of every premium plan. It's a freemium SaaS so it's easy to recommend it to beginners, who would then upgrade to the premium version if they like and need it.
Join the Tubebuddy affiliate program.
Stencil
Stencil is one of my most essential marketing tools. Stencil is an amazing graphic designing tool. It is a beginner-friendly tool that makes creating beautiful images easy.
You can use it to create Ad images, blog images, Facebook page header, Twitter header, Instagram posts, Pinterest images and so much more.
Most importantly it is the only Canva alternative graphic designing SaaS that pays recurring commissions.
As a Stencil affiliate, you get 30% commissions for sales of every premium plan.
Join Stencil affiliate program
LiveChat
LiveChat is a much-needed software for countless online businesses. It is a chat support software that allows people to connect with customers through the "chat-based" helpdesk platform.
This is a very popular tool, with a strong reputation and a stunning retention rate. If you blog about B2B, Livechat should be in your recommendations.
LiveChat is tool business owners love to use. It helps get serve customers fast and improves conversion drastically. It's simpler and much more effective than its competitors like Zendesk.
As a LiveChat affiliate, you get 20% recurring commissions for every sale.
Join LiveChat affiliate program
Subscribers Push Notifications
Push Notifications are getting popular day by day. It's easy to implement and much easier for visitors to subscribe to.
Website visitors don't' have to give their email addresses or name to subscribe to push notifications.
Subscribers Push Notifications is one such tool. It allows you to add a push notification service to your website through a WordPress plugin as well.
Subscribers Push Notifications has an affiliate program, but not people know about it. It's a closed affiliate program and gives you 30% recurring affiliate commissions for every premium sale.
Join Subscribers affiliate program
Hello Bar
Hello Bar is a lead generation tool, highly popular due to its free plans. It is an amazing product to recommend to beginners.
If you write about CRO, email marketing and sales, Hello Bar is a great tool to write about.
Being a freemium tool, it has free and premium plans. That means onboarding users to sign up for Hello Bar should be easy.
Then as soon as someone upgrades to a paid subscription, you'll start earning 30% recurring affiliate commissions.
Join Hello Bar affiliate program
Teachable
The market for online classes and e-courses is growing fast and there is no better tool than Teachable to promote. Teachable allows people to create and host their online courses.
It's built for beginners to advance teachers who have a passion to educate an audience. It's far better than its competitors when it comes to ease of use.
You can build an online course from scratch, sell it, and make money all using Teachable. It has everything including video hosting to payment processing built-in.
As a Teachable affiliate, you get a 30% recurring commission for the sale of every paid subscription.
SocialPilot
SocialPilot is another major SaaS in the social media marketing and automation niche. It is a powerful social media management tool that allows you to manage multiple social networks and maximize ROI.
There are very few tools as affordable and feature-rich as SocialPilot. It allows scheduling, automation and analytics for platforms like Facebook, LinkedIn, Twitter, Instagram and Pinterest.
Which makes it a perfect product to promote to a majority of the audience.
As a SocialPilot affiliate, you get 30% recurring commissions on each sale.
Join SocialPilot affiliate program 
TailWind
If you create content around Instagram and Pinterest, start recommending TailWind.
It is built for people looking for a marketing tool for Instagram and Pinterest. It has features like best-time suggestions for posting and Pinterest pin creator as it's USP (unique selling point).
TailWind lets individuals and business users scale their Pinterest profiles using smart hashtag suggestions and pin scheduling options. For Instagram, it has powerful scheduling, tag research, and analytics tool.
As a TailWind affiliate, you'll get a 15% recurring commission on every sale.
Join the TailWind affiliate program
Proof (Formerly UseProof)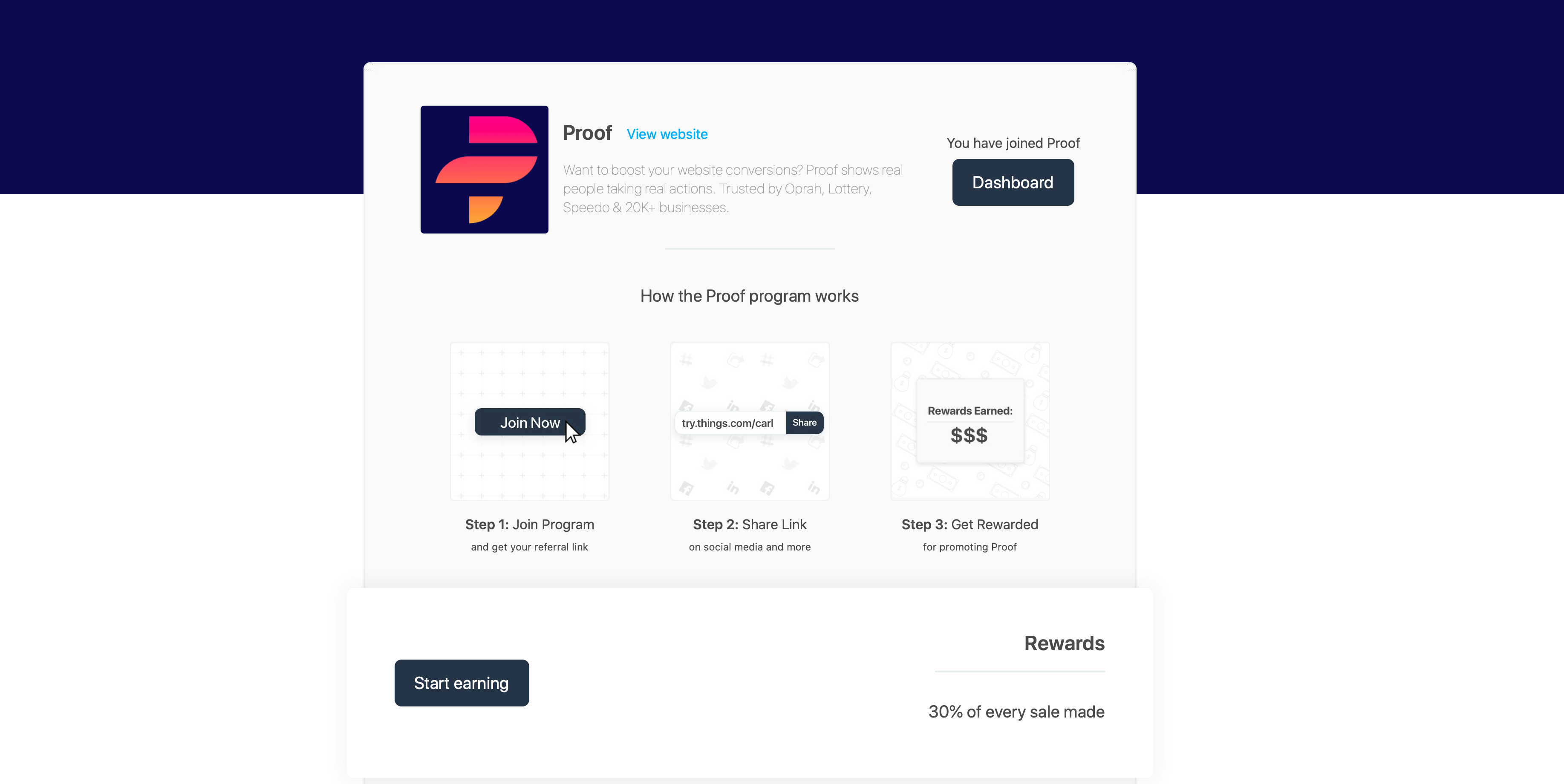 Social Proof is a marketing tactic that works equally effectively as scarcity marketing, sometimes way more.
It works on FOMO (fear of missing out) which is a psychological phenomenon that makes humans buy stuff that is trending "NOW".
Proof is a SaaS that allows you to implement Social Proof on your website. If you sell something and want more people to take action and buy more, try Proof. You'll immidealty notice how effective it is.
As a Proof affiliate, you'll get 30% recurring commissions on every sale.
Fiverr Affiliate
Freelancing services are booming as people start preferring to outsource to reduce workload. Fiverr is one such marketplace where all freelancers, big or small services can find customers and vice versa.
Fiverr is cheap, takes a very little percentage of revenue from people who hire, and has a great upsell and cross-sell strategy.
The best about promoting it is the diversity of services offered by freelancers. You can find anything that can be outsourced on Fiverr.
As a Fiverr affiliate, you get $10 on every sale (CPA). Plus you also get a 10% recurring commission for every purchase made by your referrals in the next 12 months.
SamCart
SamCart is what helps people sell and process payments from customers. It is a checkout SaaS that helps people put their products online and get paid easily.
Because it handles everything related to the customer payments until the money reaches your account. It makes selling anything online easier than most people think.
You don't have to worry about card processing, transaction fees, refunds, and discounts. SamCart handles everything. It integrates with other e-commerce tools such as Drip email marketing which makes it easy to recommend to your clients.
As a SamCart affiliate, you get 40% recurring commissions on every sale.
Join SamCart affiliate program
GetResponse
There aren't many email marketing services (EMS) to compete with GetResponse. Especially with their new feature called Autofunnel.
GetResponse is an email marketing software that comes with everything you need to build a sales funnel and sell products online. It even has it's own checkout software.
It is a tool that primarily helps in building an email list and has affordable pricing. It also offers a free trial so it won't be hard to get leads that convert into customers. If you write about sales and marketing online business, GetResponse is an amazing tool to promote.
As a GetResponse affiliate, you choose between getting a one-time $100 commission and a recurring 30% commission.
Join GetResponse affiliate program
ConvertKit
ConvertKit is made for people, who don't need complicated email marketing software like GetResponse.
ConvertKit is another email marketing software on this list, but it has a different value for bloggers. Bloggers love using and recommending it because it's exactly what they need. Simple, and feature-rich.
With features like "no double counting emails" and segment lead delivery, it is highly popular and easy to sell.
As a ConvertKit affiliate, you get 30$ recurring commissions on every sale.
Join ConvertKit affiliate program
HubSpot
HubSpot is one tool that has everything under the sun when it comes to starting and scaling an online business. It is a full CRM, CMS, EMS, pipeline and sales funnel software.
It is highly popular among the marketing and business community which makes it an excellent product to sell. There are many ways one can use HubSpot including lead generation as well.
HubSpot's free to get started and has multiple levels of plans. You can refer it to beginners as well as enterprise-level clients. Making it an excellent tool to promote if you have a marketing agency.
As a HubSpot affiliate, your commissions range between $250 to $1000 per sale.
Join HubSpot affiliate program
Conclusion
With many bloggers using Ads as their primary source of website review, start doing something different. Affiliate marketing is one of the best ways to make money online.
You can combine AdSense with affiliate marketing and make more money from your blog.
Recurring affiliate programs are much better than generally fixed commission programs. As time flies, you'll keep growing your monthly recurring revenue (MRR).
Do you have other affiliate programs to add to this list? Share your comments below?