If you have been thinking about making money online but haven't figured out how, stay with us. Sometimes it's not about what but the how. We all have something to share with the world.
That's what ecommerce platforms like SamCart and Gumroad come to prove to us.
So in this post, we'll take a look at these two and decide which one is the best for your ecommerce journey.
Are you ready?
SamCart vs Gumroad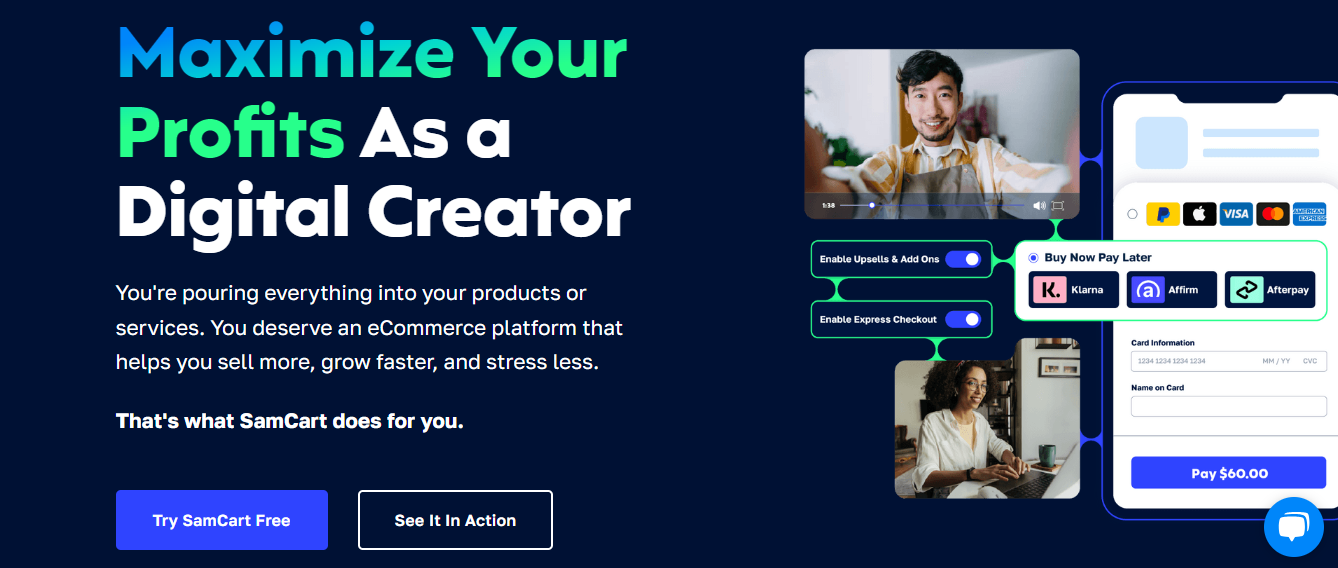 SamCart is an ecommerce platform that lets you sell physical and digital products. These include online courses and coaching sessions.
As an all-in-one solution, they don't only help you deliver your online courses but also convert your potential customers and know where your sales are coming from, amongst other things.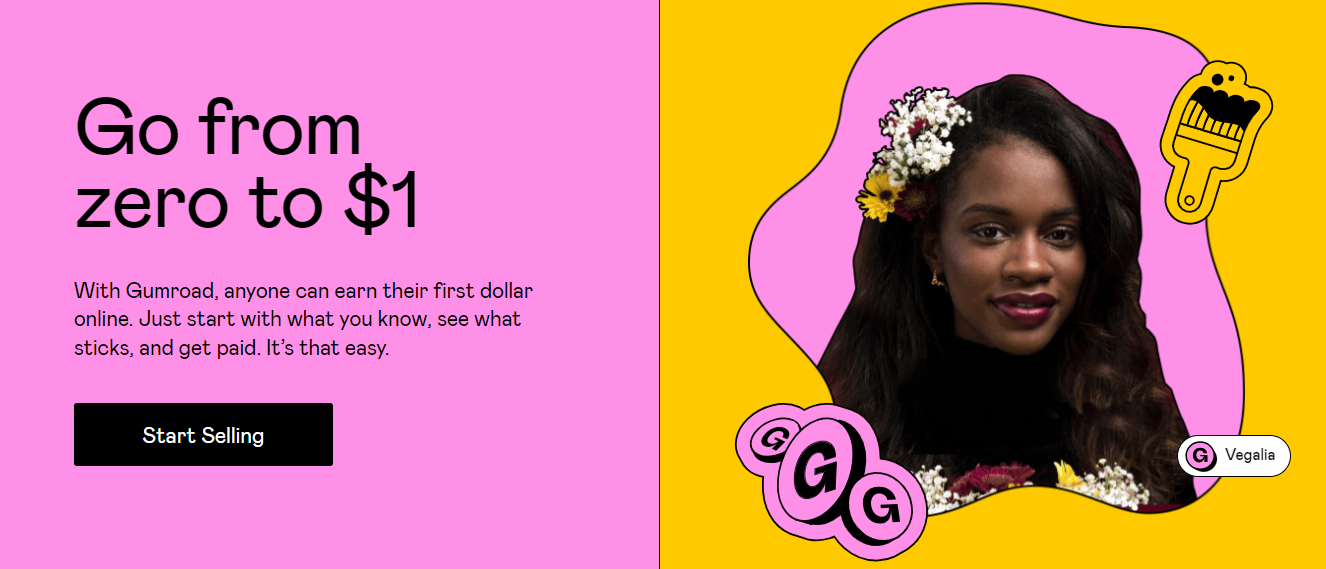 Gumroad is another popular ecommerce platform that helps you sell anything.
What's cool about Gumroad is it doesn't give you huge promises. They literally say "Don't take risks, place small bets". So it really makes it easy to start selling online.
Gumroad currently has over 152,673 creators who have earned over $854,041,648.
Key features
What you can sell
With Gumroad and SamCart you can sell digital products and services such as online courses, coaching sessions and even podcasts. Both platforms also let you sell physical products.
SamCart also lets you integrate with Kajabi to create beautiful online courses.
Gumroad has a course builder built-in, however, it's rather basic and can't compete with Kajabi.
Website Builder
SamCart has a drag-and-drop page builder that lets you create unlimited pages. It has a long list of pre-design templates and it also lets you save designs as templates.
Although its interface has easy tools to navigate through the platform, Gumroad beats it in user experience.
Gumroad has very minimal features and when it comes to building websites, that's no exception. It basically just gives you the tools to put your product on a site, but you don't get much creative freedom. However, that also makes it perfect for beginners who want to get straight away to selling.
Learning features
SamCart includes quizzes, assignments, drip content and auto-enroll. You can also require a student to complete the quiz before they proceed to the next lesson. This means you're able to identify and address any gaps in their knowledge from that lesson.
Gumroad, sadly, doesn't have the toolkit to offer gamification features.
Conversions
Email marketing
Gumroad has a built-in marketing tool that lets you create automated workflows and segmentation.
SamCart, on the other hand, doesn't have built-in email features so you'll have to integrate with a third party. It integrates with popular email marketing services such as Mailchimp, Aweber, ConvertKit and more.
CRM
SamCart has a basic Student management area where course creators can enroll students in their courses. If you wish to access to more advanced CRM features, you can integrate with HubSpot, Keap or other powerful third-party options.
These integrations aren't available on Gumroad.
Maximizing Average Order Value
You'll find that SamCart has multiple upsells, payment options on upsell pages and post-purchase 1-click downsells, amongst several other helpful features.
As to Gumroad, its email marketing automation helps you upsell and cross-sell by sending discounts after a client's first purchase.
Check out
SamCart lets you provide multiple payment options. Amongst them, you'll find a Pay What You Want option.
They support PayPal, Stripe, Apple and Google Pay, Authorize.net and Braintree.
SamCart also lets you set up a percentage or flat value from your settings. That way, SamCart will add the tax value during checkout.
Gumroad supports the majority of credit cards, PayPal and Apple and Google Pay. Customers can also enter a valid VAT or ABN ID if they're in the EU / UK or Australia to get the VAT refunded.
Content delivery
Both platforms have high levels of flexibility regarding how your content is delivered.
Whichever platform you choose, you'll be able to offer free and paid content.
Gumroad also lets customers buy products and gift them to friends. This feature might extend to subscriptions in the future.
Integrations
SamCart seamlessly syncs up with more than 750 integrations, integrating with ActiveCampaign, Get Response, Constant Contact and others.
Gumroad doesn't have many integration options. Moreover, unlike SamCart, whose integrations help you convert visitors into customers, Gumroad's integrations focus on services that offer private communities within your already customers. These are, for example, Discord or Circle.
Team collaboration
Gumroad recently released team features so you can give team members access to your account with different roles.
The roles are three: View only, Full access and No access. Although it's supposed to be very intuitive, something about these roles is confusing. Apparently, you're either able to make any changes or none at all.
SamCart has team collaboration features, even on its medium plan. On Grow, you can add up to 3 Admin level users whereas in Scale, you can add up to 10 Admin, Support or Read-Only level users.
Support users are meant to help you support your customers and they can create, delete and turn on/off coupons on the product page.
Read-only users can download all corresponding CSV files related to reports.
Analytics
SamCart has many marketing optimization techniques like split testing, all-time statistics designed to give you a high-level view of your subscriptions' performance, and a charges report.
They also let you collect UTM tracking parameters on your SamCart checkout pages to pinpoint exactly where your sales are coming from.
Gumroad also lets you split-test and includes a sales chart, conversion rate metrics and more. And you can export a customer sales CSV.
Languages
SamCart allows you to translate your checkout page and order summary into other languages that aren't English. Its pre-filled language dropdown includes eight languages: Spanish, Japanese, French and others.
If your desired language isn't on the list, you can directly enter translations into the Language fields.
Gumroad, on the other hand, supports 13 languages right from its dashboard. So you can use and sell on Gumroad even if you don't understand English!
Apps
Gumroad is available both in the Play Store and the App Store. It has two apps: one for creators to manage the dashboard and the other for the audience.
SamCart, however, doesn't offer mobile apps. Their website is mobile responsive, sure, but the lack of an app is still a con.
Support and resources 
SamCart has a knowledge base, a blog, the SamCart University and free training videos to help you start selling in a heartbeat. If you need help, you can reach out via chat or email.
They also offer an add-on plan called Access that gets you one-on-one calls with a Customer Success Manager.
Gumroad currently doesn't offer phone support, but you can contact them via email or visit their Help Center or blog to answer your questions.
They also have a YouTube channel, however, their videos are quite old and they haven't updated in a while.
Pricing
SamCart and Gumroad's pricing systems are very different.
All of SamCart's plans include a 7-day free trial and a monthly fee:
Launch: $59 per month. Standard integrations for one user.
Grow: $119 per month. On-demand executive reports and built-in SEO engine.
Scale: $299 per month. Custom CRM and API integrations.
Enterprise: contact sales. Multiple subaccounts and product roadmap prioritization.
Gumroad, on the other hand, doesn't have multiple plans. They take 10% of each of your sales. This means they only make money when you do.
SamCart Pros and Cons
Pros
It doesn't take a percentage of your sales.
Tons of learning resources and support.
Cons
Gumroad Pros and Cons
Pros
Built-in email features.
Free to use, with no monthly fee.
Cons
Verdict
At first glance, Gumroad and SamCart might seem quite opposites platforms. One requires you to pay for a plan to use it and the other is free but takes a percentage of your sales. While one has basic free built-in features, the other requires you to integrate with paid third parties.
However, I must say Gumroad surprised me. With their mobile apps, email marketing features and team collaboration, they've proven to be quite a solid option, not only for beginners.
So SamCart is best when you've reached a point where your sales are so high that a fixed, but low fee is more profitable than 10 percent of each sale.
Otherwise, there's no reason not to go with Gumroad!
I'm curious: Have you used Gumroad before?
What has been your experience with it?
Tell us in the comments!