7 Best Free & SEO Friendly WordPress Themes
This term has been prominent since the birth of search engines and their role in online marketing' fortune.
Getting thousands of hits and visitors from Google has been the first target of any new blogger. You may think to start a blog and publishing content is enough for Google and other search engines to rank you higher and pass you the traffic they get.
Well, It isn't as simple as it sounds.
For impressing search engines, you need to keep up with the best SEO practices along with following the latest SEO trends continuously.
One of the many things that determine how well your site will rank in SERPs is its structure. The best way to get a proper, Search engine optimized structure for your WordPress site is by selecting a theme that is pre-optimized keeping SEO in mind.
A proper WordPress theme that can be considered SEO friendly should be:-
Secure
Free from bloatware
Properly Coded
Made with correct WordPress Hooks
Easily Indexable
You can't deny speed and user experience while selecting a theme so, it should be customizable as well.
A good theme will help you get sitelinks, fast loading speed, reduced bounce rate, and of course increased time spent by users.
At the end of the day, it's you who has to build your unique site and your reader who will read your content. You have a design in your mind, and to make sure you get the same, or near to it you have to select a theme that is customizable to its core.
Below are 7 best themes for WordPress that are SEO friendly & equally customizable as well.
1. OceanWP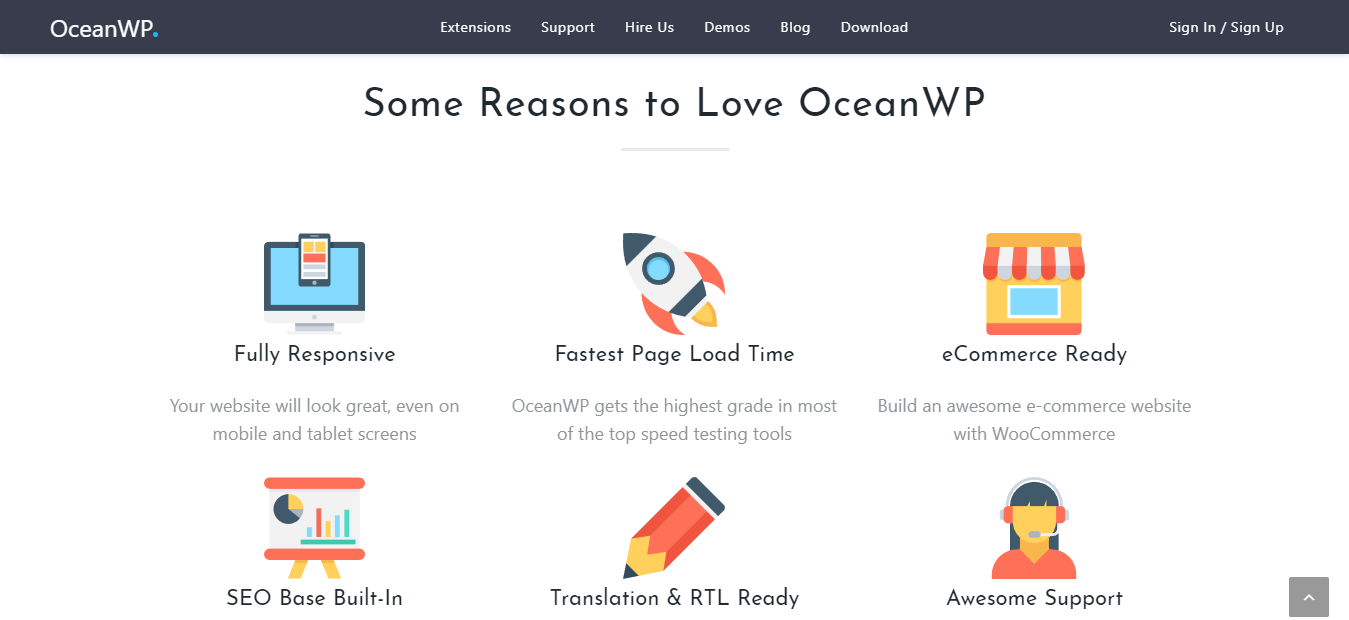 One of the most customizable free WordPress themes you will ever come through, OceanWP is an outstanding masterpiece from Nicolas.
OceanWP is a properly SEO optimized theme with features like:-
Fast Loading Speed
Extremely Customizable
Fully responsive
WooCommerce Ready
You also get quick support with experienced experts in case you have any queries or ideas regarding the theme and its functionality.
OceanWP is extremely customizable. Once installed, every element and area can be changed to give it a completely different look.
The OceanWP theme is entirely free. However, if you want to add extra functionality other than what a theme can do, you can always look at the extensions.
Download OceanWP
2. GeneratePress
One of the most popular themes for WordPress, GeneratePress is a free theme which allows you to have a beautiful blog with minimal efforts.
With GeneratePress, You can don't have to worry about fonts, header space, footer scale, and anything.
Install it and activate it. Do the necessary customizations that include adding a logo and setting up navigation and widgets. That's it. The theme comes with Schema markup.
The best part, If you ever need to upgrade the functionality of your theme, you could actually do it with a single click! GeneratePress has a premium add-on in the form of a plugin that extends its functionality without any theme upgrades.
3. Schema Lite
One of the most downloaded and appreciated SEO oriented theme from MyThemeShop, Schema is popular because of its minimal style.
Schema Lite is a free WordPress theme that is very lightweight and genuinely fast.
You don't get much with this free version, but this theme is quite impressive when it comes to structuring.
This theme is clean but lacks visual appeal. Overall, Schema lite is an excellent choice for a blogger in tech and other related niches.
4. Astra
Astra has been dominant when it comes to its speed with UX.
Being one of the most recommended themes for beginners, Astra is a highly customizable theme based on open source code. You can quickly get this theme do whatever you want since it's code is available on GitHub.
It even comes with all the necessary schema.org markup for better SEO. Astra is fast and free from extra bloat.
Astra is beneficial for bloggers, a photographer, a portfolio site, and more related niches and sites. It's entirely free for the core.
Astra is made my brainstorm media, the one who made exceptional products like ConvertPlug and SchemaPro plugin.
5. Neve
Neve is a free WordPress theme developed by Themeisle.  It comes with an impressive layout with various customization capabilities.
This theme is primarily made for business, blogging, and marketing niche websites. However, according to my test on the live site, this theme is great for fashion, lifestyle, photography, and other niches as well.
Neve is an SEO optimized theme and delivers a great user experience.
The colors and typography are soothing, and readability for the blog section is quite good, so you won't have to scratch your head for making your blog more user-friendly.
6. MeridianOne Theme
MeridianOne by MeridianThemes Store is a quality theme that is free despite the structure and layout it has. It gives a fresh, premium look the moment you see it.
I came to know the MeridianThemes 5 weeks ago when I was doing the research for this post.
The MeridianOne Theme is a free theme that is fast and quite light which won't let your site load slow.
It's fast and delivers great user experience because of its minimal and well-structured layout. The theme fully optimized for speed and SEO, However, it is not much customizable, and you can't change the typography for example.
This theme is best suited for tech, hobbyists, and other related bloggers.
Download MeridianOne Theme Demo
7. Zillah
If you aim to run a content-focused blog that is beautiful and SEO friendly both, Zillah is a perfect theme.
Created by ThemeIsle, I once used this theme on my blog too. A few months back, when I was choosing between free themes, I ended up with Zillah.
It is a lightweight, customizable, and apparently beautiful theme best suited for female bloggers who love to blog about their interests. I also find it quite impressive for travel bloggers.
Over To You – This list is excellent, but your contribution can make it awesome.
All you need to do is comment on your favorite free WordPress theme either from this list or any other.