When you start inbound marketing and create blog content, you're not just competing with brands trying to rank higher on Google.
You're competing with ads, featured snippets, maybe a carousel with competitor products, perhaps a carousel of YouTube videos.
There can be the 'people also search for' block showing up all before you reach the organic results.
And a Wikipedia snippet too.
So, you need to apply influential SEO tactics to help you rank higher.
These tips will enhance your content's search visibility as well as make your blog more search engine friendly to get your content rank #1 on Google.
Let's begin.
Start Mobile Optimization
With the mobile-first index, Google wants its users to have the best experience on websites when browsed on mobile devices.
Make sure your website is completely readable and navigable on smartphones and small screen devices. Mobile optimization means making sure your website adapts to the screen no matter what size it is.
More specifically make sure your users don't have to zoom in to read your text. Start by using Google's mobile-friendly test and Varvy, they both are an excellent free tool to analyze that.
Make your website mobile friendly with a few simple steps like these:-
Optimize for the fat thumb – Make your elements not too big and not too small
Make use of responsive themes – having responsive theme means you don't have to worry about different themes for different screen sizes, it changes automatically
Setup AMP – Use AMP pages for serving faster mobile-specific minified pages. Here's a helpful guide for it.
Fonts – Use highly readable Google fonts instead of stock ones. Google recommends they should be 16 CSS px in size.
Follow Google's Guidelines – Start with nothing but Google Mobile-Friendly test tool. It will show you all the errors and how to correct them as well. It specifically suggests improvements for WordPress and other CMS.
Okay, so all you need to do is start using mobile-friendly responsive themes and make sure your navigation areas are easily accessible even on small screen devices.
Use the Website Responsive Test online tool to view how well your page is looking at 10 different screen sizes right from your desktop.
Optimize for Voice Search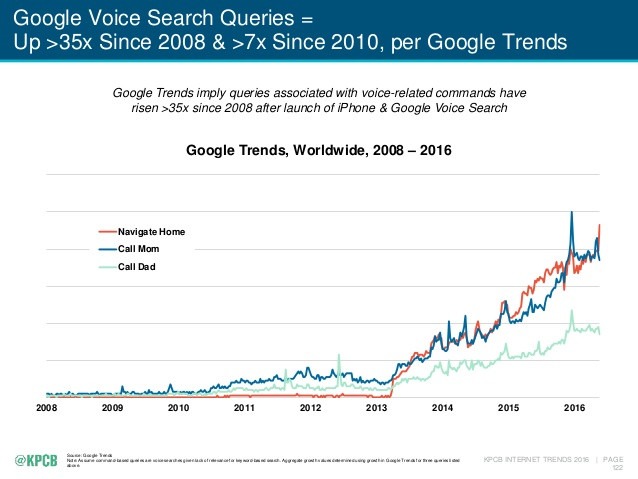 More than one-fifth of searches done on Google are voice searches. SEO trends survey of 2017 showed voice searches ranked number third!
That is just the beginning. Thanks to Google Assistant, Cortana & Siri, Voice searches through artificial intelligent assistants are increasing day by day hence you need to make sure your content is optimized enough for Google to include it as a result of voice query.
But how do you do that? The answer is simple, By maximizing answering in a manner, you talk. This what is called understanding "User Intent." 
1. Use AnswerThePublic. Users who are going used to voice search will not ask the question like "Eiffel Tower's hight," Instead they would ask "What is the height of Eiffel Tower." Including "what is," just another generic term would affect how Google would interpret with your content.
AnswerThePublic shows you exactly what questions are being asked by Google users.
All you need to do is conversationally answer these questions. Similar to that you can also use LongTailPro or StoryBase.
2. Use Structured data. Apart from rich snippets that show stars for reviews, you need to start implementing more and more content level schema markup. That will help Google deeply understand your page content for displaying as a result of voice searches.
3. Write Short and to the point answers. Don't write long, tedious and unreadable sentences that go on and on. Instead, write precise and make your point in fewer words instead of bragging just for the sake of content length and its effect on SEO. Short paragraphs are great for better readability.
4. Move to Https://S/SSL. More than 70% of voice search results where form sites that were using a secure Https://S/SSL connection. That's a good reason (after chrome update) to switch to Https://S. This is my most important SEO tip.
5. Do not over-optimize. Finally, don't go over the bar making your content look terrible. Try to be as natural as possible. Write the way you talk makes it more readable. ProwiritngAid is a useful tool to make that happen as well as Chrome extensions like Grammarly and Ginger.
Use Structured Data (Schema Markup)
If you are still not using schema markup for better output of your data on SERPs, you are missing out on more clicks. Seriously, using schema is helpful for both users and search engines. It tells the crawler how to better understand your page and its purpose.
By making use of all your structured input, Google shows its users the best results that are more than just text.
It includes rating, time, the reviewers' name, date, location, and everything that can make the data consumption fast because people these days are low on time and want a response from everything to be fast. It helps in intent-based SEO.
If you are blogging in cooking, lifestyle, news, and tech niche, using schema markup will be more beneficial for you.
There is a specific schema markup for particular content types such as reviews, data table, usual blog posts, recipes, timings, location, and so on. You can always find them on the Schema.org official website.
In WordPress, you can also install a plugin to start implementing schema markup right away.
Make Your Website Fast & Decrease Bounce Rate to Increase Dwell Time
Faster loading speed with great content is highly effective in decreasing bounce rate, which in turn increases dwell time. Dwell time in web analytics mean the time a user spends on your pages before getting back to SERPs. 
Dwell time indicates how well a user is interacting with your content. It shows if the user is satisfied with your content or not. You want the dwell time to be as high as possible, and this can be done by doing three things:
Optimizing your website for minimum loading time
Creating great, engaging content
Taking steps to reduce bounce rate
Check your pages in GTmetrix, and  Google PageSpeed insights and begin installing some of the speed optimization WordPress plugins. 
Ensure your pages are responsive and fit to any screen size. If users have to zoom for reading your fonts, you may face a high bounce rate. Always choose an SEO friendly theme for your blog, which is responsive an light.
Customize your fonts and choose from highly readable Google fonts to ensure anyone can read your content.
If you feel you've done everything to fine-tune your blog's performance and still things are not working, you should talk to your web host. After all its all about the server and its response time. Ask what they do to make time to first byte (TTFB) as low as possible.
If you are facing issues such as downtime and slow server response, its time to change your web host.
Social Signal & Brand Awareness
Go social and interact with the audience on various social networks. Not only will this increase the chances of getting more backlinks, but this will also help you get more social signals.
Increase your brand awareness by creating brand-specific accounts on Twitter, Facebook, and Google plus. Add social sharing buttons to your blog posts and encourage your readers to share your content.
Make use of Pinterest and add pin buttons to your images. Create pins that are beautiful to get more Pinterest shares. Make a community on Google plus and ask your users to circle you.
Use Google alerts to monitor your mentions across the web. You can also use tools like Brand24 to monitor your mentions anywhere on the internet. Dive right into the discussions for more natural link building opportunities.
CTR and User Experience Optimization
High CTR may not be essential for you, but for search engines and especially Google (which is hungry for best user experience), you need to have more and more people click on your link when shown on SERPs.
A high click-through rate generally indicates that your post is more relevant and delivers the user's intent the satisfaction it wants.
If you can optimize your SEO titles for higher CTR, then this will result in more organic traffic from keywords you are ranking for even if you are not on the first position in SERPs.
When simply put, having more people click on your links in Google search results means better relevancy to the topic and higher user satisfaction. Ultimately this will give you more top rankings in a long time.
Similarly, you need to make your pages and overall site user experience smoother. Ensure your categories and foundable, and you display a navigation bar on top. Include a search button in the header, navbar, sidebar or at the bottom.
Make use of the sidebar by adding relevant links there as widgets. Display links to important pages in your footer.
You also need to make sure that none of your content is hidden from both humans and search engine crawlers. Place javascript at the bottom to ensure users don't have to wait too long to see your page and its content.
I also suggest you use asynchronous scripts so that your site's overall loading speed and content visibility remains unaffected. Don't use popups on mobile devices, instead use notification bars that at least leave some room to read the text.
Start by analyzing your search visibility optimization level as well as on-site SEO with Varvy SEO tools.
Pre-Existing Content Curation
The biggest mistake you repeatedly do is creating and publishing new content more than updating the old ones. If you keep publishing more and more content every time and ignore the old posts, guess what? You'll start overlapping, and This will result in getting out of new post ideas faster.
Give some time to your audience so that they can digest your previous posts.
The search engine does love fresh content, so make sure before creating a new post, you go back and update at least one of them with more relevant and up to date information. Publishing less often will also result in more social shares which are an excellent factor for SEO.
From now onwards, make sure to update your old posts with the latest information so that it stays evergreen and never goes out of the league. Doing so can increase your organic traffic in a few months, even if you are building only a few links.
Writing better long-form content will eventually help you rank for more keywords without compromising keyword density. You can easily add more LSI keywords naturally in in-depth posts and optimize them for semantic SEO.
Bonus: Outbound Link Optimization
Although I said I'm going to show you 7 SEO optimization strategies, This particular topic is something I need you to know before its way to ahead to be managed.
Whenever you link to someone else from your blog, its called an outbound or an external link. Any affiliate link that you add in your post is also the same. This link needs to be optimized to make sure your blog isn't passing any link juice.
Always remember to link to those sites only which are authoritative or else trustworthy. Any outbound link to spammy, low quality and irrelevant niche site can cause your rankings to drop.
For your affiliate links, make sure to add a nofollow attribute to them so that they aren't followed by search engine crawlers and don't affect your content's quality and index. Always make these links to open in new tabs so that your blog stays low on the bounce rate.
An Infographic that includes all the steps as a checklist:
Let me know how these suggestions worked for you in the comments.