Siteground Review: Pros n Cons
Choosing the right web host is one of the most important decisions you make when starting a blog. Before you even start publishing content, you need to ensure your blog has a reliable web host to run smoothly and be accessible to your audience 24/7.
If you've been shopping around for the best web hosting for your site, then you've probably come across Siteground.
There's a reason for Siteground's popularity that goes beyond favorable reviews from actual users.
Find out whether Siteground is the right web hosting service for your website or blog in my review.
About Siteground

Siteground is one of the most popular non-EIG hosting company. A lot of other web hosts such as Hostgator that EIG acquired were thrashed a lot due to lame support and low-quality support. It was started in 2004. Today it has close to 2 million customers worldwide.
Siteground is a managed WordPress host which means you don't have to worry about speed optimization, security or anything else related to servers.
It also has separate servers for WooCommerce and other platforms so you can simply signup for a hosting plan and set up your website. It is best known for its speed and security.
Features
Stability
When you run a blog, you want it to be up and running all the time. Siteground promises 99.99% uptime for all its hosting customers. If your websites go down for some reasons, you can reach out to support quickly via phone or live chat.
A small downtime for maintenance once in a month or two should not be a major problem for you.
Performance
It's a fact. Fast websites rank better in search results and increase your blog's overall conversion rate.
Siteground ensures "ultra-fast sites" with their advanced hardware and server capabilities. They use SSD (Solid Stated Drive) disks which run faster than the regular HDD (hard disk drive) disks.
They also provide all hosting customers with free CDN (Content Delivery Network) which stores your site's data in different geographical locations around the world. This improves site load times and can speed up your website significantly.
A CDN also enhances your websites' security from bot traffic and malware attacks.
Security
Siteground stores your files in isolated slots of shared servers. This means even when you're on the shared server your website doesn't share resources with other websites on the same server. This is something offered only in high-end hosts such as Kinsta.
Siteground also makes your site safe from hack attacks, DDOS and malicious code as it uses a custom WAF (Web Application Firewall) and AI,.
All web hosting plans come with a free SSL certificate. An SSL certificate means a website has a secure connection, so sharing confidential information like credit card numbers is safe. An SSL certificate also means that your site is going tow have HTTPS instead of HTTP and will show the padlock icon on the browser.
If you plan to run an e-commerce site, you must install SSL else many payment gateways like stripe won't allow you to use their payment gateway on your domain.
Easy WordPress installation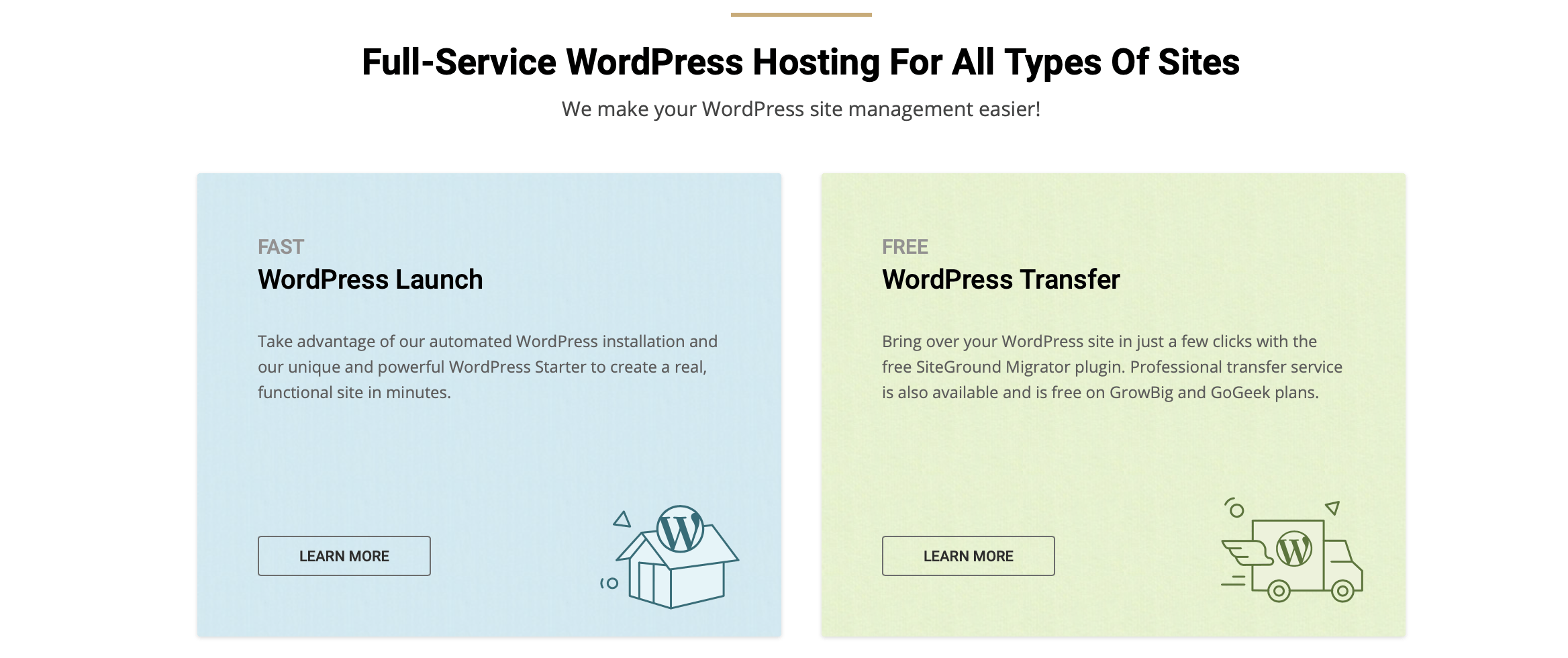 Creating a WordPress site is a breeze with Siteground. After registering for a hosting account, you can log in to your Siteground's custom control panel and install WordPress with just a few clicks. Their new 2019 custom control panel is amazing.
It comes with Softaculous software installer so you can select WordPress from available applications. Here's a detailed guide on how to install WordPress on Siteground.
When you manage a WordPress site with Siteground, you get automatic WordPress updates and backups for maximum site security.
Update: Siteground recently revamped and updated its control panel. Now you get a feature-rich and easy to use custom control panel which makes it easy to install WordPress as well as helps you manage your site, billing, and support ticket easily.
Free Site Backups
All hosting plans have on-demand site backups and restoration. This means you can back up a version of your site and restore it whenever the need arises. You can choose to backup certain files and folders or your entire site.
You can also opt for automatic backups if you choose GoGeek plan. Your site will be backed up every day automatically. You can also aks support to restore your site for you.
Pricing
Siteground offers affordable hosting plans for small to large websites. The lowest plan, called StartUp, is priced at a discounted rate of $6.99/month (regular price is $14.99/month).
Note that you can choose a one-month trial payment but there is a $14.95 setup fee. Because of this, it's best to go with an annual payment, which will save you more money in the long run.
Let's take a look at Siteground's shared web hosting plans:
Siteground also offers WordPress Hosting, WooCommerce Hosting, and Cloud Hosting plans. All Siteground hosting plans come with the following features:
Free SiteBuilder
Free SSL & HTTPS
Free Email Accounts
Free Cloudflare CDN
Free Daily Backups
24/7 Support
30 Day Money-Back Guarantee
Unmetered traffic
Unlimited MySQL
cPanel & SSH
As you can see, the prices are competitive and the features are more than what other web hosts offer. Most web hosts don't offer free SSL or CloudFlare CDN. This alone makes Siteground's hosting plan superior to the rest.
One thing that's not mentioned on Siteground's features page is that you get free site migration (with GrowBig plans and higher) if you're switching from another web host. They can do it for one website only.
Any additional site is charged $30. You can check all of their features in detail here.
Support
So far, you've seen the appeal of Siteground in terms of its technical capabilities. No doubt, they're too good to ignore.
But those are not the best part of Siteground's web hosting service.
Most Siteground users mention its stellar customer support. Check out these support options:
If you're not technically skilled, you don't have to worry when you have Siteground as your web host. You get 24×7 live chat, phone assistance and email tickets support options.
Being a non-EIG hosting, Siteground has better support when compared to BlueHost.
You can contact their support team at any time and expect excellent service. You won't have to waste hours trying to figure out how to do stuff!
Pros n Cons
Like any web host, Siteground does have its pros and cons. It's a great web hosting service for a beginner or intermediate blogger, but it's not perfect.
Pros:
Fast, reliable performance
Free SSL and CDN
Free site migration (for 1 site, GrowBig plans & higher)
24/7 customer support
WordPress integration
Affordable
You can add Sub-domains
Cons:
Disk space is smaller than other hosts
There is a setup fee if you choose to pay monthly
If you are willing to overlook the cons mentioned above — which means these factors are not important, then there's no reason not to go with Siteground as your web host.
For one, disk space won't be an issue if you're just starting out. Even if you do upload a lot of files, there are ways to make these files smaller so they don't take up too much space.
However, if the cons are a deal-breaker for you, then it's best to find other alternatives that are on par with Siteground.
30 Day Money Back Guarantee
If for any reason you don't want to continue using Siteground, you can ask for a full refund within 30 days of buying. They'll fully refund your full money without asking anything.
You'll only need to cancel your subscription through your billing setting and that's it.
SuperCacher
One thing which makes Siteground very different from other shared hostings is its own cache plugin called SuperCacher. Supercacher is a cache plugin Siteground offers to its customers only.
You cannot use it on if your website is on any other hosting except Siteground.
It allows you to make your site faster by reducing it's loading time and handle more requests without giving the massive load to your servers. It optimizes your CSS, javascript and HTML files and it also optimizes your image files.
It will help you save on bandwidth and will help you handle more visitors in case your content goes viral. SuperCaher is available for WordPress as well as other platforms like Drupal.
Apart from SG optimizer, you also get access to SG Migrator plugin. Using SG Migrator you can migrate as many WordPress sites as you want to Siteground in 3 clicks.
Staging Area
SiteGround was one of the first few shared web hosting providers who allowed WordPress and Joomla users to create staging sites.
Staging sites allow you to create a copy of your current website and test changes in a separate environment. Any changes on a staging site won't affect your live website unless you merge them both.
You can create a staging area of your site on GrowBig and GoGeek plans.
Conclusion
Getting stuck with the wrong web host is costly and inconvenient. Switching from one web host to another can be tedious and might affect your site's stats and credibility. That's why it's important to get it right the first time.
If you are an experienced site builder, then you'd want a web host that's stable, fast, secure, and with the right technical features that you need to build a site.
Choosing the best web host for your blog is important especially if you're a beginner. As someone who might not yet know the ins and outs of building a site, you'll be relying heavily on extra help.
This is why you need a host with great customer support. Siteground has it all and is one of the officially recommended hosts from WordPress official website.
With their new and updated c-panel, they are seriously one of the most powerful and beginner-friendly web hosts.
Let me know your opinion about Siteground in the comments.