15 Smart Ways to Boost Your Podcast Downloads
Are you tired of trying endless ways to gain podcast subscribers and increase downloads?
You may have witnessed positive results, no doubt, only to see the growth curve flatten after a certain period.
But that doesn't mean you can't be a successful podcaster. In fact, you can become famous (probably the most loved) podcaster if you implement the right strategies that "actually work."
Monthly podcast listening is growing at an impressive year-on-year rate of 16 percent. Only 17 percent of the US population listened to podcasts in 2015. Currently, in 2020, 37 percent of the population (104 million people) is listening to the podcasts monthly.
Since podcasting is still in its nascent stage, it's the right time to produce great content and promote it extensively.
Here I'm going to show you the best and the most practical strategies that will help you in attracting podcast listeners, generating more subscribers, and increasing downloads.
Strategy #1: Identify and Focus on your Niche
Most of the podcasters make the mistake of creating podcasts on everything under the sun. That's a huge mistake.
Listeners prefer listening to experts who produce original, detailed, and informative content in a particular niche.
For example, have a look at the 100+ podcasts genres on Apple iTunes. Determine if you can create a podcast in any of these genres.
Pro Tip: While selecting a genre, analyze the competition in the niche. If there is a fierce competition, it will be harder to establish your presence and grab the attention of listeners.
However, it doesn't mean you cannot venture into a high competition niche. For example, if you are a PPC advertising specialist, you can start a podcast in the "marketing" genre.
It's just that you have to put in a lot of effort and resources to promote your podcast because you will be competing against some of the biggest names in the industry.
Since you know your niche inside-out, you will be able to create mind-blowing, original content – the one that your audience wants to learn about. This brings us to our next strategy.
Strategy #2: Focus on Creating Epic Content
Before you begin with content creation, it's essential to know who you are creating content for.
That's why you must create your Listener Persona.
You can also call it the buyer persona, but I prefer using listeners over buyers because it's about podcasts. What do you think?
Anyways, listener persona tells you about various aspects related to your ideal listener, such as:
Demographics
Likes and dislikes
Hobbies and interests
Challenges and pain points
Buying behavior,
And much more…
Creating a listener persona helps you in identifying what content will resonate with your audience. And when you create engaging content, it will boost podcast downloads.
Once you are familiar with your listener persona, you will be able to come up with plenty of topics to create podcasts about.
Now you can implement the following to create engaging content that compels listeners to take action:
Search for current, trending topics on Quora, Reddit, and other online forums
Diversify podcast content into Q/A sessions, interviews, monologues, narratives, and more
Optimize titles so that it generates curiosity in listeners because 90 percent success depends on the headlines
Include show notes in the description as it will enable listeners to decipher what the podcast episode offers
When you inherit curiosity and relatedness in your content strategy, engagement increases automatically, resulting in more downloads.
Strategy #3: Use the Best Podcast Tools and Resources
Poor sound quality, unprofessional tone, background noises – all these factors hamper podcast growth. The listener will simply bounce off to another podcast in the same niche.
That's why you must invest in the best equipment for creating podcasts.
You can visit this podcasting kit and buy the best equipment that fits your budget and needs, and start recording professional podcast episodes.
If you want a thorough guide that can help you create podcasts from scratch, have a look at this tutorial. Check out the third section to access the complete list of resources on creating a podcast.
To jazz up your podcast episodes with peppy music, check out these best sources of royalty-free music.
Once you have the best podcast on the planet (or at least in your niche), you need to implement specific strategies to drive maximum listeners to your podcast. Let's begin with these.
Strategy #4: Leverage the Potential of Podcast Platforms and Apps
If you have a podcast, you must be present on all major platforms and apps. That's pretty obvious, I guess!
But if you haven't moved beyond iTunes, Google Play, Pandora, and Spotify, you are missing out on a major chunk of your audience.
Here are the best podcatchers (podcasting apps) and aggregators where you can submit a podcast:
Stitcher
SoundCloud
Breaker
Castro
Overcast
Podcast Republic
Downcast
Castaway
Listing your podcast on these apps and aggregator platforms doesn't guarantee subscribers and downloads. You need to optimize your podcast so that it shows up in the most popular section (if there is any) or appear in the top slots when someone types a keyword related to your niche.
Let's assume you are optimizing podcasts for iTunes so that you can rank in your category or appear in the "New & Noteworthy" section. For this, you'll implement the following:
Release 3-5 episodes at the launch so that listeners have enough content to consume
Produce top-notch podcast content, whether its audio, information, intro, or outro
Share episodes with your audience via email, social media, and other communication channels
Urge them to listen, subscribe, share, and, most importantly, review your podcast
Upload episodes consistently over a period of time, don't break the schedule
While there are no predefined rules as such, you should focus on creating value for your listeners. This is the ONLY rule.
Strategy #5: Collaborate with the Industry Experts (And use their Network)
Having guests on your podcasts have three major benefits:
You get exposure to a different audience
Your audience gets valuable insights
Your guests feel privileged, worthy, and empowered
The Tim Ferriss Show is the best example of collaborating with the industry experts and having them on your podcast.
300+ guests have appeared on the show, and 400+ million episodes have been downloaded till now. That's huge.
Finding the prospects is the first step towards calling guests on your podcast. Follow these steps to find influencers in your niche:
Perform a Twitter search for keywords related to your niche and connect with the influencers that show up in the search
Search for questions in Quora and connect with the experts who have answered the questions
Interact with groups and communities on LinkedIn to find credible influencers
Run an email campaign to find potential guests from your audience
Analyze podcasts in the same niche and connect with guests who appeared in these podcasts
Ask in your network
Once you have recorded the podcast with a guest, it's crucial to publicize it as much as you can. Leveraging your guest's audience is one of the most effective strategies to promote your podcast.
You can create shareable media such as pull quotes, tweets, links, images, and email content. When the episode is live, just share the news with the guests who appeared on the podcast.
You don't have to force them to share the episode with their audience. Simply request them to listen to it and share it with their audience, if they find it worth sharing.
Pro Tip: When you call guests on your podcast, ensure you make them the center of attraction. Let them take center stage. It will make them feel like – I'm the showstopper!
Strategy #6: Be Consistent in Branding
You'll be promoting your podcast on various platforms like social media, email, website, blog, and forums. The branding of your podcast should be consistent across all platforms so that your audience can immediately recognize and relate to your brand.
For example, you should use the same cover art for your podcast everywhere. The size of the graphic may vary, as per platform requirements, but the design should be the same.
Consider NPR's TED Radio Hour podcast, for example. This is the cover art of the podcast on their website.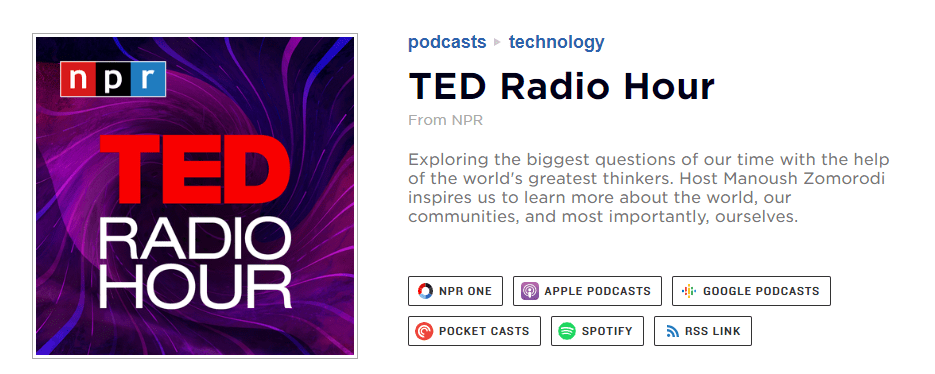 And this is the profile picture and an image post on their Facebook page.
Do you see stark similarities between cover art, profile picture, and the image post? The design, colors, and fonts are so similar. This is what consistent branding is all about.
Strategy #7: Be there where your Listeners are
Do you know at least 35 percent of podcast listeners download podcasts to listen later at a convenient time?
This signifies that if you can reach out to your target audience on platforms where they spend most of their time, you can expect an increase in the podcast subscription and download rates.
Listing your podcasts on podcatchers and aggregator platforms has been discussed already. Since the majority of listeners use mobile phones and tablets to listen to podcasts, you just cannot ignore marking your presence on these podcast apps.
94% of the monthly podcast listeners use social media, and 64 percent of these use social media several times a day. Therefore, reaching out to your prospects on social media is highly recommended for podcasters.
Further, around 76 percent of the podcast listeners have subscribed to on-demand video services such as Amazon Prime, Hulu, and Netflix.
What does this mean?
It means if they are interested in on-demand video services, they are interested in podcasts as well. Therefore, you can promote your podcasts on platforms and channels where these subscribers spend most of their time.
When you get all the attention, it becomes easier to prompt your listeners to download your podcast. The next strategy highlights what you need to do about this.
Strategy #8: Compel Listeners to take actions (use call-to-actions)
The majority of listeners will click on the play button, listen to the podcast, and leave without taking action. Now it's your responsibility to add a fourth dimension to this behavior, i.e., urge them to download your podcast.
Here's how you can do this:
After the intro, when you set the pitch for the podcast, you can announce that the listener can download the podcast and refer to it later when needed. Your ultimate aim is to tell them that downloading a podcast is for their convenience.
Before the outro, you can again urge listeners to download the podcast and share it in their network. It enables listeners to think if there's someone who needs to listen to the podcast. If there is, they'll download it immediately.
In the show notes, you can specifically mention downloading the podcast because, sometimes, listeners prefer reading the show notes before listening to the podcast. So if you ask them to download, they may download it and listen to it later.
Besides asking them to download, you can also ask them to share it with their network. And not just share, but like, rate, and review as well. This is precisely the focus of our next strategy.
Strategy #9: Run Contests and Giveaways
Running contests and giveaways is not just about popularizing your podcast, but it's a proven method of increasing subscribers, listens, shares, and downloads.
You can promote contests and giveaways by:
Setting up organic as well as paid promotions on various social media platforms
Sharing contest details with your email subscribers
Asking people to subscribe, listen, rate, and review your podcast on multiple platforms and apps like Apple Podcasts, Spotify, Pandora, and others
Asking people to subscribe to your blog, YouTube channel, and social media profiles
Asking people to refer their friends
Whenever someone completes any of the activities mentioned above, you can allot them an entry. So if they have multiple entries, their probability of winning the content increases.
What about the giveaways? It's up to you – whatever you can think of. Some of the fascinating options are:
Inviting winners to the podcast interviews
Announcing their names in the podcast
Sending them goodies, holiday packages, discount coupons, etc.
Offer them a free trial of your product or service
It's hard to analyze giveaway entries, decide a winner, and contact the winner to award them. However, with solutions like Gleam, running podcast competitions is a piece of cake.
You can simply set up an entry page on your podcast website or any other platform, direct visitors from various platforms to the entry page, and promote your podcast.
You can witness an exponential rise in the number of subscribers and downloads. But how to keep a check on the metrics to gauge whether your podcast is successful or not? Read on to know more.
Strategy #10: Dive into Analytics to Optimize
Analyzing the performance metrics related to a podcast can help you increase download and subscription rates significantly.
However, it's not easy to analyze metrics because podcast metrics have not evolved much yet. IAB Podcast Measurement Technical Guidelines Version 2.0 tries to simplify analytics for podcasts up to a certain extent.
Some of the metrics that you can consider to optimize podcast downloads are:
Total plays: This represents the total number of times all episodes have been streamed or downloaded. So if the count is low, you must work on improving user engagement.
Estimated audience size: It represents the total number of subscribers across all podcast platforms and apps. As usual, if the rate of increase in audience size is too gradual, something is wrong with the content.
Plays per episode: It will tell you which episode is really popular amongst your audience. You can try and replicate this episode format. Of course, the content will be different. You can also check episode performance wherein you can analyze the listener's time spent on the podcast.
Top 10 episodes: Again, this metric offers you a performance overview of the top ten episodes. Try to create your content on the lines of these episodes.
Other demographics: Other metrics like listener location, age, gender, apps and device usage, etc. These can help you create a listener persona, as discussed earlier.
There are various tools you can use to measure performance metrics. Check out the Blubrry podcast statistics tool here.
Strategy #11: Actively Promote on Social Media
Podcast listeners spend a considerable amount of time browsing social media platforms. You can find them on all the major social media sites. Have a look at the screenshot below. 94% of the listeners are spending time on at least one social media brand.
Since podcast listeners are also avid social media users, you can use social media to reach your target audience.
Reach out to potential podcast listeners on social media by implementing the following tactics:
Promote your best-performing episodes: By analyzing podcast metrics, you can identify the most-played and downloaded episodes. Since these are already doing well, you can promote them on social media and attract new listeners to your podcast.
Share sound bites or key moments of an episode: Again, analytics will tell you about the most interesting part of an episode that receives maximum engagement. You can promote these on social media to captivate the listener's attention.
Tease upcoming episodes: Your social media followers want to hear from you. Release a teaser of an episode on social media accounts to build the hype. For example, if you have called a guest, share a suitable image and a 15-second clip of the episode.
Tap into guests' audience: Ask your guests to promote podcast episodes on their social media accounts. They may also promote on their blog, via emails, and other communication channels.
Tap into influencers' network: Harness your connections in the industry. Ask influencers to share your podcast with their audience. If you have mentioned influencers and brands in your podcast, let them know about it. They'll share it with their audience.
Strategy #12: Contribute to your Community
To promote the podcast, you don't always need to share information about it. If you can solve people's problems, you will be deemed as an expert on a topic. The whole point is about contributing to the community, whether it's a community of your listeners or fellow podcasters.
You can contribute to the podcasting community in two ways:
Community of Podcasters
When you participate in communities exclusively meant for helping fellow podcasters, you get a chance to advertise yourself, build new relationships, and learn about the latest trends in podcasting.
You can find a lot of communities on Facebook, LinkedIn, Reddit, and other platforms. Here is a compilation of some of the best podcasting communities.
When you participate in community discussions, you develop new connections with whom you can collaborate to create new podcast content.
Community of Listeners
Participating in communities where your listeners hang out gives you an opportunity to interact with your target audience. You can solve their queries, develop new connections, and earn the honor of being an expert contributor in the community.
For example, if your podcast is about gardening, you can join gardening communities on Facebook, Pinterest, Instagram, online forums, and other platforms. You will get a significant exposure that will be beneficial for your podcasting venture.
Also, you can discover potential topics for your podcast just by looking at the problems/queries posted by the community users.
Strategy #13: Be Consistent and Frequent in Uploading Content
It's easy to produce content in the initial stages because the morale is high. However, as time goes by, creators lose enthusiasm, and this halts the growth of their podcasts.
Prepare a schedule and stick to it. For example, you can decide to release a podcast on Saturday of every week. This way, your listeners will anticipate the release of your podcast. You will build a loyal listener following. Eventually, podcast subscriptions and downloads will increase.
You can surprise listeners by releasing more episodes than expected. However, never miss your schedule because your reputation is at stake.
For example, Neil Patel and Eric Sui produce and deliver podcast episodes every day. Their regular listeners also expect them to do so. If they don't release an episode on any day, the listeners will doubt their credibility.
That's why it's important to stick to a schedule.
Strategy #14: Optimize for Search Engines
If you search for "marketing podcast" on Google, you'll see the following results. The first row shows the most authoritative podcasts on marketing and the second-row lists episodes on marketing.
When you click on the episode link, you'll arrive at Google Podcasts, where you can listen to podcasts, subscribe to them, download them, etc.
In short, SEO can boost podcast downloads, and therefore, you just cannot ignore it.
To optimize your podcast so that it appears on the first and second rows, and in the search results, implement the following steps:
Optimize title and podcast description around the main keyword. Also, include keyword variations in the description. The title should be catchy enough to attract listeners' attention. When writing the description, including show notes, transcript, links to your online assets, and more.
Ask listeners to share, rate, and review your podcast. It will help in establishing your authority as a credible podcaster in a particular niche.
Produce consistently and frequently. The more your produce and release, the more traction you'll receive. It directly impacts the SEO of your podcast.
Generate backlinks for your podcast by promoting it as much as you can. You can also write a post on an episode and publish it on your blog. Ask influencers and guests to share your podcast in their network.
SEO is not just about optimizing podcast for search engines like Google and Bing. Your SEO efforts will also help in optimizing your podcast for Apple iTunes "New & Noteworthy" section. If you can make it to this list, you'll witness an exponential rise in the number of listeners and subscribers. We have already discussed this in the earlier section.
Strategy #15: Repurpose your Content (Both ways)
What is content repurposing? It's the act of converting a piece of content into multiple formats and publishing them on various platforms to attract customers.
When it comes to repurposing content into a podcast or vice-versa, you can do the following:
Convert your high-performing blog posts, interviews, and videos into podcasts
For example, you published a blog post on "How to find guests for interviews?" The post went viral and brought in a considerable number of visitors. Now you can repurpose this blog post into a podcast episode and release on suitable platforms. It will resonate well with the listeners.
Similarly, you can convert live interviews, email content, videos, and infographics into podcast episodes. It will help you generate more content for your podcasts without putting in many efforts.
Convert your podcasts into blog posts, videos, and social media content
Repurposing your podcasts into blog posts, videos, social media content, and other formats is a great way of expanding your reach, earning backlinks, and increasing the listener count of your podcast.
For example, Joe and Robert of This Old Marketing convert their podcasts into videos and publish them on YouTube. In addition to earning a backlink, they also introduce their content to a whole new audience. This is an excellent content marketing strategy for promoting your podcast.
Podcast
Repurposed into video
Repurpose your podcasts and market them properly to earn more subscribers, listeners, and downloads. The process is cumbersome, I admit, but it can produce appreciable results for you.
Bonus Strategy – Use Smart Podcast Player by Fusebox
Smart Podcast Player by Fusebox is the best podcast player when it comes to features. It has a special design, better than PowerPress which is customizable. You can change the media player's color and the button color in it to match your brand.
It makes you look professional as it has custom features currently no other podcast player offers. Smart Podcast Player allows you to grow your email list using it's "email capture" feature. It is a built-in feature that allows you to connect your podcast player with an email marketing service and add your optin forms.
Your listeners will be able to signup to your mailing list by simply clicking on the button inside the player. It also has a download button next to the title, inside the player. Since the download button is easily accessible, more people will find it easy to click on it and hence increasing the downloads number significantly.
Take your Podcast to another Level
Implementing all these strategies at the same time can be overwhelming for you. I recommend focusing on 3-4 strategies at a time, master them, and then move on to the next ones.
It will help you in identifying the best strategies to increase podcast downloads. Moreover, you'll become an expert in podcast marketing.
And remember, these tactics will work ONLY if you produce quality content. Always ensure content is your foremost priority.
You would also like to read about Fusebox Podcast Player and how to make more money from podcasts.
Now I want to hear from you. Is there any strategy that you'd like to share? Let me know in the comments.