Social media is an important part of your online business. Whether you're a casual blogger or a full-time professional blogger, you need to be active socially to grow your brand.
One of the easiest ways to get more social attention is sharing your content and encouraging your blog readers to share it too. And Social Snap is something that'll make it easy.
In this article I'll share a review of social snap, a plugin I've used for a month now. You'll see if it's just another social share plugin or something unique you can use.
This plugin caught my attention when it was first launched, with less than 10 installs at that time. I'm using it since then. The plugin works great and is more customizable than premium plugins like the monarch.
Above all, it has more features and powerful backend than social warfare, a contemporary social media plugin. Let's check out why social snap is a powerful plugin for all your social needs.
About Social Snap
Social Snap is a WordPress plugin that helps you add share buttons, follow buttons, click to tweet boxes, and more to your WordPress blog.
If you've been visiting BforBloggers for a while you may have seen the changed the look of share buttons here. Earlier I was using monarch but due to lack of customizations and designs and was frustrated.
Social snap is a good fit for you if you are a design-oriented person like me.
It has been developed keeping speed and performance in mind. That means no matter what it won't slow down your website. Many other plugins including Shareaholic has some major performance issues which result in slow loading speed once you enable it.
Let's check out some features and how it stack against the competition. I'll talk about the features that come with the pro version of social snap as I reached to the team and got a review license for testing all the add-ons as well as other premium features.
Features
Social snap comes loaded with features, some of the main highlights are:
Multiple Formats of Sharing Buttons
You can choose from different formats of share buttons which include floating, on media, Pinterest pin, sticky widget, floating bar, below the content or above the content. According to the developing team, I've come to know they are about to add popup share buttons too.
Multiple Button Styles
You won't have to stick to one or two designs, Social Snap comes with 4 different styles of share buttons. You can change to slanting, circle, rectangular or regular buttons, whichever suits your taste. I'm using circular here.
Automatic Social Poster (Boots Old Posts)
The automatic social posting feature is one of my favourites in Social Snap. It allows you to share your content automatically to Facebook, Twitter and LinkedIn. It happens everytime you publish new posts, and old posts too without you even touching anything.
Social Login
You can enable this if to let your users sign in to your website using their social media accounts such as Google plus, Facebook, Twitter or Linkedin accounts. A very useful feature for membership and guest posting websites.
Click to Tweet Boxes
Social Snap comes with inbuilt click to tweet boxes you can use to create tweetable text boxes. You can create and display them easily through your WordPress editor uisng a shortcode button. Its Gutenberg editor compatible too.
Share Counts Tracking
While most of the plugins use API based share tracking, Social Snap has an extra edge here because it uses click tracking as well as API. Using both of them ensures you don't miss any share count. You can recover your lost share counts, helpful when you move from Http to Https or change your domain name.
Open Meta Graph
Open meta-graph is must these days. And this plugin has it. The open graph helps your blog posts look better and rich when shared. facebook and Twitter use this to enable large images and meta cards for links shared. You can even add custom images for facebook and twitter and control how they look when someone shares it right from your editor.
Analytics
Social Snap stores and shows you the share statistics report so you can see how many shares you get on each social network over a period of time. This is so far my favourite feature. I've used Monarch, Social Warfare and almost every premium plugin out there, but none of them had this sort of helpful analytics dashboard.
These were the most interesting features that social snap has. There are more including:
Multiple social follow button styles
Shortcode support
Gutenberg block support
Manual placement
Option for hiding share buttons on particular posts
Support for custom post types
With all of that, it makes a very good deal for every user level. Using their follow buttons you can encourage your visitors to follow you on every social network that you are on. They support more than 30 social networks so you'll be able to find your favourite one quite easily.
It will also help you restore all tweet counts and track future tweets of your blog posts using click tracking technology, which is pretty awesome.
Let's take a look at their pricing and plans.
Social Snap Pricing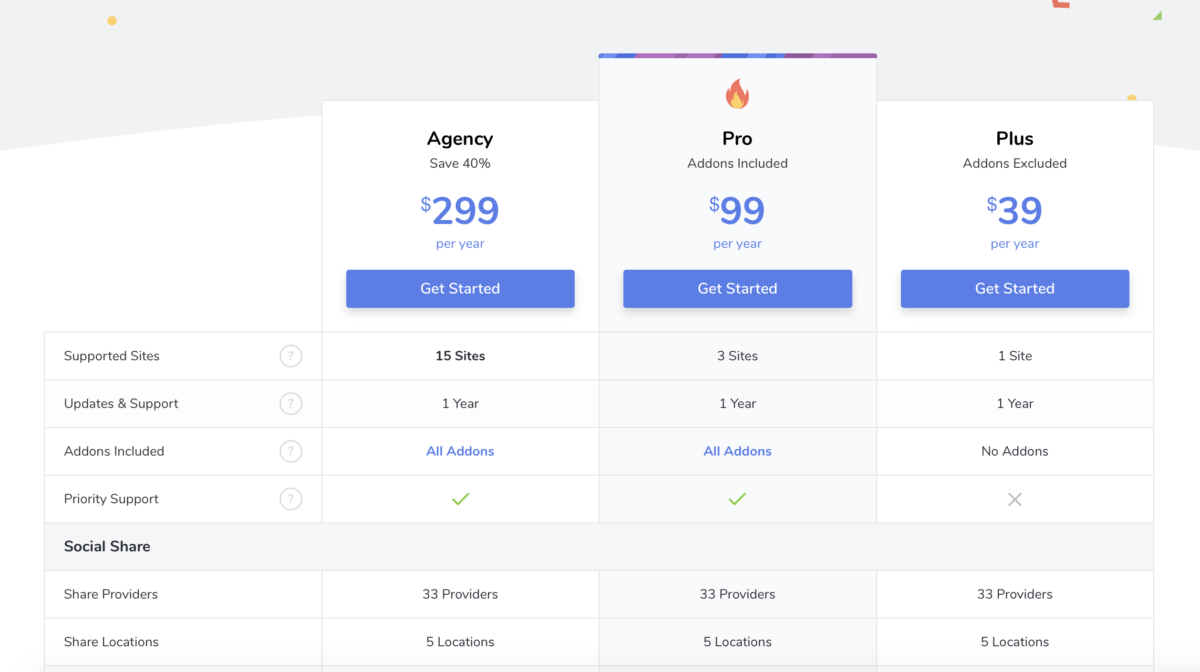 Social snap is a freemium plugin. It has a free version you can install right now from the WordPress plugin repo. Along with that it also has a premium version called social snap pro where most of its features reside.
To get access to more social networks, analytics, social locker and couple of more add-ons you need to upgrade to their premium version. The price starts at $39 and goes up to $299.
The $39 plan license will allow you to use Social Snap on one WordPress site. The $99 plan will allow you to use it on 3 sites whereas $299 plan will allow you to use it on 15 sites.
Every plan gives you access to one year of plugin updates and 1 year of support. You have to renew the license every year to keep getting updates and support.nNo matter what plan you choose you'll get access to every plugin feature.
However, if you want priority support and access to all add-ons, you'll have to select the $99 or $299 plan.
They do have a money back guarantee in case you don't like the plugin.
Let me show what add-ons you get with Social Snap.
Add-ons
The PRO version gives you access to all add-ons that are:
Social content locker
Social auto poster
Social old post booster
Social login
Social locker add-on will help you hide a part of your blog post which will only open when the reader shares your post. This is a highly efficient way to get more shares even from the people who might just read and leave your blog post.
The social auto poster addon will help you get more visitors from your social media accounts by automatically sharing your content on your account everytime you publish a new blog post.
Social old post booter is much similar to the social auto poster add-on except for it shares your old posts based on your settings. You can control how many old posts you want to share automatically every day and how old they should be to get shared.
Social login is amazingly helpful if you have a membership WordPress site. You can allow your members to signup and login to your site via their social network accounts including Facebook, Twitter and Google plus.
These add-ons would prove to be beneficial if you have their use. The social auto poster would be something I would definitely recommend you to use. It will keep your social profiles alive in case you often forget updating them, and might also help you get more followers.
Social content locker is also a great way to get more shares if your readers often forget that.
Support
There's no email or that sort of support for a free version of the plugin, but you can always reach to them via WordPress support forum. Alternatively, you can also contact them via their website.
They are quite prompt there so I don't think if you ever get stuck, you'll have to wait too long for a resolution.
With the pro version, you get 1 year of full support from the social snap team. You can reach them via email and you'll get faster response and resolution for your query.
They also have documentation for beginning to almost everything you'll ever ask yourself while using the social snap.
Conclusion
So, what are the pros and cons of using social snap? Let me break it down for you.
Pros
It's fast
Easy to integrate and get started
Includes amazing features such as statistics, click tracking and social locker
It is very customizable
Inbuilt click to tweet functionality (no need of extra CTT plugins)
Cons
So, there a few things you should keep in mind too such as:
Features like analytics come only within the pro version
Limited access to social networks in the free version
That's all. Nothing more to complain about, as its such a great product. Social Snap seems to be the best alternative to Social Warfare, a plugin I've used and appreciated before.
In fact, I would recommend you to use social snap rather than investing in social warfare. It gives you so much more features and customization options.
Update: People who were using social warfare are switching to social snap due to security issues discovered recently in social warfare. So, the social snap is the best alternative to social warfare (with more features).
Share this with your friends and Let me know how much you liked the Social snap and how you are going to use it for your WordPress blog in the comments below.