10 Smart Affiliate Marketing Strategies for Beginners
In this guide, I'll show you smart affiliate marketing strategies you can use to increase your sales and your revenue.
If you've read my income reports, you know I earn most of my income doing affiliate marketing.
If you're new, read How to Start Affiliate Marketing to understand the basics.
These are some of the best strategies I've used as an affiliate marketer for the last 4 years to make more money online:
[toc]
What is affiliate marketing
Affiliate marketing is making money by selling the products you haven't created. You pick an outstanding product, become it's affiliate and market it in pursuit of making sales.
Once a qualified sale is made, you get a fixed percentage of the commission.
For thousands of bloggers, affiliate marketing is the key to their passive income.
The illustration below will give you a mind map of the complete affiliate marketing process: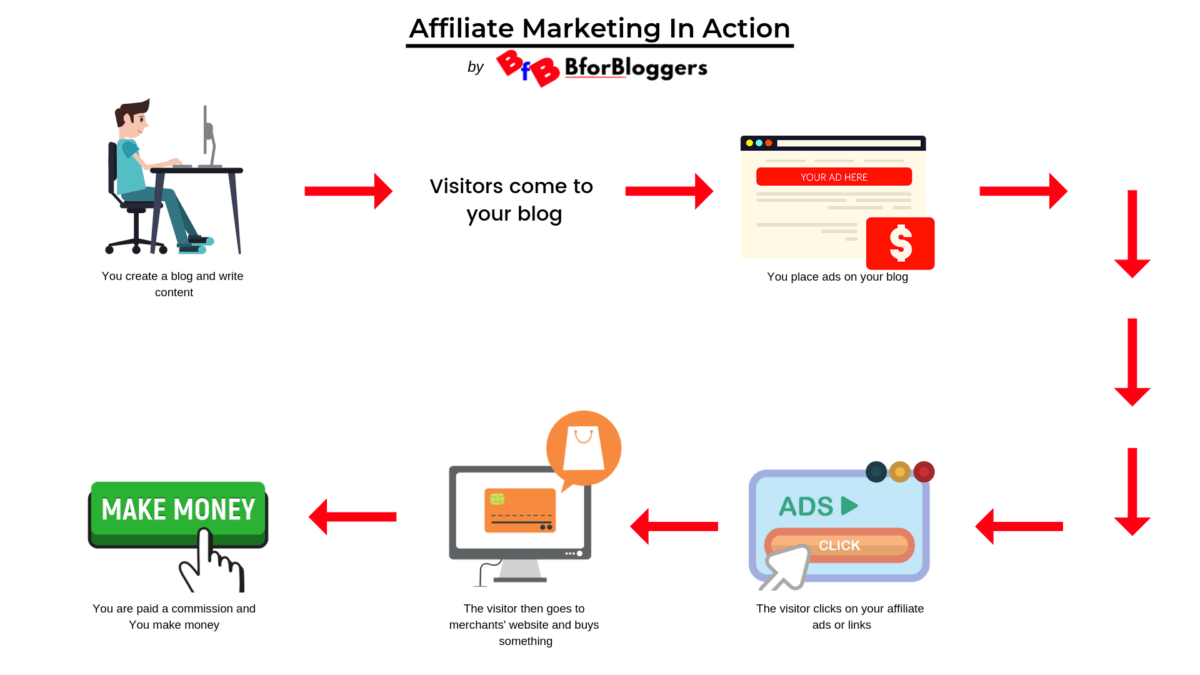 Some Type Of Affiliate Programs are:
CPC
CPA
Recurring
Bonded
You would have heard of the first two; however, the latter one may confuse you. Below I've explained how all four of them differ and work, and after that, we will discuss which one works the best (and for whom).
1.CPC – CPC stands for cost per click. When you join an affiliate program that gives you commissions based on CPC, you get a commission whenever a person clicks on your affiliate links, banners or other marketing materials such as custom images and infographics.
We often use this term is often in the impression-based advertisement sector; however, some affiliate programs pay with these criteria.
2.CPA – CPA stands for Cost Per Action. In this mode of Affiliate marketing, you get a commission only when a visitor converts into a paying customer for the merchant you are promoting. That means, the person you've referred to, the merchant, should buy something in order to make your referral eligible for a fixed commission, such as a WPEngine affiliate. 
When you join a program that pays you on a CPC basis, it means that you have to drive real customers to that merchant which will take an action such as buying a product, renting a product, or giving a lead.
3. Recurring – Must, be similar to what the word recurring stands for. The recurring paying affiliate programs are the ones which pay you again and again either for a fixed period of time or for the lifetime.
Recurring commissions mean you have to refer a customer once and then on, anytime the customer renews or extends its subscription, you will earn a commission. This is where you generate truly passive income – refer a customer once, and make money till they continue to pay the merchant.
The criteria can be seen in SaaS and hosting affiliate programs that require recurring payment by the customer for using the service. Examples –  Unbounce, SEMrush, etc.
4. Bonded – This is the highest paying and "not so popular" affiliate program commission rule. The bonded commission system goes like this – You refer a customer to an online course or subscription-based product website.
The customer then fills up a form and generates a lead and enters into the sales funnel of the company. That's it.
The customer is then bonded to you. Every activity of this customer will be tracked and if any further sales are made by this customer, you will be paid.
When an affiliate program pays you on a bonded commission rule, it means that they will pay you commissions without you doing anything at all.
Based on the above four types of affiliate marketing, you should be choosing and promoting the products which would pay you a recurring commission.
However, it still has a small share in terms of merchants to promote. The most famous and openly practiced affiliate marketing type is the CPA. Almost every other merchant has an affiliate program that pays you on a CPA basis.
Making Money from CPA Programs
Affiliate programs pay for Cost per Action. To make the most out of your sales, you need to make sure you choose products based on certain standards and rules.
I follow a couple of rules and a set of norms before promoting any product on my blog and below. I've shared all of it.
Rule 1 – Promote A relevant product
Following up on my previous agenda, I won't promote any irrelevant product on this blog. Neither does it create a sale nor impress any of the visitors at all.
I recommend you to choose the affiliate products carefully. A few months back, I found an incredible affiliate marketplace called Flexoffers. It's great to find high-paying affiliate programs in every niche possible.
I searched for WordPress and web services niches on Flexoffers and found several affiliate programs including MaxCDN and Pop-up Domination.
The promotion of relevant products has been a major contributor to my affiliate earnings. From $200 to more than $1000/month in 6 months of blogging, I have seen a lot of tactics that support you in escalating your affiliate income.
It helps my readers to make better decisions as they can relate to the product I am promoting. You can check out my income and traffic reports here.
Rule 2 – Cloaked Links
Cloaking my affiliate links has given me a sense of peace. I didn't have to fear that my affiliate earnings would be stolen or that I wouldn't be paid for my hard work. I have discussed it here in detail.
It also helps me track the percentage of valid clicks as well as it provides branding for external links. With a link cloaking plugin, you don't have to manually add a Nofollow attribute (which keeps my SEO healthy)to every link, and this also helps the link management by stacking them into categories.
I suggest you add a link cloaking plugin as soon as possible because it will help you work more efficiently if you start doing it from the very beginning. I have been using ThirstyAffiliates on my blog since 2016 and it works great. Here is a step-by step guide to closing your first affiliate link.
Rule 3 – Reputation of the Product, Service or Merchant
This is one of the most important aspects to look for before promoting a merchant, product, or service on your blog. It might happen that a product may seem very promising at first, but what about its performance. Is it accurate enough. Will it stand on industry standards, will people love it?
You should do thorough research on the past and present of a product; you promote it and make sure it is reputable enough and stands on its promises.
Rule 5 – Buy, Use, Experience and Promote 
This rule is excellent at making cents into dollars. Before you promote a product. Buy it. Think of this purchase as an investment. Take a few days and discover the inner sides of the product and try to find in-depth pros and cons.
After having a first-hand experience of the product, write a detailed review or an in-depth tutorial mentioning the experience and time you had with the product. Add your opinions and tricks and help people better understand the product.
Promote Established Products and Services
In selecting the product for promotion, many affiliate marketers are missing this out.
It's tough to generate a sale or even a lead by promoting a fairly new product as an affiliate where all of your earnings depend on a sale. So what I do is I pick a product from one of my similar niche sites that is converting well enough to promote.
This helps me to build a relationship with preexisting merchants that are seeing excellent results from my niche website, and this helps me to get exclusive offers too.
Let's take an example. LongTailPro is a keyword research tool which has a sales ratio of 16.2 (approx) out of every 100 leads on one of a blog. I see it's converting very well on some blogs similar to my niche.
Now there is a fairly new keyword research tool called KWfinder which is having a lower sales count and is not converting well enough.
Here, I can confidently promote LongTailPro on my blog. This has helped to verify the quality of the products and the needs of my readers without spending a single cent.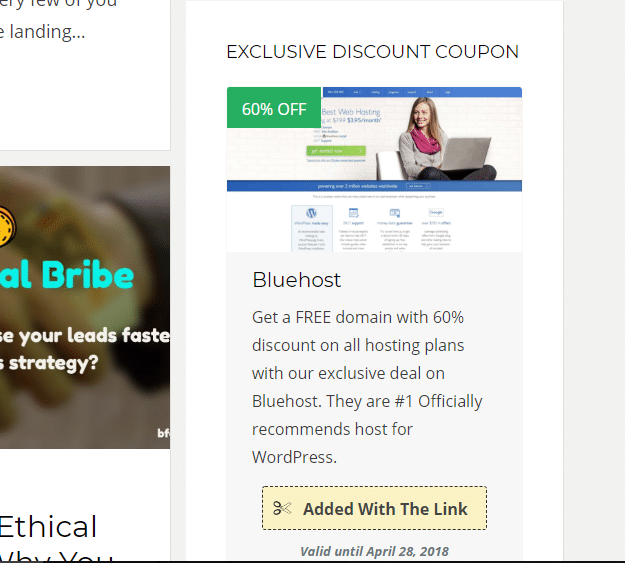 Similarly, for hosting. I know Bluehost performs exceptionally well because of its attractive and straightforward landing page. I can sign-up for Bluehost affiliate and promote it with no worries since it delivers the highest quality of service to most of the beginners.
This will work for you forever. Use it and I hope your sales will double at least in 30 days or less.
Email Marketing (
Game Changer

)

Here's a spoiler:

Email marketing is the most effective affiliate marketing strategy in any niche and for any product.

Email marketing is one of the hidden strategies for generating direct affiliate sales faster than any other medium. Since the beginning of online communication, email has been a sustainable source to connect with customers and readers.

However, list building today is helping many bloggers and online marketers generate thousands of sales with minimal effort for a long time. The first step to email marketing is setting up an email marketing service.

On the next stage, collect as much as emails by using some lead generation plugins and tools. This will help you convert your visitors into potential customers.
A brilliant way of earning through affiliate marketing is setting up automated emails that work on autopilot and give you more time to focus on further campaigns that will generate more income and profit for you.
You can also add a signature affiliate link to your emails for a product you use regularly and would love to recommend to your subscribers too. Check out this guide to starting an email list.
Sales Funnel
Sales funnel is a multi-scale project. You can set up a sales funnel to promote an affiliate product strategically. This can be done on your website, but the best of the sales funnel can be extracted by pairing it up with email marketing.
A sales funnel works this way – You capture a lead through one of the opt-in forms on your website. Once the subscriber confirms that it's the subscription to your funnel list, the promotion starts.
The first email is a set to give a sense of introduction and getting familiar with your subscriber. This doesn't include any affiliate promotions. keep it as personalized as possible to create a remarkable first impression that stays forever.
I set the second email to ask subscribers about their interests and opinions. You can also include a QnA in your email to get a list of problems they are facing.
The third email will include an affiliate link to the most relevant product or service that is the best option you think about solving a particular problem. Remember to show them the value by including your personal experience with it and try to write the emails to a mentor rather than being too salesish.
Content Marketing
If you never came to this term, I will assume you are unaware of how the blog works for a website that has anything to sell.
When we say to promote a product on a blog by writing a post, or if we say, driving traffic to a website through creating content, to promote a product for a commission, it's all content marketing.
Simplified – Content marketing is about driving targeted traffic that generates sales through useful and informative content. It's a bonafide inbound marketing strategy.
When I write a blog post about a keyword research tool for PPC, or when I write about the Mailerlite or about the Fiverr affiliate program, it's all content marketing.
Here, I am trying to drive traffic from search engines to send more traffic and generate more sales on these websites which pay me the commission on every successful one.
My content helps me market these products, which helps me earn money since I am an affiliate with whatever I am promoting.
Use of Banners
Banners are easy to use and work on autopilot. Set it and forget it. Since we are talking about affiliate promotion banners here, we will be paid for any action that is made by a visitor we refer.
However, I strategically place every promotion banner so that people with different interests see a different banner.
If you browse a post from the WordPress category, you will see a Hostgator banner between the post after 5 paragraphs. This helps me to get the maximum click on that banner as people who are browsing the post from the WordPress category should be interested in WordPress hosting.
Similarly, I place a HubSpot banner in the online marketing category and Media.net banner in the make money category. I suggest you do the same and in a few moments, you will observe a better CTR and action on your affiliate banners.
I use the WPAdvanced Ads plugin for grouping and Ad rotation. This plugin helps me target specific regions and visitors differently. The Advanced ads plugin helps me to Geo-Target my banners.
High Ticket Products
Sure. This needs to be done. I promote many small and micro-paying products on BforBloggers. But that doesn't help me earn a living out of it.
Some products such as Sucuri and Updraftplus pay a very low commission to its affiliates. I still promote them because I use and trust them.
However, I promote some high paying products such as Kinsta hosting. Why? Because when I talk to one of their team members or their affiliate managers, they give a series of certified customers with testimonials that prove they are the best in the business.
High ticket products need to be promoted because they fill the gap between low earnings and high expenses. While choosing the high ticket products. All of the same rules apply as we discussed above. You can find such programs from marketplaces such as ShareASale.
Landing Page Promotion
landing pages need to be curated. When a visitor first lands on your website and finds your content interesting, the visitor is likely to explore more about you by going to your homepage.
Unbounce: landing page comparison
If your landing pages have nothing but a simple pale appearance, you will eventually lose sales. To make the most out of your landing pages, either convert it into a lead capture page or make it a visitor funnel.
Read this guide to find your top landing pages and then, get yourself the Elementor Or Unbounce landing page builder. By using LeadPages, you can create high converting landing pages with a drag and drop builder.
You can also set up a funnel system through these pages. Imagine a visitor coming onto your landing page. the visitor then scrolls a little bit down and finds an interactive and beautiful demonstration of how you can use Convertkit for email marketing. This visitor will click on the button to find out more about how that helped you.
Don't sell the product directly, create content that shows and shows the useful side, and make the visitor fall in love; with it.
Social Proof
Focus on your memory and try to remember this. You visited a blog or a website that has the software, ebook, or any kind of product to sell. You were browsing the webpage and suddenly you see a small FOMO bar like this –
This pop-up was telling you that a moment ago, a guy named John, purchased a product from that website. This FOMO bar was giving you the proof and this was giving you a solid reason to buy the product. That is called social proofing.
You can use the WPfomify WordPress plugin to add the same FOMO bars on your blog to promote your product reviews and increase your revenue as an affiliate. Read the WPFomify review and learn how to use it.
You can see it in action at the MonsterInsights blog.
Scarcity Marketing Of Affiliate Products
The very effective and high on converting promotion type is scarcity marketing. While we browse through some websites, we come across some promotions that are offered to us for a limited time.
Sometimes, these websites may show us that a product has limited stocks that would end soon.
That is how scarcity marketing works. You can also start the promotion of some affiliate products using scarcity marketing.
A very impressive WordPress plugin is Thrive Ultimatum by thrive themes that work great for promoting limited offers on WordPress websites. Discover Thrive Ultimatum.
That means without pre-planning, you would miss out on a great number of opportunities that could prove profitable to your business.
If you are just starting out with affiliate marketing, make sure you use landing pages and banners from the very beginning. This will at least give you an opportunity to convert visitors.
I would stick to all of my rules before choosing a product and I would suggest you start with some selected products first. keep your focus on one or two products at a time and escalate your marketing skills as much as by continuous learning.
Email marketing should be done efficiently. Even if you're starting a blog and don't have any money to spend, you can still use MailChimp to collect your visitor's email. This will help you create a long list of potential customers in a quick time.
Here are a few affiliate marketing tools that will prove useful.
Which affiliate marketing strategies are you going to use to increase your sales?