Today we'll be looking at email hosting, more specifically at Titan, a professional email provider. Is it worth the cost? What key features does it offer? Why should I have a professional email in the first place? We're going to find answers to all those questions.
Why having a professional email is important?
Look, details matter. Details are what will make your brand look professional. Sending emails from an address like [email protected] instead of [email protected] makes a difference.
Do you see what I am saying?
I wouldn't trust the second one. Having a solid email address shows that you are serious.
But don't take my word for it: WordPress says that 75% of U.S. e-commerce customers prefer to trust a business with a custom email. We already mentioned the importance of trust for your brand when we talked about WordProof.
And look, email isn't going anywhere. While communication with friends and family has long moved away from email to social media, email is still our way to reach colleagues, teachers, and anyone with whom we interact professionally.
Also, an email hosting service is ideal for professionals and small businesses that have a small team of people and need collaboration tools as well as a high level of security.
What's the difference between professional email services and email campaign services?
Although it might look like they are two completely different things, remembering this doesn't hurt. Companies like Mailchimp offer email campaign services: you can send automated emails to your customers to keep them engaged and work your sales funnel. Professional email services, however, mainly offer professional addresses like we've just mentioned.
So it's important to point out that Titan is not an email campaign service. It's not meant for sending out bulk emails.
Titan limits the number of outgoing and incoming emails per hour and day.  And if your emails bounce back more than five times in an hour, you would not be able to send more emails in that hour. That is to prevent you hurt your reputation and Titan from being seen as a spammer.
What's Titan?
First off, let's take a look at what exactly is Titan and how it advertises itself.
Titan is a professional email suit that was founded in 2018 by Bhavin Turakhia.
It has a user base of 1,000 and Turakhia intends to take it up to four to five million in the next 2-3 years. His words ought to be taken very seriously: in May of this year, Zeta, his modern banking startup, reached unicorn status with a $1.45 billion valuation, a statistical rarity.
And Titan's latest funding is equally impressive. This year, the company secured a $30M Series A funding from Automattic, the parent company of WordPress. They will use the investment to continue building next-generation email for professionals and businesses.
Who is it for
"Big success isn't just for big businesses". That's Nova's moto, the company which Titan is part of and it couldn't sum up better what Titan's about.
The company says that Titan is "the world's first email product designed to address specific communications and productivity needs of small business". That sounds awesome! Small businesses need to be professional and take care of how they are perceived by the public.
Moreover, Titan aims to be an alternative to Google and Microsoft, which, Titan says, have started to monopolize email.  According to Turakhia, they even set up to become the de-facto platform for communication used by business professionals across the globe. The task isn't easy: Google has included tons of free tools targeted at small businesses in recent times, especially in the post-pandemic era. And Microsoft is currently controlling 47.5% of the global office productivity solutions market.
However, Titan does look promising and it's already achieving a lot.
Titan's features
Now, sure, Titan does have a beautiful website and brand colors but what does exactly have to offer to its customers? Let's see what Titan can help you achieve.
Send the perfect email at the perfect time
Multiple accounts.
Integrated video calling.
Email templates: quickly send new emails and recurring responses without having to draft them from scratch.
Signature builder: craft custom signatures for different types of emails. Add links, pictures, or HTML!
Snooze emails: please, use this power for good. Unclutter your mailbox by snoozing that email you're not ready to tackle yet. But remember you'll have to at some point.
Conversation threads: keep your email experience organized and coherent. Titan puts together the conversations in your mailbox into complete stories so you get the full context. Why did she say that to me?! Oh, right, I remember now.
Import your existing emails and contacts.
Auto-forwarding. If you have a personal email account that you would check more often, you may set up auto-forwarding to enable forward your email to a different ID.
Stay organized
Calendar sharing: coordinate schedules with your teammates and contacts that use Titan with shareable calendars. Add multiple calendars and recurring events or respond to event invitations.
Customize reading panel. Choose between seeing a snippet of the email to the left or seeing emails in a linear flow.
Schedule send: write emails at the time that works best for you and schedule the delivery when it works best for your recipients. No one has to know you wrote that file at 2 am on a Friday.
Follow-up reminders that work in two ways. They remind you to follow up on sent emails that haven't received a reply yet and they remind you to reply to that email you still didn't deal with yet.
Advanced search. Search an email based on From, To, Subject, Contact, Has words, Date Range, Size of the attachment, whether the email is unread or not.
And more: custom folders and sub-folders to stay organized, customizable push notifications, drag and drop images, keyboard shortcuts.
Work whenever and wherever you want
Works with every platform: send invites to guests that use Gmail, Outlook, and Apple Mail.
Titan has apps for desktop, Android, and iOS. Titan mail currently supports the widely used web browsers such as Google Chrome, Mozilla Firefox, etc. However, some users had been unable to log in to Titan webmail on Firefox. Titan explains that this may be due to Firefox's private mode.
Available in multiple languages: last June, they added Lithuanian language 🙂
Holiday responder. Hold on, just because you can access your email anywhere and anytime doesn't mean you have to! Titan helps you take some vacations with their Vacation Responder. Set an automated response to be delivered when someone emails you while you're busy getting tan.
Titan has your back
Undo send: clicked send the email too quickly and forgot to attach the file? No? C'mon, it can't be just me! Anyway, whatever the reason you regret sending that email, Titan's got you covered. Just click undo send within 5 seconds of sending the email and redraft it. Phew!
Security measures: protect your account from malware, spam, phishing attacks, and many more.
Find resources and support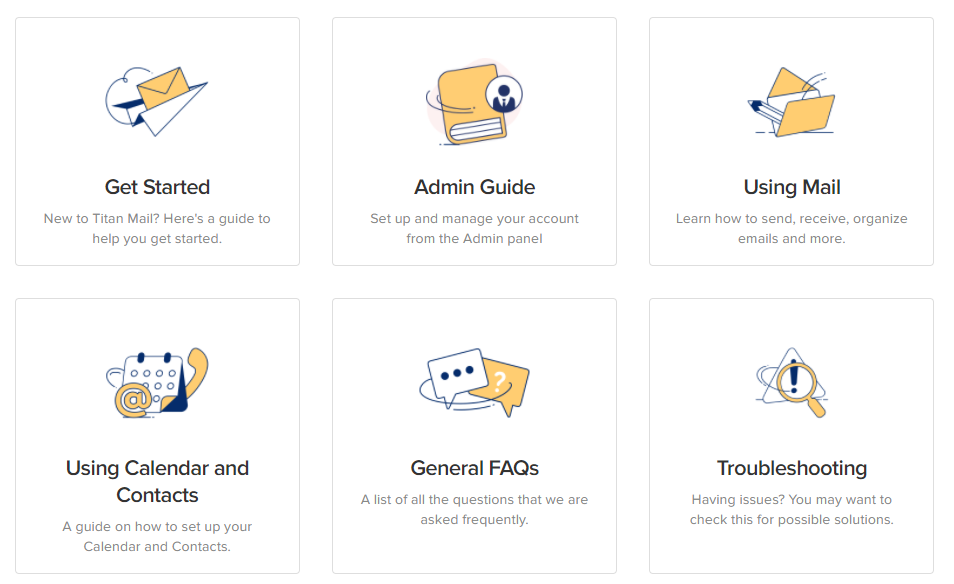 Titan has guides, FAQs, and different articles to help you navigate your account as smoothly as possible. If you have any questions, you can live chat with someone from their help center. I vouch for its kindness and impressive speed.
Titan email also provides 24/7 customer support to its users. Their response time is less than two minutes! And they have a 360° Support package.
Open to suggestions
Finally, now more than ever, user experience is at the center of companies' focus so Titan is also open for suggestions. With their Canny Integration, they collect feature requests. If there's a feature you'd want and they don't have it, you can suggest it with a post!
Titan is currently working to add a dark mode on its app thanks to one of those comments.
How it works
Currently, Titan is available only through its partner hosting companies, site builders, and domain registrars. They have partnered with industry leaders like WordPress and HostGator Brazil to reinvent email. That's right my Brazilian friends, you too can have a Titan email.
So to have a Titan email, you need to choose a plan from one of these platforms:
WordPress
Hostinger
HostGator Brazil
Rumahweb
NameSilo
This also means offers vary according to the provider you choose. You might get Titan standalone, with a time-limited trial, or bundled with a hosting package.
For example, Hostinger has a 30-day money-back guarantee, so if you're not 100% satisfied with the service, they'll give your a refund.
If you get your Titan email with WordPress, on the other hand, you'll have your domain for free for the first year. WordPress users also get Titan Max for free within the Pro Plan. Titan Max is a paid-on that consists of 4 features: read receipts, send later, templates, and follow-up reminders.
But no matter what provider you choose, though, Titan will still be a super affordable option!
Conclusion
As per the review for the platform, Titan email, I have high hopes for the service because it promises a better and more professional email experience for small businesses and professionals.
Titan email is an affordable option with a complete suite of features anyone will find 100% useful. I hope this post solved any doubts about Titan's email and you'll give it a try! If you do, let me know.