VideoAsk is honestly messaging taken to another level! With everything going virtual, it is the perfect addition to companies and organizations who find just texting and calling monotonous, especially in the case of interviews. VideoAsk by Typeform makes communication more straightforward, more effective, quicker, and absolutely personalized.
In a nutshell, it allows you to record videos of the questions and/or answers that you would typically write, send them over, and wait for the video response. Not only it makes expressing things quicker and easier, but it also ensures that the two people communicating truly understand the essence of what each one means. It is like any other messaging app, only replaced by video messages.
All the messages are collected in an inbox that you can respond to, one by one, like you would on an iMessage or Email.
In this article, we will be digging much deeper into what VideoAsk really is and how one uses it to the best of their abilities.
VideoAsk by Typeform – What is it?
Videoask is an interactive tool that lets you communicate face to face with your audience, irrespective of their locations and time zones. It helps you build stronger relationships and strengthens the virtual working system that has now been adopted all over the world.
Trusted by big clients like Fiverr, Wolt, Jobandtalent, recruiters mainly use VideoAsk to shortlist suitable candidates for their job roles with an interview as close to as a personal interview. The interviews are conducted in a question-and-answer form where the recruiter asks the potential candidate questions by sending a video. The potential candidates then reply with their answers, again, in a video form.
This enhances the screening process of the interview and enables the job givers and job seekers an equal opportunity to identify what they expect from each other and how things can move ahead accordingly. The one-to-one conversations at scale help in communicating without any barriers.

The simple step-wise guide to share videos on VideoAsk (elaborated later in the article) –
1. Record your video
2. Back them with audio and texts if needed
3. Share the video link with the required person
4. Wait for the person to check out the video message in their inbox
5. Receive a video answer from the person"
6. Decide if you want to keep the conversation going or not
Every single interaction that takes place through VideoAsk is recorded, transcribed, and organized by the VideoAsk experts for you. You can also add contact forms with your videos to make the conversation even more seamless and particular.
VideoAsk by Typeform – What all areas does it help in?
Lead Generation:

VideoAsk helps you generate leads by making your lead generation funnels way more personal than they already are and attracting higher quality leads that will bring you quality work.

Recruitment:

It also helps you make simpler and faster hiring decisions using the pre-recorded video feature in order to screen and interview the candidates. Since the set of questions is already decided and recorded, all you have to do is send them over to the applicant and wait for their response.

Sales:

VideoAsk also helps boost your sales by letting you create a more personalized sales experience. By that, we mean you can add the videos on your sales page that might answer your customers' questions immediately when they are thinking about it. Your personalized message will enable them to clear their doubts and hit the purchase button, along with minimizing the email queries that businesses receive.

Testimonials:

VideoAsk helps you collect quality testimonials from your clients in a video form. This helps identify the creditworthiness of your products and showcases that your customers are actually happy customers and not people who have just written a testimonial for the sake of it.

Audience engagement:

People respond better to videos. You can make your business story or promotional content impossible to be ignored by converting them into a video. This will help you build better and solid relationships with your audience, boosting engagement with the personal touch of an interactive video.

Training and education:

The only thing closer to classroom teaching is a 1:1 ranging and education program with video interactions. This allows you to engage with students during or after class, to take all the doubts that they may have, and counsel them through other things if need be.
Furthermore, you can add your VideoAsk to any website on the internet by using their floating widget and make the website more interactive. This does not require any coding and takes your website a level higher, boosting sales, engagement, interaction, and customer satisfaction. As they like to call it, 'the best interface is your face!'.
VideoAsk by Typeform – How does it work, and what all can you do?
GREET PEOPLE IN YOUR INBOX
Manage all your interactions with a single inbox and get almost a face-to-face experience with your audience. You can also reply to emails via a video from the platform, export interactions to .csv or .xlxs files, and enable Email and push notifications.
MAKE RELEVANT CONVERSATIONS, OR CONVERSATIONS RELEVANT
With the conditional logic of 'if this, then that,' you can make all the conversations relevant and meaningful. Redirect people to custom URLs at any point in time, if need be.
ASK ABOUT ANYTHING AND EVERYTHING
Do not just go on collecting video recordings, but also support answer types by considering the questions that one may have. You can ask for text or audio responses, multiple-choice questions, calendar booking, payments, NPS, file uploads, and so much more with the same single platform.
EASY BOOKING AND SCHEDULING
AskVideo also works efficiently for booking and scheduling appointments and meetings online. Let the respondent book some time with you by using a colander integration, including Calendly, HubSpot meetings, acuity scheduling, and more.
SPEECH TO TEXT TRANSCRIPTION
AskVideo helps you convert all your video and audio recordings into texts to find the key points quickly and not miss out on any information. It also offers multi-language support.
FIND EVERYTHING ANYWHERE
Search across all the interactions that you have had to find things that matter to you. If someone said it, AskVideo would definitely find it for you as per your requirements. Powerful filters and advanced settings help drill down and examine responses and transcriptions in detail to figure out who suits the needs the best.
TRACK CONVERSIONS
You can get a bird's eye view on AskVideo about all your conversions that have been taking place. See how your VideoAsk engage with the audience and which ones are doing the best. Improve on the ones who did not do too well.
COLLABORATE WITH THE TEAM SEAMLESSLY
Invite all your team members to the platform to communicate and collaborate easily. The platform helps you to work together, create and respond to videos in real-time. You can also control who can view, reply and edit the VideoAsks by setting permissions.
EMBED IT TO YOUR WEBSITE AND MAKE IT A PART OF YOUR WORKFLOW
Connect VideoAsk to over 2,000 apps and integrations to track performance through Google Analytics ID, FB pixel, Tag Manager ID, and more. Add it to your website to make it more interactive and bring some life to the website.
VideoAsk by Typeform – Working | Step-wise detailed guide
Step 1:
After creating a VideoAsk account, log in to your ID and on the dashboard, click on the 'New VideoAsk' button.
Step 2:
Start recording a new video by either using the webcam button or the library button for pre-saved videos.
Step 3:
You can also add speaker notes for your memory if you feel you cannot speak on the spot. Next, press the big red button to start recording the video.
Step 4 (optional):
You can record on your mobile phone, as well. As of now, only iOS and the mobile web are supported to start recording and sending videos. The videos can be deleted and remade.
Step 5:
When you have gotten the video of your choice, move further. Add some text and context to the video by adding a description, which is optional but recommended.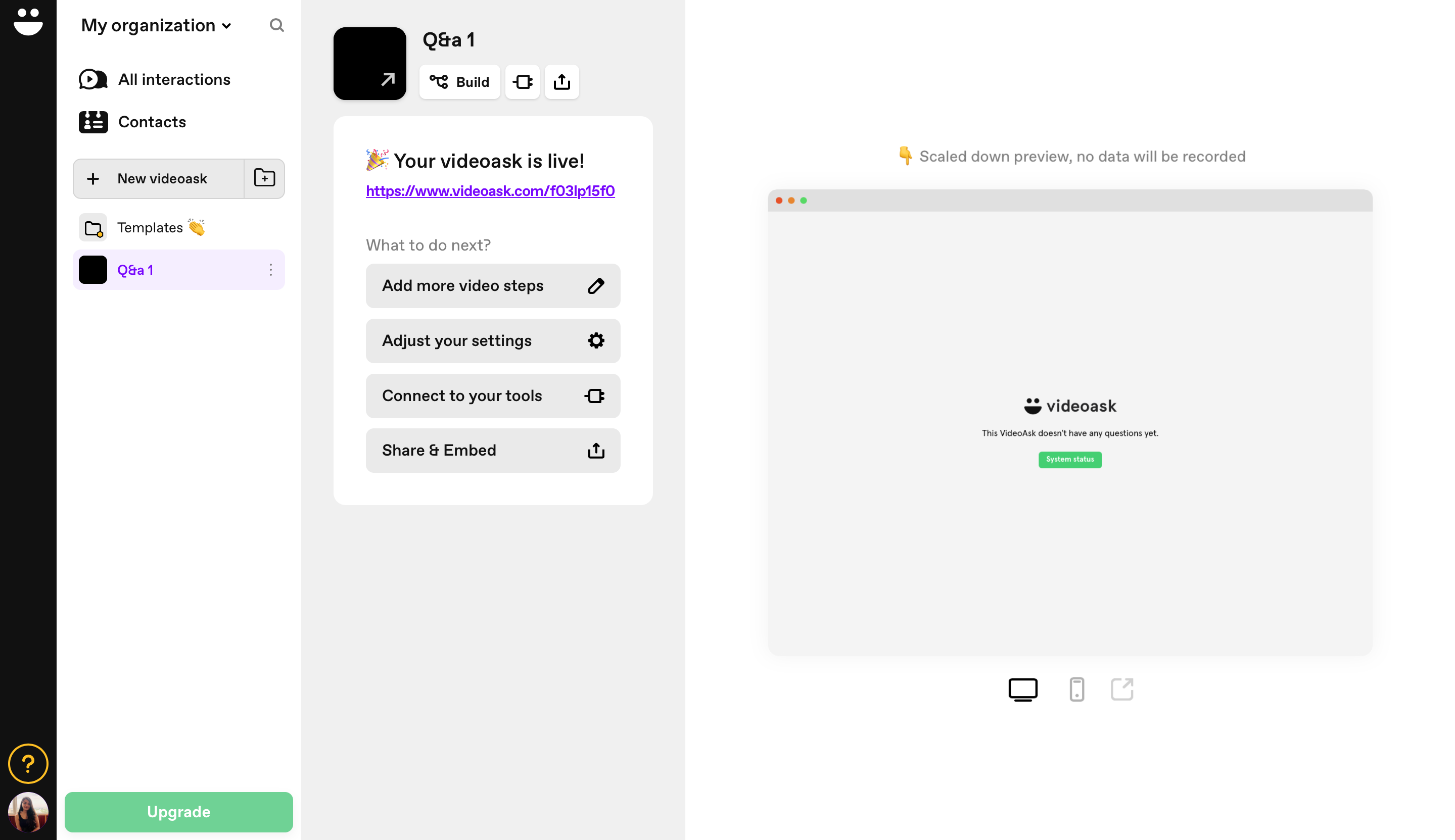 Step 6:
Decide how you wish people to answer the question, either in text, audio, video, MCQ, or with a calendar (with their Calendly integration). To track and manage leads, the Salesforce integration helps your team with direct responses.
Step 7:
As the final step, customize your VideoAsk by setting up its name, select if you want to collect people's details, the language, and colors that should reflect.
Step 8:
You are now ready to share your VideoAsk with your audience! Share it as a link, widget it on your website, or just like an eye frame on the webpage. If you wish to add more steps, simply edit the video after it is posted.
Pricing:
VideoAsk comes with three subscription plans, two of which are paid.
Plan 1: Start Plan
This is the free/unpaid plan that costs you nothing. It has all the essential features that one needs to get the conversation started. Things it involves are –
20 mins of audio or video processing each month
VideoAsk branded
Up to 3 steps per VideoAsk
Team collaboration up to 3 members
All core features
Conditional logic
Payment collection with Stripe
Zapier integration
Appointment scheduling
Voice-text transcription and captions
Plan 2: Grow Plan
This plan costs $30 per month, billed annually. It is used to make conversations adapt to everyone. This plan helps you build custom workflows. Things it includes –
Everything in the start plan
100 minutes of video or audio processing per month
Partially VideoAsk branded
Unlimited steps pr VideoAsk
Team collaboration up to 5 members
Data export
Redirect to URL
Live calls
Net promoter score
File upload
Respondent tracking
Custom variable and hidden fields
Video length control
APIs and webhooks
Schedule a close date
Plan 3: Brand Plan
This is the most expensive and elite plan offered by VideoAsk. It puts your brand in the front end and centers things around it. You can own the entire experience by getting access to all possible features. This costs $50 per month, billed annually. It includes –
Everything in the grow plan
200 minutes of video or audio processing every month
Addition of own brands
Unlimited VideoAsk steps
Team collaboration up to 10 members
Domain white labeling
Priority support
Voice powered chatbot
More customizations according to the business requirements
Conclusion
Our deduction about VideoAsk by Typeform is nothing but amazement. It is a tool that is made for contemporary workers and workers who wish to upgrade themselves from orthodox messaging to modern messaging. It helps you have meaningful conversations with ease and ensures that the screen in between does not hamper the quality of the discussion at all.
In the times when work from home has become the new normal, and global boundaries do not matter so much, we must transform into new techniques to help build better and have strengthened relationships with each other! And all of this is only possible by the one of its kind platform – VideoAsk by Typeform.