What is Restream.io and How to Use It (Review)
Restream is a multistreaming service that allows you to live stream to multiple platforms and social networks such as YouTube, Twitch, Facebook, and Linkedin. In this article, we'll learn how to use it and which are its key features.
But first, let's get to why live streaming is something you should consider if you want to engage with your audience in the best possible way.
Why you should live stream
Live streaming has become very popular. It's an amazing way to engage with your audience in real-time. Host interviews, Q&A sessions, Study with me live streams: the possibilities are endless. Of course, content creators love it. But they aren't the only ones who use it to reach their audiences: businesses, NGOs, even churches are currently live streaming!
And no wonder. According to a recent study, 80% of live stream viewers will watch a stream from a brand rather than read its blog. That's a lot. And it all points out that this tendency will keep on increasing. So what's holding you from live streaming?
Streaming is much like filming a YouTube video: anyone can do it and you don't actually need any professional equipment. However, as you progress and keep growing, you might want to invest in a good microphone and lights to improve the quality of your content. Restream offers some advice on the equipment that you can read here.
As to which platform should you use for streaming, gamers stream on Twitch but there are more than 30 sites where you can stream and connect with your audiences. Thanks to Restream, you don't have to choose one or the other: you can stream to all of them at once!
What is Restream
Restream is a Ukrainian-American start-up, founded in 2014 and with headquarters in Austin, Texas. The company offers its users to stream their video live to different platforms. So if you have audiences on Linkedin and YouTube, you don't need to choose one place over the other, just stream to both simultaneously!
According to their site, with Restream you can stream to more than 30 video sites. I will argue, though, that the list of platforms is not up-to-date. In the first row, it's Periscope from Twitter, and the app is no longer available ever since March 31, 2021.
Like many online companies, Restream has recently experienced tremendous growth due to COVID. Last year, it raised $50M in Series A financial led and launched Restream Studio. And a couple of months ago, they announced their feature "Background music". They keep growing and growing.
Features
Restream has tons of features for all its plans.
Insightful analytics
Analytics is in a beta phase but still, they are very complete. You'll find:
Average stream duration and total stream time.
Average viewers, maximum watched minutes, and peak time.
Chat trends like popular phrases.
Audio frequency and resolution.
Etc.
The chart in the picture isn't very impressive purely because of me. Imagine all that you could do with its potential!
Restream Studio
To stream you have two options: download third parties like OBS Studio (which is a bit complex but Restream offers a guide) or stream professionally from your browser using Restream Studio. This option is very cool because it lets you:
Have up to 10 guests at once. Just share the link and they will join.
Play background music: choose between their endless royalty-free music tracks, from classical to rock and hip-hop.
Change captions and graphics.
Upload your logos.
Change your background and add video clips.
Chat privately with your guests.
Once you end your video, you'll find it in the recording tab. You can save it as full video and audio or just audio.
Restream Chats
Remember you are streaming to multiple platforms? Well, that's not a problem to interact with your audience! Restream takes comments from each platform and brings them to one place so you can respond to them directly from Restream.
You can also change the chat settings to fit your brand. Look at all those options.
Restream Social Alerts
Notify your community when you go live. Set your message text and Restream will send the pre-recorded message to Facebook Pages and/or Discord. Here are some examples of how it looks: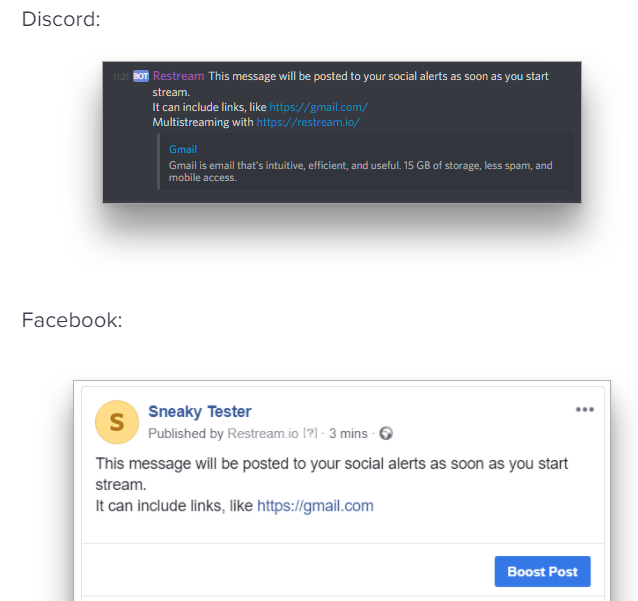 Other general features
Unlimited streaming time and bitrate.
Bring a stream from a third-party tool like OBS or Zoom.
Restream Events which lets you stream pre-recorded videos.
Record Only. It's pretty much like Restream Studio only it's not live.
Premium features
Upload and stream your videos.
Replace or remove the watermark.
Keep automatic recording.
Download separate audio tracks (Professional).
To see this in more detail, head down to "Pricing".
Now it's time to crack the code:
How to use Restream
The truth is Restream is super easy to use. But I'm so kind I still walk you through it in case doubts come up.
How to live stream with Restream Studio
1. Once you sign up for a Restream account, you will be brought to the Dashboard and see this sign:
Select one of the channels you'll be using. I added YouTube because it's the one I'm most familiar with.
2. Allow Restream to manage your YouTube account so you can stream. If this is the first time you'll be live streaming on YouTube, keep in mind you need to activate your account first, which will take 24 hours.
3. Restream is a multistreaming service so you might want to add more than one destination. After selecting your first channel, you can add other platforms at any time, just by clicking "add destination". I went with Twitch. Unlike YouTube, as soon as you sign up, Twitch lets you live stream.
4. Then it's finally time to live stream. If you want to do it instantly with Restream Studio, just click the first option. You'll see something like this:
5. As you can see, Restream has a lot of features and you can tweak the chat settings, the graphics, and the captions. It's all very intuitive but still, Restream will guide you the first time. You can also add music or have other sources prepared off-screen so when it's time to show them you just toggle them on.
6. Don't forget to add a title and indicate what you're streaming. Just click "Edit" below "Live with Restream". Select your content type from a list that includes music, church service, and business.
7. Now you are ready! Press "Go Live" and enjoy your multistream!
After live stream: stream recordings
Yes, it's called live stream BUT you can also stream recordings. I know, I'm shocked too. Here's how you do it:
1. Save the recording. When you're done with your live stream, just click "End Stream". Restream will then give you the option to download the recording and it will automatically save the recording. You can also click on "Record Only" to record a video with no audience. Both types of videos will be available for streaming. You'll find a new option on your dashboard, "Stream a Video File":
2. Find the video. Click "Stream a Video File" and go to "Recordings". Select the one you intend to stream. If you have a paid plan, you can also go to "Uploads" and select a video from your desktop.
3. Create an Event. Fill in all the required information like title, date, and time. You can also add a thumbnail if you want. Once your event is set up, you can't change the time or date so double check before you confirm.
4. Confirm destination and details. This is your chance to add and remove channels. Each destination has its own settings so you'll also be able to have different titles on each platform and even stream privately on YouTube but publicly to Twitch. Because you know, people on YouTube can be weird.
5. Click "Stream" and see how it goes from your streaming monitor. In case you don't want to stream the whole recording, click "Finish" and everything will end.
Support and resources
Restream has great support! You can send them a message or read one of their many articles to solve any doubts. I message them and in less than a minute got a very helpful answer.
Plus, I mentioned, when you are in your dashboard, Restream will guide you through all the actions you can do. So even if you are a newbie like me, you'll have a very smooth and seamless experience.
Pricing
Restream has 4 paid plans, two for personal content and two for companies. With a Restream subscription, you get a free XSplit Premium Licence. The live streaming software partnered with Restream to give you the best streaming experience.
Plus, Restream has a free option that includes the Restream Studio, it's compatible with third parties like Zoom and OBS, and lets you stream simultaneously to more than 30 platforms.
As for the paid plans, they have a 7-day money-back guarantee in case you change your mind.
Individual plans
Standard: $16 per month if paid annually. 
6 hours of stream recording.
Up to 10 stream on-screen participants in Studio.
Stream to Facebook pages and groups.
Add an additional channel of the same platform or any custom platform which supports RTMP.
Professional: $41 per month if paid annually.
10 hours of stream recording.
Restream Studio PRO with custom logo and graphics.
No Restream branding.
3 custom platforms or Extra channels.
Company plans
Premium: $83 per month if paid annually.
10 custom Extra destinations.
20 hours of stream recordings, stored for 30 days.
Store up to 25 videos.
Business. $250 per month if paid annually.
20 custom Extra destinations.
Store up to 50 videos.
10 secure RTMP Pull links.
Get Started with Restream for free
Verdict
Restream is a complete platform that both beginners and professionals will appreciate a lot. I certainly did. It's easy to use and it has tons of features even if you use it for free.
And it all points out that it will keep adding features in the future. It's just a great time to be a streamer.
Restream verdict: I would definitely recommend it!
Please, tell me if you love it as much as I do!