Unbounce is a landing page builder (plus an extremely powerful conversion optimization platform) and it is one of the industry's best.
But what is it that makes Unbounce so popular for internet marketers, bloggers, and online businesses?
An Introduction to Unbounce
Unbounce is essentially a landing page builder. It helps you to build landing pages to collect emails, grow your sales, and everything else.
Here's a nutshell of what Unbounce does:
Keeping people on your site longer;
getting them to subscribe more;
nudging them to buy more, and when they do, to thank you for letting them in on such an excellent deal.
Keep reading and learn what precisely makes Unbounce a powerful software for building a sales funnel's most important element: landing pages.
Unbounce Features
#1- Landing Pages.
The key product of Unbounce is their landing page creator, and this is where Unbounce shines the most.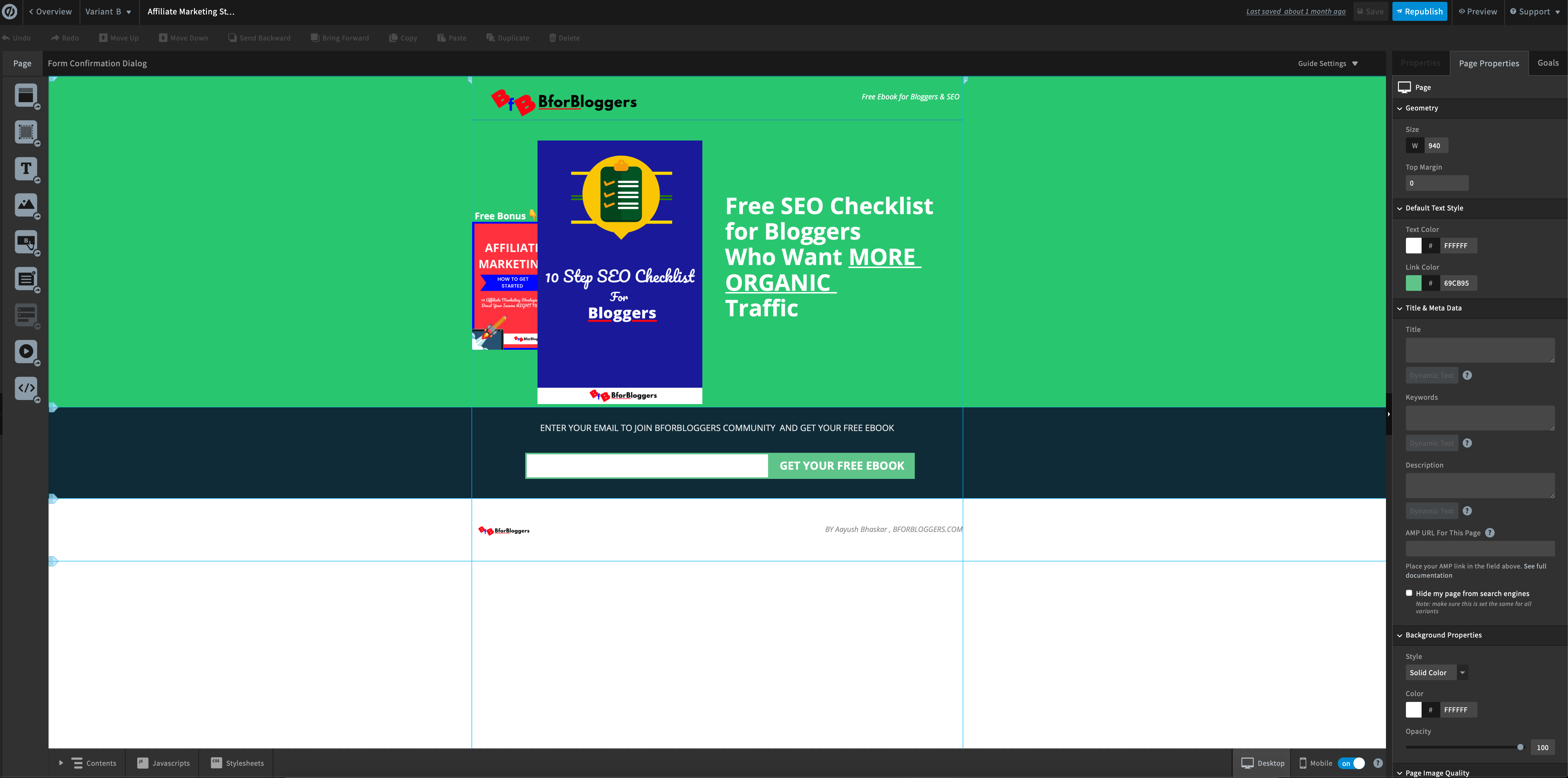 To be able to build an Unbounce landing page:
you don't need to be a developer;
you don't need to know code, not a smidgen of it;
you don't need a lot of your precious time.
However, you do need:
15m of your time (as long as you have a general idea of what it is that you're making)
to be able to drag and drop
Nothing much more than a little bit of enthusiasm and landing page copywriting strategy.
Finally, if you have a degree in design, feel free to throw it in the trash bin because you won't be needing it.
Building a landing page with Unbounce is as easy and intuitive as it gets. And the tool gives you free rein and total flexibility.
Where other builders constrict you with element movements, Unbounce does no such thing. You can move them wherever you want.
In fact, the only constricting elements are your imagination and good taste. Just because you can build a CRAZY landing page, it doesn't mean you should do it.
Because the goal of a landing page is to convert above all.
#2- Popups and Sticky Bars
Unbounce also lets you set up popups and then further refine when the popup will appear and to whom.
Things to tinker with are:
Time on page (session length),
referral url,
cookies,
location
This I wonderful because you can save some money and not purchase a premium optin builder like, for example, OptinMonster.
The same goes for sticky bars.
They are heading-like elements that stick to the top or bottom of the page and follow people as they scroll deeper. This is great for subtly always being there on their mind and just a click away.
Great for boosting conversions.
#3- Integrations
Unbounce is a team player of a tool, and it lets you integrate it with 60 other most commonly used apps.
Here are some of them:
Campaign Monitor
Marketo
Infusionsoft
SalesForce
ActiveCampaign
And if that's not enough, you can also integrate with Zapier, which then gives you 900+ integrations through their interface.
Note: You will need a Zapier account to do this.
#4- Templates
Unbounce offers more than 100 ready-made templates. All beautiful, futuristic, and high converting.
What's more, you can fully edit and customize any template. Finally, you can also start from scratch, and then you're only limited by the white canvass of your budding imagination.
#5- Support
Support is available on all plans and is handled:
through phone,
live chat and email from 1 am-8 pm PT on weekdays,
via email from 9 am-9 pm PT on weekends.
#6- Security
Trust online is hard to gain and easy to lose. All it takes is one breach in your security, and whole months, maybe years of your hard work, just went flushed down the drain.
Take a look at the image below:
Unbounce has HTTPS connections with free SSL certificates. All your landing pages are automatically secured for you. They also offer SSO, which makes it easier to sign into multiple pages and apps at once.
You can't get any better than that. And security is top-notch on all plans!
Here's How to use Unbounce to Grow Your Business
#1- Landing Pages for More Subscribers, Money and Brand Building
a) Having a list is similar to having a money stream at the tip of your fingertips. I mean, think about it. People on your list like you, trust you and will buy from you as long as you recommend relevant and helpful things to them.
Unbounce helps you grow your email list over time and without fail.
Here's how Aayush masterfully does it. His affiliate marketing strategies ebook is pure value, and all you have to do to get it is hand over your email.
And here's how it looks over in the Unbounce internal editor: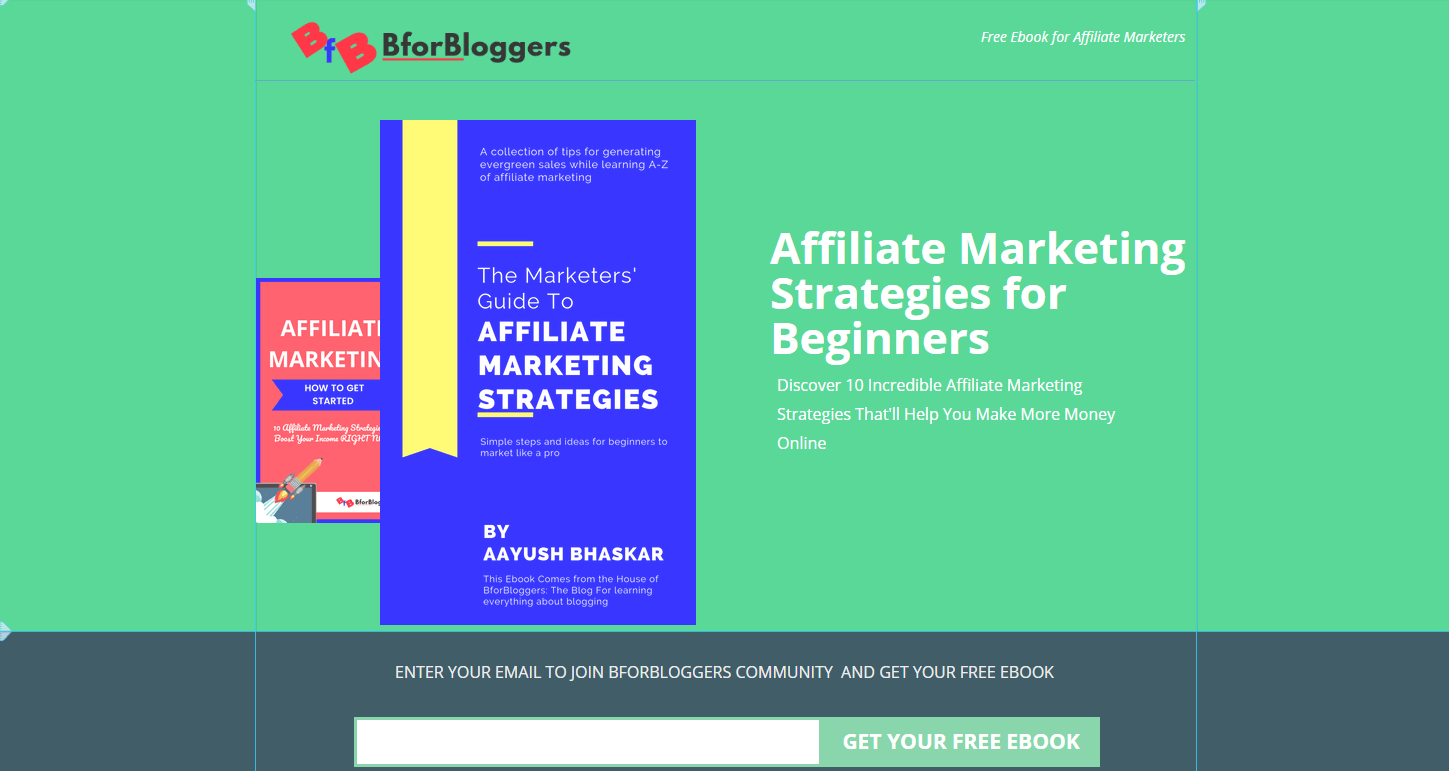 b) When I say Unbounce directly helps you more money, I mean that you could promote a product you're affiliated with on a specific landing page. For example, Aayush could use Unbounce to build a landing page that promotes Unbounce. That's irony. That's what it is!
c) Finally, when I say Unbounce helps you build a brand, I mean it helps you get more subscribers for your YouTube channel. This is a video era we're living in and having a popular YouTube channel is a true boon to have.
So, you could create a landing page that hosts your best video and funnels people over to your YouTube channel so they can easily get to know you and subscribe to your channel.
#2- Sticky Bars and Popups
Look:
I won't waste my breath and your time speaking about how effective popups and sticky bars are. Wanna know why?
Because here you are reading and learning about Unbounce, primarily a landing and sales page builder. That is like a whole different optimization level, and if you're considering landing pages and sales funnels, you know what popups and sticky bars are.
Am I right?
It's important to mention that Unbounce gives you popups and sticky bars on every plan, even the cheapest one:)
#3-You can A/B test landing pages.
A/B testing is the bread and butter of CRO. You can't and shouldn't go without it, as it's a proven, sustainable, and effective way to achieve growth over time.
It's a must-use feature, and the good news is that Unbounce has got you covered.
Note: see how Unbounce offers to create a variant page and send it traffic so you can see which one performs better?
But simple A/B testing was not enough for Unbounce…
#4-They Developed Smart Traffic
Smart Traffic is its AI-enhanced program that automates conversion rate optimization. The program does this by learning about your audience's behavior when faced with a landing page and then using that knowledge to improve on the next iteration.
It sounds complicated, but it's actually straightforward. AI running in the background will determine which variation of the landing page is best to serve to a visitor, based on data like:
geolocation,
demographics,
cookies,
devices
and other tags
This enhances the chances that the most appropriate landing page variation meets the person most likely to respond well to it.
Smart, isn't it?
#5 AMP
Accelerated Mobile Pages are Google's project for speeding up the web. Basically, pages are AMP-ed when all unnecessary code, HTML, and Java are stripped, leaving only bare-bones functions and ultra-fast mobile pages.
AMP is a new feature and is available to Enterprise and Premium plans. So the cheapest, Essential plan is left out and is something to keep in mind if your web traffic is mostly mobile and you need speed.
#6- Analytics
You can't improve what you don't measure, right? Well, all Unbounce landing pages have inbuilt analytics, so you'll be able to see how many people visited and how many did the action you wanted them to do.
Here, you can see that Aayush has achieved a 3.33% conversion rate with his affiliate marketing strategies e-book.
That sounds like it's very little but actually is an excellent result. I say that because the average conversion rate for landing pages is 2.35%. So this one is killing it!
Unbounce FAQ/QNA
#1- Will Unbounce Landing Pages Really Help With My Conversion Rates?
Depends on how you use it. Their landing page templates are like hidden treasures waiting to be found and used strategically. Make a solid representation of your offer and implement solid copywriting techniques to maximize conversions.
You can also opt to ask for their support for suggestions.
Unbounce templates are optimized for conversions because the Unbounce team had studied 63,000 landing pages and the behavior of 74,000,000 visitors to said pages.
So they were able to piece together very convincingly what works and what doesn't for conversions, And their templates come super optimized out of the box. In fact, so optimized that unless you're a CRO expert, I advise you to pick one and see how it goes.
Later you can reiterate.
#2- I run a WordPress site. Can I integrate it with Unbounce?
Yes, of course, you can. You just need to install the Unbounce dedicated plugin, and then you need to connect it with your WordPress site.
It's pretty easy to set up the plugin as well. All you have to do add your WordPress site to your Unbounce account, and it's done.
#3-Are Unbounce Landing Pages Mobile-Friendly?
Yes, they are.
All landing pages that come from Unbounce, whether based on a template or whether built by your hand, are 100% mobile responsive.
This means they always look great, no matter the size of the screen.
#4- I'm Interested in the Cheapest Plan. What Will Support be Like for Me?
Support is the same, that is to say, top-notch for any plan.
#5- Are Unbounce Landing Pages GDPR Compliant?
Absolutely! You have nothing to worry about. Your European visitors will be safe on your site, and you will be safe having them on your site.
#6- How much does Unbounce Cost?
Unbounce pricing & pans start at $90 per month and go way up to $225 per month. All the plans come with the same feature. The only difference is how many sessions you are recording. The base plan lets you record 500 conversions and the top plan lets you record 3,000 conversions. If you want more, you can opt for the agency plan.
#6- Is there a free trial?
Yes, click this link to get 14 days to test run Unbounce for free. Plus, The link gives you access to 3 months of a 20% discount price to save your money.
On a side note: I applaud you for wanting to have a free trial and not buy right away. Unbounce is excellent, and I have zero doubt you'll like it, but you need to see if it's a glove that fits YOUR hand.
#7-What are Unbounce pros and cons?
Unbounce boasts an impressive number of 15,000 paying users (and few of them are huge brands).
Here's what some of these brands had to say about Unbounce:
PROS:
A superior solution for CRO newbies and marketers with minimal coding skills
Easy to use
It offers excellent A/B testing.
Superb support
Integrations galore
AMP is offered
Mobile responsiveness is guaranteed
CONS:
A/B testing delivers only 30 days' worth of data
Conclusion
It's a sophisticated Landing Page Builder that brings in new features to the game of conversion optimization.
Here are three scenarios for you, and you can take our pick.
Click here to start using Unbounce with a 20% discount.
Finally, if you are a pro and your site is almost like a child to you, then I urge you that after you've tried Unbounce, you keep using it, and you keep learning how to use it.
It's a sophisticated tool with many layers of value to be found and explore, and the more you explore, the higher your conversion rate will be, and all-important numbers will rise as well.
If you have any questions about Unbounce, let me know in the comments.