You have selected your preferred E-mail Marketing Service and have started your mailing list with a couple of autoresponders ready.
But you have very few subscribers on your list. You aren't converting your hard work into results.
Did you take the time to find out where the problem is? Why are people not subscribing to your blog?
Many things make it hard to grow a mailing list, and one of the significant problems is using not-so-powerful and annoying lead plugins.
Listed below are some of the best-performing lead generation WordPress plugins.
1. OptinMonster
Optinmonster is a plugin made for all. Be it agencies or businesses, or small publishers. This powerful plugin will make you a fierce rock competition at building a mailing list.
With over 65+ templates and being mobile-friendly, the OptinMonster can be integrated with any web-based platform like Drupal, Joomla, Blogger or WordPress.
Some of its great features include:-
A/B split testing.
Drag n drop builder
Page-level targeting.
Sidebar forms.
Floating bar.
After post & inline forms.
Content Locking.
Exit-intent technology.
Referral detection.
For business or serious bloggers, you can also access features like custom branding, custom message and monster effects that gives you 26+ custom animation and sound effects that convert more visitors.
Campaign Triggers options:-
Exit-Intent Technology
Scroll Trigger
Monster Links 2-Step Options
InactivitySensor
Timed Display Control
Campaign Scheduling
OptinMonster integrates with all major email marketing services, including MailChimp, AWeber, InfusionSoft, and ConstantContact.
It also has multiple eCommerce integrations, including Magento, Shopify, BigCommerce, Volusion, and PrestaShop.
I strongly recommend you to go with OptinMonster or thrive leads if you genuinely want to attain a powerful tool that is both easy to use and magical.
2. Thrive leads
Thrive Leads is part of the thrive themes brand that owns the famous thrive architecture. This is the same plugin I've been using here on BforBloggers.
Thrive leads are as powerful as OptinMonster is, and both are fighting in stiff competition. However, thrive leads do offer you some specific features such as:-
Different Opt-In Form Types:-
Lightbox Overlay (Popup)
ThriveBox 2-Step Optin
Optin Widget
In-Content Form
Ribbon
Slide-In
Screen Filler
Content Lock
Multi-Step Forms
Advanced features include:- 
Super Customizable Forms
Highly Conversion Focused Designs
Enhanced SmartLinks
Best-in-Business Reporting Suite
Exit Intent & SmartExit
Advanced Trigger Options
Precise Targeting
Animations & Sounds
With thrive leads, you can show a different campaign form to visitors who have subscribed to your list previously! Smart right?
If you'd like to create and manage lead forms within your WordPress dashboard, Thrive Leads is the best plugin out there. They keep adding new templates and features frequently and the team behind it is very passionate.
3. Baluu
Baluu is a scheduling platform that helps you easily manage your appointments and get more done.
Baluu helps you generate leads, close deals, and increase sales by providing a simple way to schedule meetings with anyone, anywhere. The most ideal solution for sales teams, entrepreneurs, and freelancers.
Using this tool, your prospective clients can see your availability and book meetings with you. You can also add them to a shared calendar so that they know when you're available.
Baluu gives you the ability to decide when people can book meetings with you. You can set different rules based on the type of meeting. The coolest part about Baluu is that it has free access to use. You can set up to 50 bookings per month.
Key Features:
Sell anything, from tickets to appointments, classes, experiences, and more
PayPal, Apple Pay, and American Express are all supported
Multiple ticket types
Brand your URL (custom domain)
List unlimited bookings
Built-in CRM
Set up several accounts for team members
Built-in website builder
Online and hybrid events
Multi-part experiences
Private payment links
Availability is automatically tracked and changed
Supports virtual/hybrid event features
4. ConvertPro
ConvertPro is a lead generation plugin developed by BrainStormForce, the same team behind the popular WordPress theme Astra.
It is a powerful but lightweight plugin that allows you to create interactive and beautiful optin forms in minutes.
This plugin comes with loads of features such as:-
Scroll Trigger Popup
Use scroll trigger when a visitor has reached a defined percentage of your web-page. Give your visitors the next thing to do when they finish reading your page, article, or blog post.
Well-Timed Trigger
Using time time-delay trigger, you can control the timing of your offering to find & set the best timing visitors require to get familiar & comfortable with your website.
Time Scheduler
Do you have a customized message displayed within a particular period? ConvertPro lets you schedule pop-ups that will be displayed only within the specified period.
Repetition Control
Unique functionality allows you to set frequency & unique views of your opt-in forms, offerings & messages to zero out the annoyance and make your campaigns highly effective.
Content Locker
Option to make your premium content accessible only to subscribers or social followers. An effective way to remain indexed in Google & complement your growing email list & social channels.
Referral Detection
Prioritize visitors coming from a particular website by displaying specific messages and popups. Identify the domain a visitor is coming from and show or hide particular modules.
Full-Screen Mode
The full screen or welcome models grab user attention as they hide everything else on the screen. ConvertPro lets you convert any modal popup into a full screen modal with a single click.
Widget Box
ConvertPro makes it easy to add opt-in forms & social sharing and following icons in the sidebars, in footers, or any other widget area using the ConvertPro Widget Box.
Video Popups
Engage visitors with video popups! Show video content to visitors within the popup accompanied by a call-to-action or a subscription form at the pre-set timing of your choice.
A single plugin comes with almost everything you need. The real-time live editor makes it easier to design and deploy your pop-ups.
ConvertPro comes with pre-made templates that are ready to go with minimal customizations. You can also use inline forms and pop-ups along with sidebar forms. I suggest you do split A/B testing of the sole of the templates and formats before settling down for a single one.
Not to mention, these pop-ups are all mobile-friendly and responsive.
5. SUMO
Used by almost every beginner and some top bloggers, SUMOme is a power-packed plugin that gives you over 10+ tools to contribute to your blogging success.
Be it list builder tools, share buttons, heat maps, welcome mats, popup forms, and lots of other tools ready to go in the sumo store.
However, our primary focus for this list is popups and other forms. You can enable embedded forms, popup forms, notification bars, and scroll trigger forms with ease with sumo.
All you have to do is go straight and register your account on SUMOme, get yourself the plugin, and you are good to go.
SUMOme does not come with the many customization and powerful features you get in Optin Monster or ConvertPlus. This is a beginner-friendly approach to list building.
You can use SUMOme on blogger (BlogSpot) blogs, too, just like others above on the list.
6. Bloom
Bloom is another popular lead generation plugin developed by ElegantThemes.
Bloom is one of those plugins that has a unique touch to it. The optin forms offered by Bloom are custom made to suit any website.
Their templates are minimal but look beautiful and unique. You can customize these optin form templates to match your brand easily.
Features:-
Minimal Themes
Customizable minimal optin form templates with eye-catching designs.
Countdown Themes
Create scarcity for your offers and boost conversions.
OnClick PopUps
Shows a popup when somebody clicks an object or text. Learn how to set up an on-click popup with Bloom.
Popup Triggers
Show popups based on time, page views, scrolling the page, and more.
A/B Testing
Split test your popups against each other to boost conversions further.
Analytics
See how well your popups are converting, including the best pages, countries, and devices.
To store your leads, you can integrate Bloom with dozens of email marketing services. Such as ConvertKit, MailerLite, HubSpot, and GetResponse.
The plans start at $89/year, and the interesting fact is you don't have to pay for views or such. Once you buy, the plugin is yours forever. The only con is Bloom doesn't have an exit intent trigger.
Here's an interesting comparison between Bloom & Thrive Leads
7. Icegram + Rainmaker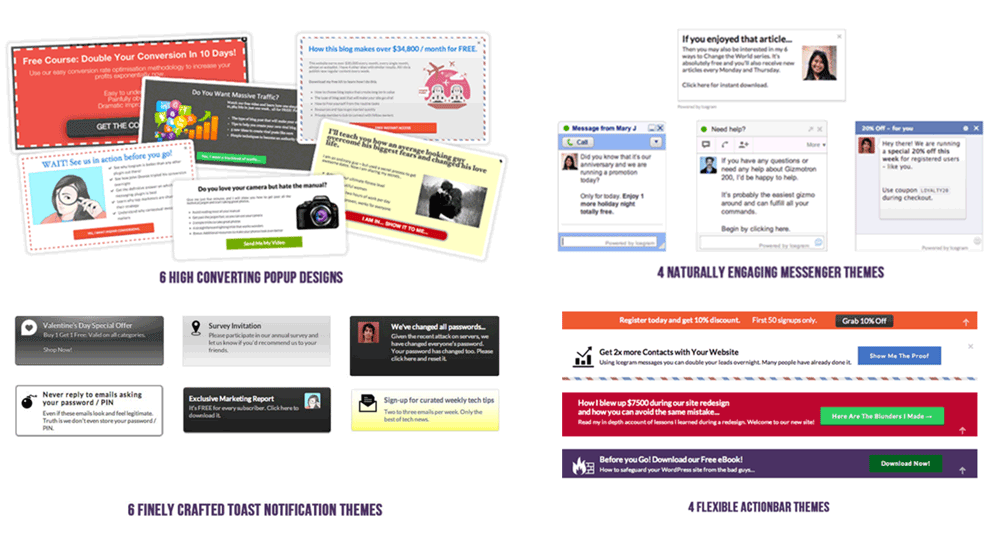 Every time I mention Icegram, a smile comes on my face. Don't ask me. I don't know why. This plugin was the first plugin I ever used to build pop-up and notification bars on here at BforBloggers.
I highly recommend you, Icegram if you want top-notch support and highly competitive marketing tools for growing your email list.
Pretty features include:-
Target visitors  

Exit intent
Custom branding
Full-screen mode
Click & scroll trigger
Pre-made 100+ templates
Notification bar and slides
The pro plan includes:-
A/B Testing
Geographical Targeting
Optin Entry Animations
Optin Exit Animations
Interstitial
Overlay
Tab, Sidebar
24 premium themes
Remote ( work on non-WP sites)
I hope you did notice that I wrote Icegram + Rainmaker.
Rainmaker Media is the parent company behind Icegram, and the same name is allotted to their plugin.
With Icegram, you can make pretty notification bars, sidebar forms, mats, pop-ups, and slid-ins.
Although the Icegram easily integrates with MailChimp, you can optionally use the Rainmaker plugin to collect email subscribers and automate the workflow emails.
How to Make a PopUp With OptinMonster
Follow along with this guide, and you will have your popup form ready in no time.
Step 1: Create An Account On OptinMonster
Before we make a popup, it's compulsory to have an account on OptinMonster, which will give you an API.
This API will help you connect your WordPress blog with a cloud-based optinmonster. Go ahead and sign up for OptinMonster. Select the plan that suits you the best.
Once you are done with sign-in up, install the Official OptinMonster plugin from the WordPress dashboard and enter your API key to connect.
Step 2: Start Building Your PopUp
Note that a premade campaign is required to create an optin form. Once you are done starting a campaign, follow these steps.
Login to your OptinMonster dashboard and click on the create new campaign button shown at the above right corner of the screen.
The new window will show you a few different types of forms available as per your plan. Select the desired optin module. In this case, I have selected a lightbox popup.
As shown above, you can customize your optin form to match your brand and campaign on the next screen. Enter the title and the description/subtitle.
In the right corner above, you will we that your campaign is currently paused. To activate your new opt-in form, simply turn this button to publish mode, and you are done.
The next step is integration.
Turn the status but on to live. Your popup is live now.
If you have integrated with WordPress, you can simply control this via your own WordPress dashboard. Nothing else is required. If you want to use this form on other platforms, click on the Any website button.
How to make a campaign on ThriveLeads 
follow along with this guide to create a campaign and go live with thrive leads in a few easy steps.
Step 1: Start a campaign.
Upon installing the plugin,  you will have to go to the thrive leads section and click on Add New Button as shown above.
Name your lead group. This name is for your reference only and will help you to remember and differentiate between two or more lead groups you will make.
Click on the new type of opt-in form button to select the kind of form that suits you best. I like the lightbox and Slide-ins as they perform very well.
Select the desired form you want to make and continue.
STEP 2: Create A Form
Now you will have to set up a form that will help you collect visitors' emails. Click on the Add button at the top right corner.
Click on the Create a Form button to continue.
Name your new form. Again,  this name allows you to differentiate between two or more forms and gives no value to your audience. Give it any name you want.
You can edit the form by clicking on the blue button, as shown in the image above.
Select the trigger for pop-ups to show on your site. The best trigger are exit intent and scroll percentage. I use to show pop-ups when the user scrolls down to 75% of my blog.  You could do anywhere between 50%-80% for best results.
Once done, click on the display settings to make your form go live on your WordPress blog.
Then both the buttons to yes.
Go to your WordPress widgets section and select the thrive leads widget.
Select the group you want to make the form live on your site and click on the Save button.
That's it! Your pop-ups are now live on your site.
Ways To Grow your mailing list.
The best thing you can do to make people sign up with their email is by giving them something in return.
This is known as an "ethical bribe," and this is an advantageous technique.
You can offer your readers a free e-book,  a discount on an expensive product, a free course and gifts, etc. In exchange for their emails.
You can also ask them to share their problems with you and convince them that you can solve them. To connect with them further,  ask for their email address.
Make sure you use pop-ups. These forms have proven to grow lists with ease.
Lead generation can be done for growing your mailing list as well as for gaining several passive customers. Get the record of their contact information legally and start your marketing strategy. Make sure your autoresponders are ready as soon as you generate a lead.
Other Methods To Collect Leads 
There are several different ways to collect Leeds other than WordPress plugins. One of the most effective ways to create days is a customized landing page.
Also known as lead pages, landing pages focused on compelling lead generation tactics are the best way to collect emails without showing a pop-up or slide-in, etc.
You would probably place the list builder form at the top kg the page below the header to make it as compelling as possible. Place a form at the bottom (footer) too.
You can make a lead page with the help of online tools like Leadpages Page builder , Optimizepress Or Elementor
You should build your email list. Period.
Your email subscribers are your biggest asset after the organic traffic you are getting.
These people are eager to know more about you and your services. They believe you have something valuable for them.
Suppose your one subscriber converts into $10. If you have 1000 subscribers on your list, you could actually make $10000 a month as passive income.
All you have to do is create a couple of autoresponders mentioning your services first.
After these emails,  ask for the problems your readers are facing. Your email subscribers will respond to you with their questions.
As soon as you get to know their problems, start to find a solution for that. If you have your own product that can be used to rectify those problems, promote them.
You can also get affiliated with related products that are best in class and affordable. Promote the products, and you can get a commission out of it.
Finally, you will be earning money and having a group of people who are trusting you, and these people are your biggest asset.
This is known as a marketing structure called a "sales funnel." This structure starts right after you generate a lead.
I hope this guide has helped you with building your email list with ease.
Share this post on your favorite social media, and if you face any problems with anything mentioned above, ask them in the comments section below.