If you are up-to-date with AI writing tools, you've probably heard about Writesonic.
We ourselves have mentioned it in many posts since it has a wide variety of cool features.
But we thought it was time to dive a bit deeper and truly talk about how Writesonic works and which are its pros and cons. So stay here to find out about its main features and whether it is for you or not.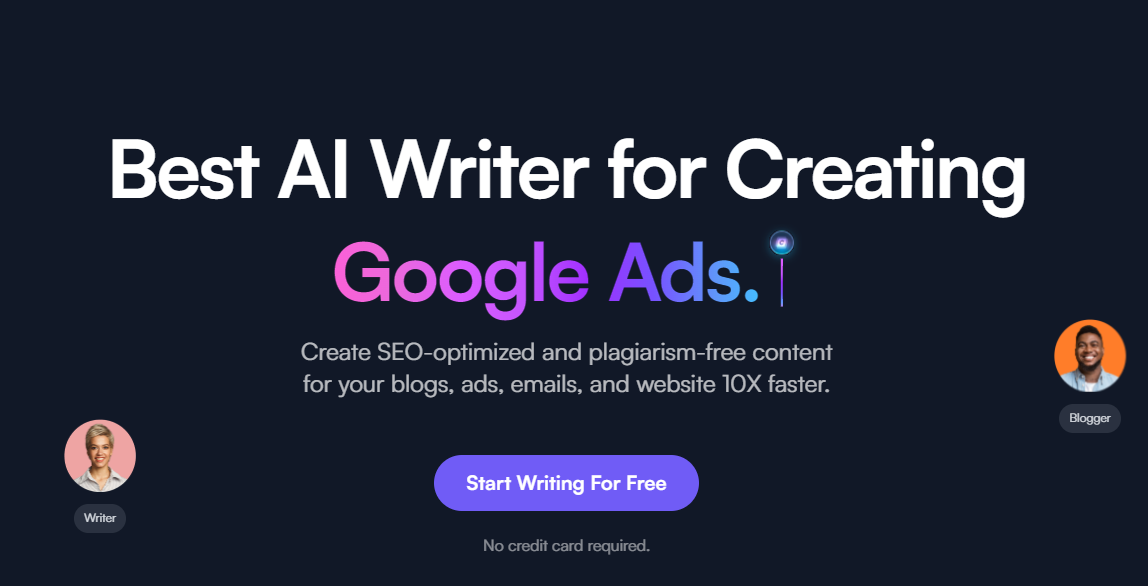 Firstly, Writesonic is an AI writing tool with headquarters in Delaware, USA. It was developed in 2020 by Samanyou Garg when Open AI had just launched GPT-3.
Writesonic then quickly became popular and hasn't stopped growing since then.
What started as a place where AI helps you write copy and articles, has now become an all-in-one platform. With it, you can create a chatbot, generate images and much more.
Key features
Templates
Like most AI writing tools, Writesonic has a wide set of templates to generate different types of content. They help you write website copy, ads, product names, articles and much more.
The templates aren't limited to generating content: they can also extend, paraphrase or summarize the text.
Writesonic can even translate your content into any language you want and convert passive voice sentences into active voice sentences.
Article writer
A new feature of Writesonic is their AI Article Writer 5.0. It's actually an update: the tool was called Article Writer a while back and you'll still find it named like that in some official guides.
With the Article Writer, you can write articles and blog posts that exceed 1,500 words.
The tool feeds from reference articles you include and delivers you a unique output.
Brand Voice
All writing tools need a Brand Voice feature. Writesonic's Brand Voice is quite recent and it's really simple.
Instead of manually indicating if your tone is serious, informal, etc., you can just show the AI previous pieces of content you wrote and let it synthesize your unique tone!
Moreover, Writesonic allows you to save different brand voices so you can switch between one or the other smoothly.
Chatsonic
Chatsonic is a ChatGPT alternative that provides benefits that other doesn't. For example, you can generate images and give voice commands.
You can also customize the tool to have search results detailed or concise.
I must say, however, that when I tried Chatsonic it didn't work.
The first time, it didn't generate any response at all. Later I found you sometimes need to regenerate the response in order for something to appear.
Maybe some bug?
Chatbot
Another new feature in Writesonic is Botsonic, their AI chatbot builder.
It was inspired by ChatGPT and it's powered by the latest GPT-4 technology. You require 0 code skills to create it and it's available even in the free plan!
Photosonic
As mentioned before, Writesonic also has an AI image generator. Photosonic specializes in art pieces of all kinds, from trippy painting, minimalist illustration and robot clip art to cartoon canvas painting and abstract art faces.
Integrations
Writesonic can be integrated with your WordPress.com site or Zapier and publish content directly to over 5,000 apps. You can also install the WordPress.org plugin.
Moreover, if you're interested in advanced SEO keyword research, you can grab Surfer SEO for $29.
Languages
Writesonic is multilingual. It has a wide variety of languages to choose from to create content.
Almost every feature is available in other languages, except the Article Rewriter, which is currently only in English.
The only thing I will note is that Writesonic doesn't offer any language varieties. This means you can't write, for example, in Australian English or Argentinian Spanish.
Other tools
You can get the Chatsonic tool on Android or as a Chrome extension.
Resources and customer support
Writesonic has a Discord channel you can join to be part of the community.
The support team is available 24/7 via chat. You can also find them on social media.
The guys at Writesonic are very receptive so if you have some suggestions, you can request a feature.
As to free resources, there's a blog as well as guides and tutorials available on the website.
Writesonic even offers free AI email templates!
Pricing
Writesonic has different plans according to the quality of output you're looking for. These are the premium quality plans:
Free trial: write up to 10,000 words and integrate with Zapier.
Pro: $19 per month for up to 100,000 words. This plan is flexible so you can customize the number of users and words you want. It also gives you access to bulk processing and unlocks GPT-4 and GPT-4 32K.
Enterprise: custom. Custom AI development, invoicing options and training sessions.
If you're a student or a non-profit, you can a 30% off on annual plans.
How to use it
Getting started
Signing up to Writesonic is really easy. It doesn't require a credit card and you can use your Google or Apple account. You can also choose between a one-time password (OTP) or a regular password.
If you have an ad block, turn it off to sign up.
Once you sign up and verify your email, you'll land on the dashboard. Writesonic doesn't give you a tour, so you can feel free to start wherever you want.
Writing
To start writing, click on the "Create new" button and assign the new project a name.
Projects work like folders. They allow you to systematically organize your content.
Then select a template according to the type of content you want to generate. Here's how the Article Writer 5.0 looks like:
As you can see, the first step is giving the AI some references. You can type the topic of your article (for example, the movie Dune) and select at least one of all the articles Writesonic finds online about it.
You can also add the references as links or files. I didn't have any files on Dune so I clicked "Next".
After you got your references, add some extra information such as Brand Voice (we'll get into that later). Note that in the free trial, you can't alter the quality of the output.
Once you're done, Writesonic will ask you to confirm the word count. This is important because both the input and output words will be charged.
Then click "Generate Article" and see the magic work. Here's the result:
Note that the image is broken. It wasn't like that when I generated it two days ago.
To share it with the world, select the share button and choose your preferred option. I went with link sharing so you guys could read the whole post. To do so, click here.
Writesonic is always open for feedback so you can rate the result on a scale from one to five stars. If you are not satisfied with the result, you can also regenerate the article.
You can't, however, edit the output unless you download it. This is problematic since I would very much like to change some things before you see it!
Add Brand Voice
For the purpose of this post, I let Writesonic analyze one of my posts. This is what it learned:
You make this exact voice the default voice or use it just once. Plus, before creating, make sure there's nothing you want to modify.
I made a few changes to turn the style into a knowledgeable guide in the realm of cinema!
Generating images
To start generating images, go to Photosonic (on the left side of the dashboard) and write a detailed description of the image you want.
You can also use one of the already generated images by other users and let Photosonic generate an alternative image for you.
Let me show you.
See the samurai cat on the right?
I chose it and Photosonic generated this other samurai cat for me (although I prefer the first one).
Once you have your image, you can share it with a link or via social media.
Writesonic Pros and Cons
Pros
All-in-one platform: AI writing, AI image generator and more.
Available in multiple languages.
Free plan.
Cons
Charges both the input and output words will be charged.
Verdict
Although Writesonic is a popular AI writing tool, I feel it doesn't get the attention it deserves.
It lets you do so many things even on its free plan and it's also super easy to use.  Sure, we saw some bugs, but they can be easily fixed by their developers in the short term.
So I really recommend you take at least one look at Writesonic and see it for yourself.
And if you do, tell us in the comments your experience!
I would also love to know what you think about the quality of the output.
Did it meet your expectations?