According to JumpShot, YouTube is the second biggest search engine in the world. As such, it pays to be present there.
It pays, but only nickels and dimes, because just being present is not enough. You actually want to be seen to be in the spotlight all the time.
This is a complete guide that'll show you 12 YouTube keyword research tactics to rank higher.
#1- Find Video Keywords
This is a tactic where you won't be using any old tool to find video keywords. No, you'll be using the almighty Google Search itself, and you'll be doing it creatively.
How?
Simple. Whenever you browse Google for something that pertains to your niche, and you find that the first result page of the SERPs is littered with videos (it doesn't have to be littered, one video result is a good sign).
Scribble down that keyword you seared for somewhere because you just found yourself a new video keyword to target.
For example, let's say I'm in the turmeric niche and I search for "how to make turmeric powder."
Look what I see in the SERPs.
Plenty of video spots to be taken over by a crafty marketer such as yourself.
#2 Try The AnswerThePublic Tool
AnswerthePublic is a freemium tool for you to get a grasp on what dilemmas people have and what questions they're posing to the search engines.
The reasons why you'd want to know this are simple:
First, You want to get your answers in front of folks who face problems, and you want to do it as someone who's a niche expert and is willing to share information for free.
Second, nearly any question people ask can be answered with a video.
And that's how answering questions fit in your overall YouTube marketing strategy.
So, as mentioned, to find your questions go to AnswerThePublic and enter a term.
And the tool will spit out a list of queries divided into:
Questions
Prepositions
Comparisons
Alphabetical (everything else)
And once you're armed with that info, you can go ahead and make videos that will build up your channel, your brand, and eventually- your profits.
Note: this is sort of a unique YouTube keyword strategy. I say that because when I did my research, I haven't found a single reference to using AnswerthePublic specifically for video keyword research. And it's a shame because most questions are evergreen, meaning your videos will be helpful for years to come.
#3- YouTube Suggest
As you can probably tell from the subheading, YouTube has the same feature it's big brother Google does; The added benefit here is that you know that what YouTube shows are all video keywords.
Now, Google ad YouTube Suggest features are easy ways to find the right keyword, but they are NOT free.
I mean, they won't cost you a dime but they will take your time away, and you can't scale up your day's hours.
Luckily, you don't have to because there are tools that can help you, like the one just below.
#4- Use KeywordTool.io
KeywordTool.io is a free tool that scrapes YouTube auto-suggest and delivers fresh and relevant results on a silver platter for you to use and profit from.
Here's what it shows me when I type the query "baby skin products":
So I get a bunch of long-tail keywords that would've taken me hours to find otherwise.
But the downside is that several important metrics are blocked from free accounts. Metrics like trends competition and even search volume.
So you'd need to upgrade to a premium account to see those important numbers.
Luckily there is an answer to this, and its' a Chrome extension Keyword Surfer. KS can help you see the search volume for any of these keywords, and it's all covered in the 12th tip of this article.
Note: if you're in a rush, click this jump link to go there right now.
#5- VidIQ
VidIQ, YouTube's Certified partner, is a tool that aids YouTubers to find the best keywords for improving their ranking and exposure.
Namely, when you search for a term on YouTube, VidIQ draws data directly from YouTube to give you a look at what's happening with that keyword.
You can see helpful information like recommended tags and what and whose videos are currently showing up in SERPs.
How to use VidIQ for keyword research?
This tool has an excellent keyword tool but it's behind a price tag of $7.99 per month. If that's affordable to you, then go ahead and purchase it, you won't regret it.
But the freeway to use it for keyword research is to be creative and make use of all data it spits out for free, like:
VidIQ competitiveness score
VidIQ search volume
The average age of video
Average subscribers count of channels ranking
Related queries
Video tags
There's plenty of perks to be had with free VidIQ extension though obviously pro version is a much better and smoother experience.
Note: another tool that rivals VidIQ is TubeBuddy. It's such a quality tool, in fact, that when I said it rivals VidIQ, I was generous to it. In fact, it's much better, and if I sparked at least an ounce of interest in you then read this review, Aayush wrote a while back:
#6 Try Keyword Tool Dominator
The name is cool, I give them that. The word dominator reminds me of the terminator, so it must be powerful, it must rock, right?
And it does.
Use it, and you will get a  bunch of long-tail keywords to target in your next 5, 10, or 50 videos.
Simply enter the seed term and let the tool do its magic.
#7- Be a Video Tag Ninja
If you're not spying on the tags of popular videos- you're making a basic YouTube SEO mistake.
Because not only can including your competitor's tags help your YouTube SEO but taking a good and thorough look at their competitor's tag gives you clues about what words and phrases you need to include in the title of your video.
So that your ranking improves because of a relevancy boost.
It's an overlooked benefit of video tags, but now you know…
Here's  are two easy ways to find video tags
Method 1– Click on any part of the video's page on YouTube and click "inspect source."
Once there, hit CTRL+F and type "keywords."
And you'll be transported to their tag list.
Method 2- Use VidIQ free Chrome Extension.
Simply download it create a free account and turn on, and it'll tell you all kinds of useful data, including their tags.
Note: tags are right below the videos.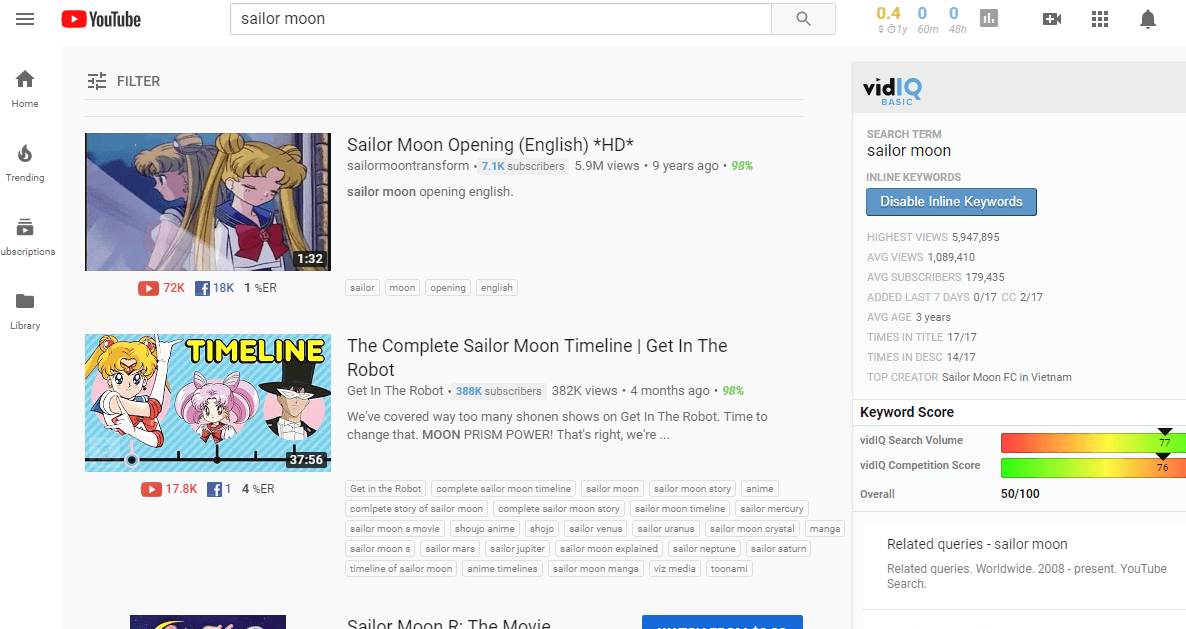 #8 Use Kparser Tag Generator
Kparser is a tool that helps you unearth even more video tags.
I'm including it here because, when adding video tags, you want to be guided by a tool, and not just by your gut feeling and what your competitors are doing. I mean, who can really tell if they know what they're doing or they just got lucky?
Ever heard of the saying "blind leading the blind"?
How to use Kparser for YouTube keyword research?
The tool will spit out dozens, if not hundreds of video tags ranging from those popular to those rarely a YouTuber adds to their video.
It is your job to discern between the two and only use those you think will help the most and are aligned with your video's topic.
Because the worst thing you can do is throw in irrelevant tags just because they're famous.
YouTube punishes video tag stuffing.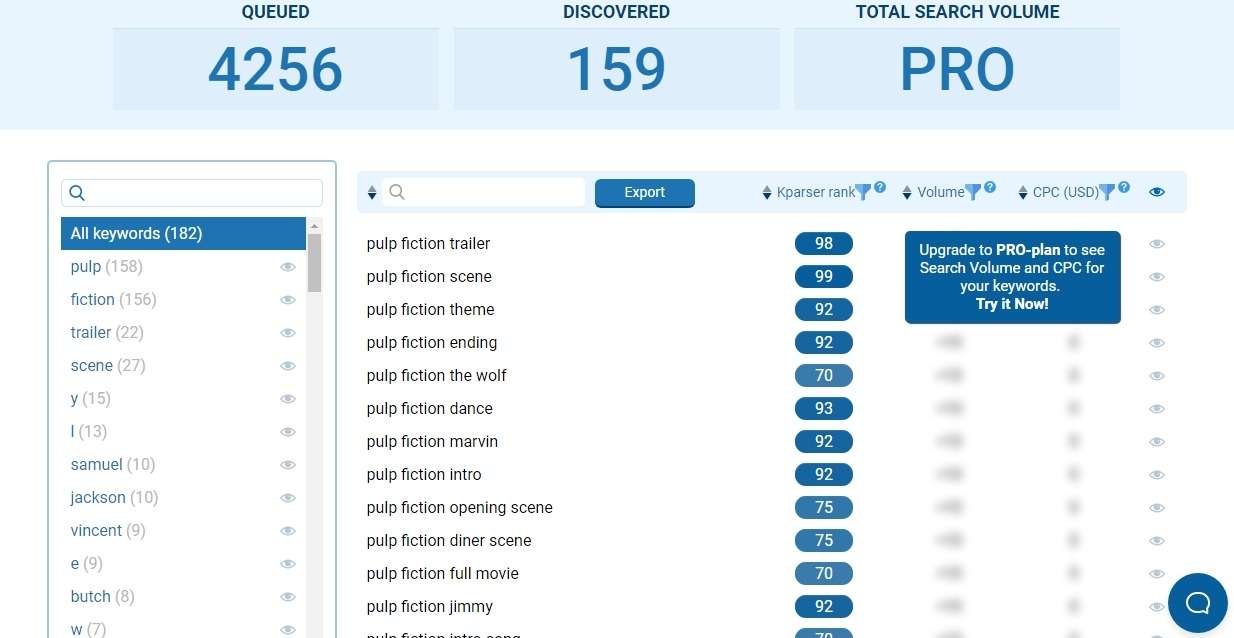 #9- Scour Video Subreddit for Ideas
Video subreddit can be a gold mine of valuable info for you.
What you want to do is find out which videos (that are relevant to your niche) have performed well with the Redditors.
So go to video subreddit and type in your keyword. And see what the internal search spits out.
In general, what is popular in Reddit's world will reflect into the public world.
It's because them Redditors have infiltrated spore of our society ever and you never can tell who could be a Redditor in disguise, posing as a common muggle.
Maybe even your best friend?
Ah, GASP! 🙂
#10- Steal Ideas From Competitors
Often you don't need to reinvent the wheel, and best ideas flow from your where you'd least expect them to come up.
Yes, I'm talking about stealing great keywords from your competitors.
Here's how:
Go to your direct competitor's channel (we'll use the paleo diet niche as our example)
and click on the videos tab.
Then, sort by popularity.
And voila, now you have a list of great proven keywords.
They're proven ideas because high view count validates them and because they're obviously evergreen, (Note: most YouTube video accumulate views over time).
I said most because there is an exception to the rule. For example, Gangnam Style got only several hundred million views in a few short months.
And now…
#11- Google Trends
Google Trends is a nearly forgotten Google feature that lets you hone in your target keyword's popularity across the year.
It also shows you the overall popularity trend for keywords across several years.
This is really useful because if you want to create a video optimized around a keyword, but you see that it's on a downward slope as fewer and fewer people seem interested- then you might want to reconsider it.
For example, here's what I get when I type iPhone 6:
The interest spiked in 2015 but now is way down and will continue to get lower as years pass. So this would not be the right keyword to target, as your video would only collect internet dust, never seen, totally forgotten.
Also, if you have two keywords you're interested in but aren't sure which one is more popular, Google Trends can help you out there.
Just enter your two keywords and click "compare."
So we can clearly see that both iPhone 6 and iPhone 7 are nearly forgotten, but iPhone 7, being a later model is still hanging on a popularity tread of a measly 4 while iPhone 6 has sunk to it's lowest yet-2.
Avoid both of these as they would be a waste of time for you.
#12- Use Keywords Surfer Free Extension
Now, this is not a keyword tool per se, but it sure is mighty useful.
Keyword Surfer is a free Chrome extension that shows related keywords and their search volumes.
For example:
Here's what I get when I search for Nikola Tesla.
See how it shows me search volume for the US market?
Note: like I said, Keyword Surfer is not a YouTube keyword tool, but it can help you do YouTube keyword research for free.
Simply use a freemium tool like KeywordTool.io to get a list of long-tail YouTube keywords. And then go one by one and search those keywords in Google.
It's cumbersome, I admit, but it gets the job done. Because in general, what you see in Google Search translates very well to YouTube.
In other words-If a keyword is popular in Google, you can safely bet it's also popular on YouTube, so ti's a great choice for your next video.
You can download Keyword Surfer here!
Bonus Tip- Use Google Suggest
Know of Google Suggest? I bet you do. If you use Google every day to search for stuff, I guarantee you've seen it.
It looks like this:
So that's Google suggesting things to you based on what you search for.
How to use Google Suggest for video keyword research?
This is a way to scale up the tip from the above. So, it's you intentionally  trying to get Google to show you as many keywords as possible so that you can jot all those that show videos on the first page,
I  admit it- it's a bit cumbersome, but it's also easy, free, and it's a good exercise for you to better learn the mechanics of keyword research and to fully appreciate what SEO tools (like the ones I mentioned above) can do for you.
Conclusion
Do YouTube keyword research.
Don't be lazy- Do it.
I understand it's easier to just make a video on whatever tickles your fancy at the moment.  But that is not the way to get:
More subscribers
More views, shares likes, and comments
Larger fan base
Broader brand recognition
More money
If you want all the above and more, you need to research keywords specifically for YouTube's platform.
Leave me a comment below and let me know what your favorite tactic is.