YouTube SEO Checklist – Rank Your Videos #1
YouTube SEO is just as effective and important as the on-page SEO for text-based websites.
But why should you focus on growing your Youtube channel?
Because it's the second biggest search engine in the world, right after Google. And it's growing faster than ever.
As a Youtuber, you have to grow with the trend so that when YouTube reaches an incredible height, your channel follows the path.
Youtube SEO is nothing but optimizing the small but crucial parts of your video, before and after you upload it. SEO's sole purpose is to make your videos rank for your targeted keyword and generate more organic views from Youtube search and recommended tab.
Here are 35 practical YouTube SEO tips to boost your video rankings.
#1- Find Video Keywords
Google, as a search engine, follows searcher intent the most.
"What kind of SERPS people want to see for "this" query"?
Articles?
Great! Let's rank a bunch of ultimate guides".
"What?
People want videos?
Let's rank those"!
For you, the reader who's reading this article, it's important to realize that to rank for certain queries in Google, you need to produce videos and no other content format will do the job.
How to find video keywords?
Do a good old Google search and see if there are any videos already in the SERPS. If there are, it means there's room for your video to replace the current results. And also, the more videos you see in the SERPs more "video" keyword it is.
Here is an excellent example. See what comes up when I search for a "how to do push-ups properly."
Read my complete guide on Youtube keyword research here.
#2- Predict Video Keywords and Provide Early Content
This is a sneaky and advanced tactic that works well, especially for product reviews.
For review queries, Google always tries to show tutorial/review videos alongside text articles because they want to accommodate those who wish to read and those who'd rather watch.
To give you an example, let's say you own a coffee website and you have gleaned, one way or another, that a new coffee machine from company X is coming out in one month
Well, maybe you could contact them and ask them to send you a sample a bit earlier so you can do a video a review.
This works because even if you post your video a week earlier, that's plenty of time for Google and YouTube to rank it, as there won't be any competition.
#3- Use YouTube for Keyword Research
Google Suggest is a useful feature for normal users who search for their queries.
It is also one of the coolest features from Google for keyword research as well.
Google suggests what you should search for, based on what you started typing.
It looks like this:
YouTube works the same way. Type a keyword and wait for YouTube to populate the results.
What you get is what people search for in bulk- popular queries.
What about search volume?
All keywords that YouTube suggests are going to be popular, so feel free to go after them. And if you're a new channel, the last thing you want to do is worry too much about keyword search volume. Instead, worry about bulking up your channel and giving it your best.
I know it's a cliche saying it, but really, even the best SEO hacks and tips can only get you so far, and the rest is up to your video's quality and having a bunch of them.
#4- Steal Ideas From Your Competitors
When you're just starting out, you might feel bogged down with the keyword research process. I mean, it is an intimidating topic for a newbie, and I remember at a time it confused a heck out of me.
Proper keyword research is a skill that requires you to do it a lot and fail a lot before you become good at it.
One shortcut is to this is to see what works best for your competition and then copy it shamelessly.
So you search for a keyword in your niche and then see what videos have accumulated lots of watch time.
That's your future topic- but you don't stop there.
Oh no; next, you need to digest those videos and look for what made them so famous. The third step is to make better versions of those videos of like the skyscraper technique for videos.
10x video content rules!
#5- Nail the PERFECT Length for Videos
When researching videos to steal, jot down the typical average length of the videos on a related note.
How long are they?
Each niche is different and video length is crucial to get right because people are used to certain video lengths, and if yours are short they won't feel happy, and if they're too long they won't watch them.
#6- Use Keywords in Video Title
Keywords in the title are a massive signal for YouTube about your video and where they should rank you.
Make sure you have your keyword in the video title.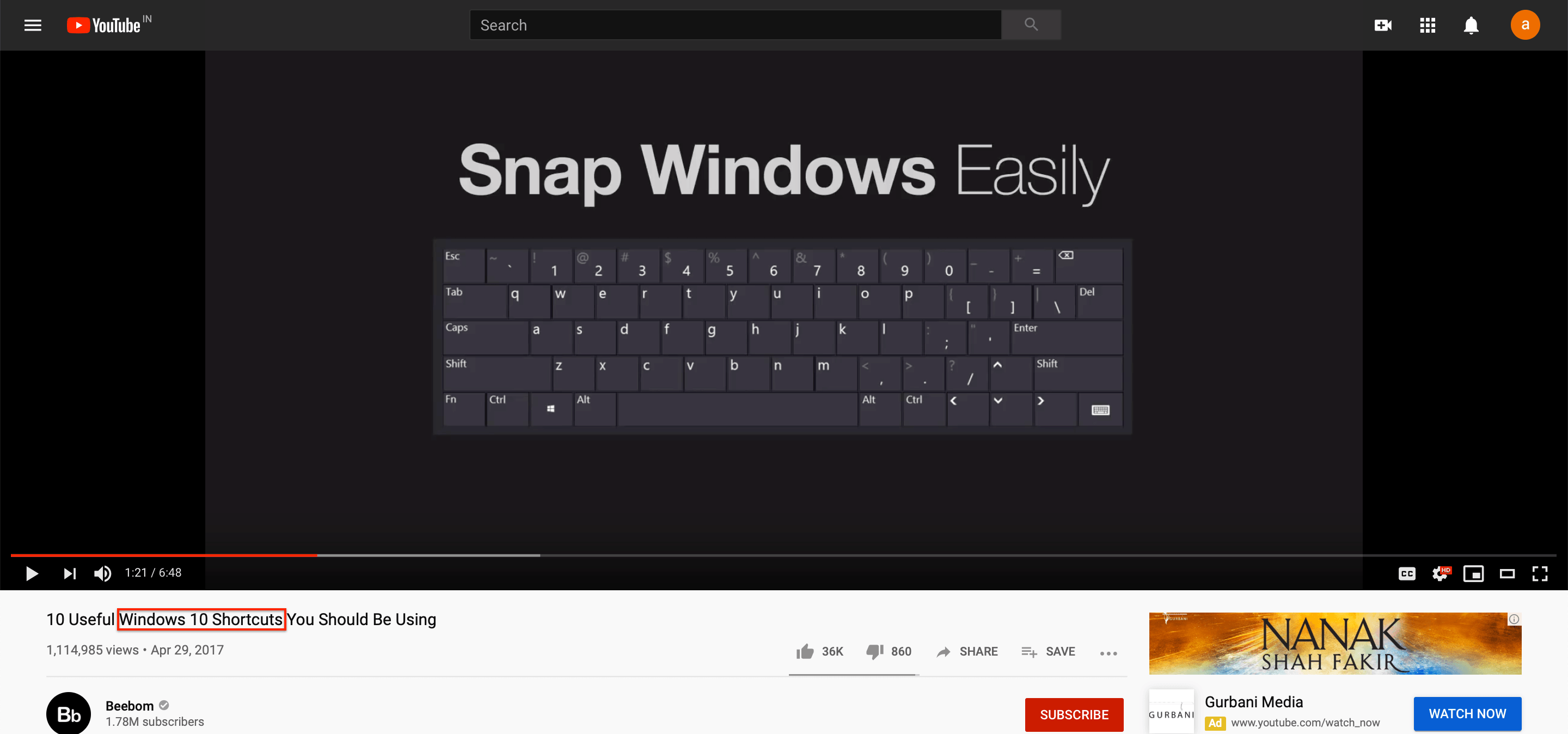 Pro tip
Don't just use the keyword as that is not very click-worthy and can even look spammy.
Instead, include extra words to get across a clear benefit of watching your video.
It's the same as writing SEO titles for articles.
So the title is both keyword-added and compelling to read.
#7- Use Video Tags
Tags are very important for YouTube videos because they boost your article relevance to every other video on YouTube.
I mean, videos with the same or similar tags should be grouped together and shown in the related/recommended videos sidebar.
Right?
And that is your primary goal with video tagging. To get maximum passive exposure through the power of video relevance.
Pro tip
When adding tags, you want to identify them from your competitors, the folks you hope to one day outrank. So to check the video tags of any video, simply go:
right-click anywhere on the video page
inspect source
Press CTRL+F
Type "keywords"
And the tags will reveal themselves:)
Or you can use the TubeBuddy free Chrome extension to quickly check your competitor's tags. And then you steal them.
#8- Fill in Video Description
Having a short description under your video is a must for video SEO and on-page SEO for text.
These two search giants use those words to better understand your video, and it's topic so that they know where and what to rank it for.
So by describing what your video is about, you certainly use your main keyword and those can translate into your video ranking for a bunch of long-tail queries in Google.
Take a look at the image below. That's a video description, and it's pretty good as it gives semantic relevance to the page, but it's not perfect as it's too short.
Feel free to bulk it up a bit.
#9- Don't Link to External Websites in Your Description
This might or might not be a ranking factor for YouTube,
But, links in YouTube description have horrible CTR's (1%) so it's not worth having them, especially since YouTube gives preference to videos that don't link out.
Remember,
YouTube wants folks on their platform, and keeping people on YouTube is an easy way to cater to their whim and thus stand out and get better rankings.
I think this trick can almost be an actual YouTube ranking hack; because I see all the time that people link out left and right from their video descriptions, and I'm sure they get terrible if any, traffic for their effort.
#10- Use Keywords in Description
To give context and relevance to your video, make sure you use your main keyword once and some other related keywords. You can find related keywords using tools like SEMrush and KWFinder.
The easiest way to find these YouTube LSI keywords is to use YouTube auto-suggest.
So, type your keyword and look for variations that are similar but not the same as your main keyphrase.
#11- Pay Attention to Keyword Prominence
What is it?
Oh, simple. Use your primary keyword first and don't use any other keyword before it.
Easy, I told you.
Note: Keyword prominence is actually a ranking factor for Search Engine SEO too. So, next time, when you write an article, make sure your target keyword is the first paragraph of the post or at the very least, in the first 100 words.
#12- Link to Your Other Videos From Your Video Description
Linking to your other videos within your video description is an easy way to promote your other videos.
And YouTube doesn't mind those links because they are internal and lead to other parts of YouTube.
So, within your video description, have a list of links to your other relevant videos.
To be honest, people don't usually click on links in the description, and most never will, but when they do, it means they're very interested and those folks are your most valuable traffic, your future subscribers, and brand evangelists.
#13 Have a Video Transcript
A video transcript is an easy win for you.
They're chock-full with relevant keywords and semantic value and they bulk up your page so your video can actually rank in Google search, which in my opinion, is even more important than ranking on YouTube.
Note: Don't transcribe your videos yourself.
Even if they're short, you probably have more important things to do for your business.
Instead, hire someone from Fiverr to transcribe your videos for cheap.
 #14- Use Closed Captions
The closed caption is YouTube's accessibility features. They're there to help the deaf people understand the video.
And you should have them on every video you produce, simply because it's good UX.
But the added benefit is that closed caption is crawlable, this means that Google can pick them up and rank you for it.
How to enable closed caption?
Easy, use YouTube's automatic captioning feature.
It is not perfect, but it is better than not having it.
#15- Build Links to Videos
Whenever you publish a brand new video, here's the page authority you start out with:
Wicked, right?
Well, that can further be increased by you shooting a link or two directly to your video. I say a link or two because that's all you'll need to explode to the top, especially for less competitive video keywords.
Note:
Backlinks pass links juice, which helps you rank in Google search (but not on YouTube), and if you have a video transcript and description like I recommend you do, then Google can rank you for a bunch of keywords based on the authority that page has.
How to get links to YouTube videos?
Like I mentioned earlier, video embeds function as links, but you can also link to your video as you would to an article.
This is useful when you don't want to embed a video on the page, for example, because you think it'd break away from the post's flow, or that it'd make the page slow to load.
These two are not the only ways to link to a video, but they're enough to see spectacular results.
So make sure you use them!
#16. Link to Your Video Channel
This is similar to linking to videos, but different. The effect will be more subdued. When your channel is really authoritative, your videos naturally start to climb in Google SERPS, and many of them rank eventually even without additional backlinks.
Note: the best and easiest way to promote your channel is in author bios on your website, and when you guest post elsewhere.
Just make sure you use branded anchor text for safety and effectiveness.
Tumblr is also a very different beast.
It's a free site for sure, but also a community of millions of blogs (tumblers) and hundreds of millions of passionate folks.
Of course, a tiny chunk of those people will be relevant to you and your video's topic, but nevertheless, it's still an excellent source of free traffic views and shares
So don't take Tumblr lightly.
How to post on Tumblr?
Go to Tumblr (I'll use my property as an example)
Click a new post that lies under that blue pen in the upper right corner.
And choose the "text" format:
Write an intro to your video and post the video beneath. Then you will have some spider food for the Google bots and the video for Google video search.
And finally, below the video, post a link to the original one on YouTube. Just make sure to use non-optimized anchor text, for example:
"See original.
"see on YouTube."
"Source"
Pro tip
Use Tumblr tagging to your advantage. Add a dozen tags to have higher chances of discoverability.
#18 Send Social Signals to Your Video as Soon as it's Out
Facebook
Twitter
Instagram
Pinterest
These are all social media platforms that offer nofollow links. Nofollow links that you should build to your video.
"Why? They don't pass on any link juice". True, but they make your link profile look natural and indirectly help your video rank better in Google.
Plus, they're genuine shares that can bring you genuine traffic. Isn't that worth it?
#19- Embed videos in Blog Posts
Whenever you're writing an article and you have a relevant video of yours at hand- feel free to embed it.
This will give another layer of quality to you, I presume, already an excellent post, but will help that video rank better in Google search.
Why?
For 2 reasons/
First, video embeds function as backlinks in Google's eyes, so the more links your video has, the higher it will rank.
Second, the embedded video is going to benefit significantly from increased exposure. Because some folks who read the article will watch the video and this will boost watch time for that video,  and watch time is THE metric YouTube pays special attention to.
Note: I talk about why watch time is so important and how to use it to your advantage below.
So keep reading!
🙂
#20- Create Posts Dedicated to Your Video
This tip only works if you have a website, obviously, but if you d-o create an article about your video.
Within the article embeds the video but not only that. Videos in blog posts and no text don't rank for nothing.
So add some text, intro above, and transcription below.
Pro-tip, shoot some internal links from powerful pages on your site towards their newly published content.
#21- Boost Watch Time of Your Videos
Watch time is a significant ranking factor for YouTube videos. It's so important in fact that if you do all your other SEO perfectly, but people flee from your videos as if they've caught something nasty, you will drop in the rankings and you will disappear fast.
So it is crucial to keep people watching, and below you'll find a few tips to help you achieve it.
Cards
End Screens
Making longer videos
Learn more about it, below!
#22- Use Cards to Promote Your Video and Boost Watch Time
What are YouTube Cards?
They're little grey boxes that appear at the top of videos and show folks a pathway to another awesome video.
Here's what they look like:
Cards are awesome great for keeping people longer, thus boosting your SEO through increased watch time.
#23- Use End Screen Feature
This is similar to cards, except much more prominent and eye-popping.
What is it?
It's literately the last 15s of your current video transform showcase of your best and related content.
So folks can have their pick. And many of them do.
#24- Create Longer Videos to Boost Watch Time
Watch time is the ranking factor for YouTube search – there, I said it.
It's because it goes directly in line with what YouTube as a business wants to do- keep people on their platform so they earn more and more ad money.
So, if you try to create a short video you're going against YouTube and you can guess how that's gonna turn out.
Instead, go with the flow and create longer videos to satisfy the users first, YouTube second, and yourself too.
Finally like I mentioned earlier in the post, "long" is relative to the niche you're in, so make sure you do your research to see what's what.
Don't let it happen that your longer video is too long!
#25- Boost Video Engagement
When folks engage, it means they like your video.
This signals to YouTube they should rank your video higher, so more people engage and consequently stay on YouTube and are satisfied with it as a service.
Here's how to boost engagement on every video you produce.
More engagement will result in more eyes on your videos. This will help you gain backlinks, mentions and social signals that'll make your videos popular scoring top spot in searches and Youtube video recommendation features.
#26- Ask Folks to Subscribe
Your number #1 goal as a YouTube creator is to get your videos in front of many people as possible. The best way to achieve and sustain that is to have a large fan base and to become a brand.
Becoming a brand takes time, lots of time to be exact, but the easiest way to start is to ask folks to subscribe at the end of your videos.
Simply say "like what you saw? Make sure you hit that subscribe button, so you get my videos as I post them. Don't miss out!"
Note: this is an SEO tactic because getting more subs to tell YouTube your channel is gold so they automatically start to rank you higher. But it is also a YouTube promotion hack and if you want to learn more about promoting YouTube videos, click on the link above.
#27- Ask Viewers to Like Your Videos
Always ask your viewers to like a video before they leave.
Liking a video is a small ranking factor for YouTube.
It's small because it's easily gameable.
However, it still matters, so make sure you get some likes going your way, one way or another way if you catch my drift:)
Getting those initial likes is also great for social proof as people tend to follow people.
#28- Ask People to Comment
Comments are also a small YouTube ranking factor.
So at the end of the video have a nice little CTA that says something like this: "like this video? Tell me how much in the comment section below".
The pro of asking people to comment is that only a few comments attract more and before you know it you have a loyal community on your hands.
And also, comments can get indexed in Google thus helping you rank for more long-tail queries.
Shares are not a ranking factor for YouTube videos. However, sharing lets you reach folks who otherwise might have not to know about you or your video.
So at the end of your video, ask folks to share your video with their friends.
#30- Create Playlists to Boost Your Brand
Playlists are groups of videos categorized under an overarching topic.
Playlists help your SEO in two ways:
First, they're great for getting people to binge-watch and build up massive watch time for your channel.
Second, they also establish you as an authority, because you made several videos about topic X, so you must be an expert.
How's being a brand a YouTube ranking factor?
Because next time folks will search directly for your videos on YouTube and Google, which tells them you're the person they want. You and no one else.
Branded+ keyword search= SEO gold.
For example, Adriana has a wonderful collection of videos based around baking delicious, but healthy desserts and sweets.
I'm a stranger to her channel, the first time I see it, I can believe she's a cooking expert.
Bonus tips
#31- Say Your Keyword at the Start of the Video
This is an advanced tip, not because it's hard to do, but because not many folks do it. I guess they underestimate its power…?
And it's so easy!
Just say your keyword in verbatim once at the start of the video so YouTube will feel confident your video is about "keyword X."
#32- Edit Your Video Filename
Typically video filenames are gibberish like this- 1242535ghk.mp4
This tells YouTube absolutely nothing. Instead, change the generic video filename into something meaningful, like the topic of your video.
Like this:
My-video-topic.mp4
Note: This tip lies in the bonus section because it is old school YouTube SEO that might not even work today. However, you should still do it, mainly because it makes sense, and it's so easy.
Don't be a lazy YouTuber!
#33-Use YouTube Analytics
YouTube wants you to succeed because your success is their success. That is why they give you access to the analytics feature within your account's dashboard and within analytics, the extremely valuable audience retention report.
Here you can see which video is performing well, which excellent, and which have abysmal watch time.
So you can learn what works and what you should do more of, and what doesn't work so you can cut your losses and get out.
Remember that watch time is the most important ranking factor for YouTube?
Retention report is your secret weapon waiting, BEGGING to be used.
So use it, and then come here to comment and brag about your awesome results
#34- Video Promotion and Building a Brand
Like I already mentioned, YouTube videos work best when supported by a large fan base. Then your videos will feel like they're glued to top spots of YouTube's search.
To do that, you need a complete strategy, one that consists of:
And this article you're reading.
Combine these strategies and see your channel grow consistently.
#35- Choose the Right Name for Your Channel
I know I should've started with this tip first, but I guess what's done is done… 🙂
The crucial thing you need to realize is that getting the channel name right is very important. You want people to read your channel name and instantly:
Understand what it's about
Remember it
Like it
Here's a guide that will help you.
Bonus: Free Checklist
Here's an infographic with a complete Youtube SEO points. Download it and use it every time you upload a new video.
Conclusion
Use these Youtube video SEO tips to boost your YouTube channel and videos.
If you don't, someone else will and then dominates your channel.
I warned you!
Leave me a comment below mentioning your favorite tip.